November 2022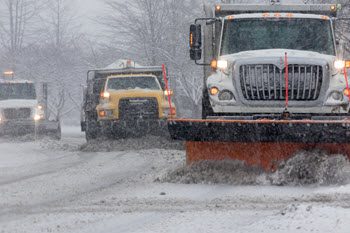 Facility managers should winterize their facilities to safeguard them from potential threats and to maintain maximum energy efficiency to reduce energy costs.
We've gathered some of the top suggestions for winterizing your building to maximize energy efficiency and ward off potential weather-related issues.
Minimize Heat Loss
When the weather delivers ice, snow, high winds, and bitter cold, the temperature for your facility must be optimal:
To ensure that the HVAC system is prepared to meet the demands of the impending cold weather, inspect and optimize it before winter. To maintain the quality of the air in your facility and to ease the strain on your HVAC system, the majority of HVAC air filters should be changed every three months.

Reduce energy loss by inspecting the facility for leaks, cracks, drafts, and other problems. To check whether windows and doors are adequately sealed, look at the weather stripping.

Turn off cooling systems properly. To be ready for the warmer season, schedule repairs for the winter.

Standardize thermostat settings to make sure that it is comfortable and energy efficient. 
Interior Building Maintenance
Create a strategy and allocate resources to keep ice, snow, and other debris out of interior floors, elevators, and other traffic areas.

Develop a plan and resources to ensure that interior floors, elevators, and other traffic areas are kept free of ice, snow, and other debris.

Check smoke detectors, carbon monoxide detectors, and emergency backup generators.

Create a routine for replenishing sanitizers and other safety supplies to maintain a clean environment.

Establish a program for thorough cleaning of the interior spaces, including the desks and other workstations, kitchens, restrooms, and doorknobs.

Check that all interior lighting is functional and well-lit to ensure that spaces are secure, particularly during a power outage.
Exterior Building Maintenance
Now is the time to do any repairs or improvements to the exterior of your facilities in order to reduce the need for emergency repairs:
Ensure that the doorways, stairs, walkways, and exits are accessible and in good condition.

>

Check basements for leaks and be ready in case one occurs.

Develop a plan on where to stockpile snow, salt, shovels, and other snow removal items.

Take out any tree branches, fallen leaves, and other outdoor debris.

Prepare and winterize outside maintenance tools including snowplows and tractors.

Store other seasonal supplies like tools, furniture, tables, and chairs out of the way.

Regularly clean gutters, downspouts, and drains to reduce the accumulation of snow and ice that could cause leaks and roof damage.

Check the drainage and roof to ensure that all roof components are in good condition and capable of withstanding a storm.

Check parking lots, streets, and other areas to make sure the pavement is free of potholes and other potential dangers.

Inspect pipes and faucets, both the facility's interior and exterior. Frozen pipes that can burst can cost a lot of time and money.

Disconnect every water hose.

Create a winter schedule for clearing the snow, cleaning the stairways and walkways, and allocating the necessary resources.

Make certain that all outdoor meters, propane tanks, etc. are reachable during bad weather.
Fire Protection Systems
Keep hydrants, valves, and standpipe connections accessible and marked. Set up routine inspections during bad weather to check clearance.

Make sure the internal sprinkler system is currently serviced, operational, and ready for winter.
Equipment Maintenance
Although the equipment is built to operate in the toughest of conditions, a few simple procedures to winterize your machines will help keep your equipment/assets running at peak performance:
According to the guidelines provided by the manufacturer, make a checklist, schedule, and carry out a complete examination of the machinery.

Install the proper lubricants, transmission fluid, etc., and check the fluid levels.

Generators should be tested to make sure they are operating properly.

Make sure there are no leaks or cracks in the hoses by inspecting them.

Examine the electrical wiring to make sure nothing is broken or damaged.

Store outside equipment away from the weather to reduce the need for additional labor, such as shoveling snow.

Make sure all of your tires are inflated properly, especially when the weather changes.

Examine repair logs to identify aging components or components that are close to failure.

Charge your batteries completely.

Verify that all tools and equipment are fuelled and prepared for use.

Make sure that everyone plans their schedules appropriately for those machines that need to run a while to warm up in the cold winter weather.
Disaster and Emergency Planning
In preparing your facilities for the winter, it is important to review your emergency and disaster planning procedures:'
Make sure your equipment is shutting down safely.

Assign the proper personnel to deal with system emergencies, utility problems, management, and building occupant notifications, and contact the required external authorities.

Make a backup strategy for power outages. Plan in advance when your facility will close and under what circumstances you will continue to operate.

Make sure your staff is aware of the company's severe weather rules and regulations.

Make sure that all manuals and emergency plans and procedures are easily accessible. Having this information stored in a web-based centralized system that is accessible from anywhere is a necessity. Bits of paper tacked on walls can easily be covered up with other papers or torn down.
Preparing for Winter and How to Come Back Stronger After A Shutdown
Most businesses were not prepared for the massive shutdowns we recently encountered. Facility managers are still facing additional tasks of winterizing their equipment, facilities, and coping with the new safety regulations. As you are trying to meet the new guidelines, it is important to put your maintenance plans in place to optimize equipment performance with minimal disruption to your business:
Review repair records to determine the pieces of equipment that need urgent care.

Manage your inventory so you have the right parts at the right time, now and in the future.

Do everything according to all current best practices to ensure the safety of your employees and customers.

Make sure that employees are trained and understand how to accommodate the increase in work orders due to weather changes.

Install surge protectors and emergency power supplies throughout your facility.
Conclusion
Managing routine maintenance and facilities tasks is a full-time job. Trying to put an effective maintenance plan in place can be a struggle. Trying to identify every asset along with the corresponding history can be a nightmare. Combining all of these issues can lead to frustration, missed goals and is very time-consuming. Managing these tasks using spreadsheets is inefficient and takes a lot of time. The information is outdated by the time you enter it on the spreadsheet.
By having access to facility management software, such as a CMMS, building maintenance can be optimized and managed easily through mobile and desktop applications. This technology is used by facility managers worldwide and provides companies with a wide array of advantages. Technicians arrive onsite with everything they need to get the job done properly.
Facility and maintenance managers have major tasks ahead of them. Things are moving quickly, and your facilities and maintenance operations need to keep up with the fast pace and growing demands. All of these winter preparation and prevention tasks can be stored in a central system, making scheduling and meeting deadlines easy. Having a computerized maintenance management system (CMMS) makes all of your preventative maintenance tasks easier and especially when it is as important as preparing for cold weather and freezing temperatures.