Our well-designed work order management system makes it simple to manage the entire work order process from start to finish. With only a few clicks, a work order can be entered, approved, and sent to the proper technician.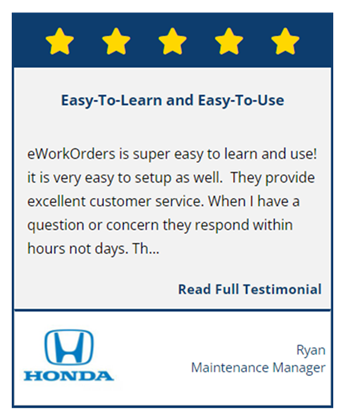 Attach invoices, documents, schematics, diagrams, files, or photos to work orders.

Access manuals.

Attach notes.

Provides real-time collaboration between team members.

Identify and record part numbers.

Record start time and end time.

Manage asset downtime, expenses, materials, etc.

Access and manage inventory.

Create checklists to ensure that processes are followed.

And a lot more.
Service Request (Work Request) vs Work Order
A Service Request (also referred to as a Work Request) is a request for a maintenance task that is submitted by a non-maintenance staff member or customer. When a service request is approved by the maintenance team, they will assign a technician and schedule the task and a work order is created.
A Work Order is an authorization for the maintenance team to perform the maintenance tasks.
Work Orders Past and Present
I am sure that some of you are wondering, how your current work order management process measures up to today's technology. Let's take a look at a few of the processes to see how they measure up:
Paper and Pen
The paperwork order management system has been around for a long time and is easy to use, but has limited functions in the environment that we live in today. Because of the ease of use, there is little training required and you always have a paper trail.
Something so easy and simple to use comes with a lot of flaws. Paperwork orders are subject to being misfiled, lost, or damaged. They are very time-consuming when you try and find, retrieve, and sort paperwork orders. Paperwork orders are inclined to inconsistencies, and inaccuracies due to human errors: misspelled words, illegible handwriting, they write in the wrong digit of an asset number, or specifying the wrong amount of time it took to complete a job. With paper and pen, there is no way to easily identify or correct these errors.
Completing work orders with paper and pen is very time-consuming and the overall response time to completing work is slower using this method. With paper and pen, you start the process by getting the work order from your manager in person, then you have to search for any drawings, manuals, or troubleshooting guides and flip through all of this documentation, then you are now ready to go to the location of the asset to perform work. Once at the location, you might have to locate any spare parts, which means another trip back to the plant to check inventory. Once the job has been completed, you are then ready to fill out the work order and close it out; then you need to go back to your manager to hand deliver it so that you can let them know the job has been completed. Then the work order is signed off on and filed. The process repeats for each job. This workflow process is not efficient and costs a lot of time and money in the long run.
Excel spreadsheets
With the growth of the computer industry companies started moving from paper and pen to using spreadsheet software to manage their work orders. This digital way of managing work orders was easy to setup and you didn't need to be an expert to use the basic tool. Using spreadsheets to manage work orders, organizations are less likely to damage or lose files. It is now easier to share information with team members, search for information, create reports and reduce the number of trips back to the plant.
While spreadsheets are a step up from paper and pen, there are still a lot of issues surrounding spreadsheets that indicate that this is still not an efficient way to manage maintenance work orders. Some of these spreadsheets need to be shared amongst teams or departments, but some spreadsheets are stored in a single computer which makes it difficult to see up-to-date information on a work order. Users have to be diligent about sharing and making changes in real-time. If someone saves over your work order, or it gets deleted before the system is backed up, all of your work is lost forever. These are also prone to security issues because anyone can alter the data unless you password-protect them. This comes with other issues of losing passwords and distribution of them to the right people.
Spreadsheets are difficult to use for preventive maintenance. With limited tracking abilities, and time-consuming tasks of creating reports this is still not an efficient way to manage your maintenance work orders. Spreadsheets do not have a notification process and technicians have to wait for instructions from the maintenance manager. Spreadsheets are easy to use in full-screen mode on a computer, but spreadsheets are very difficult to see and navigate on mobile devices.
Computerized Maintenance Management System (CMMS) Software
Digital technology keeps getting better and better. There are a lot of pros and benefits, of managing your maintenance work orders with CMMS software. One of the biggest advantages of CMMS is having all of the data stored in a centralized location in the cloud and being able to manage work orders from anywhere. CMMS software gives teams the ability to share information, create, track, complete, and analyze tasks in real-time from anywhere. The CMMS work order management feature gives users the ability to view asset histories, upload critical documents such as manuals, warranties, troubleshooting guides, images, and schematics. Maintenance teams are notified in real-time when work orders are put into the system. A CMMS saves time and money.
Having all of your data in one centralized system gives users the ability to run, view and manage your inventory from anywhere. Always have information at your fingertips with the ability to run detailed reports to help you prepare for audits and inspections. These reports give you a better understanding of how your maintenance and work order management processes are performing.
There are many benefits to using a CMMS, compared to paper and pen, and spreadsheets. Some employees find technology to be a challenge, so the adoption and accepting this technology may be a little slower. But eWorkOrders understands that everyone learns at a different pace, so we have adopted very efficient tools to help easily train teams. From webinars, videos, documentation, help screens, and technical support we have developed the right tools for anyone to easily adapt to our CMMS software solution. Our software is so easy to use and we have testimonials from customers who have used a computer but have adapted to our system quickly.
Why you need CMMS Work Orders
Work orders are the core of a maintenance program. CMMS work order software provides organizations with the tools to stay up-to-date on labor, projects, and resources. eWorkOrders CMMS work order management tools enable an organization to take control of work backlog and upcoming work, make improvements, increase labor productivity, and remain compliant. Some of the features that CMMS Work Orders can do for your organization include:
Provides a detailed explanation of the issue, repair, or problem.

More effectively manage resources and tools needed to complete the maintenance.

Reduce confusion, errors, and lost information.

Access all of your open work orders or assignments from your computer or mobile device.

Manage resources and balance workloads more efficiently.

Automation of scheduling of work, resources, and contract workers

Establish repair benchmarks.

Quickly and easily search through your work orders and generate interactive detailed reports.

Track costs and expenses.

Access detailed customer information and history.

Automatic email notifications.

Mobile access gives you the ability to work from anywhere.

­­­Many more other features.
Types Of Work Orders and Functions
Work Orders can be used throughout any business and throughout any industry. Below are a few examples of the different type of tasks that businesses use a CMMS Work Order Management for:
Standard Work Order
A standard work order is a non-critical maintenance task that does not pose an immediate risk to facilities, systems, equipment, or components. Some examples are removing old equipment, setting up new equipment, and non-critical maintenance work such as projects whose purpose solely is modernization or cosmetic.
Preventive Maintenance
This work order gives users the ability to schedule routine maintenance tasks on assets and equipment to minimize unexpected breakdowns. The preventive maintenance work order gives users the ability to control, plan, schedule, and identify the materials, parts, and labor to do the work within a specific timeframe.
Prepare for Inspections
Having all of the repair history and documentation stored into a CMMS, with the ability to extract the data into customized reports, makes it easier for more efficient inspection and audit reporting.
Reactive\Emergency
A reactive or emergency work order is generated when equipment breakdowns or a facility failure occurs and creates an unsafe environment, or a critical asset needs to be repaired immediately. An emergency work order is used to record and track any work performed that was not planned beforehand.
Corrective Maintenance
A corrective maintenance work order is generated as a result of a regular inspection, preventive maintenance, emergency, etc., which identifies the failure in a reasonable time for corrective maintenance to be planned and scheduled.
Benefits
Some benefits and advantages of implementing eWorkOrders work order maintenance software in your organization are:
Increase availability and performance of equipment.

Control costs.

Boost employee productivity.

Reduce overtime.

Improve customer service.

Minimize paperwork.

Reduce the maintenance backlog.

Improve safety.

Be compliant with company, state, and federal regulations.

Save time and money.

And more.
eWorkOrders has all of these features and more! Contact us and speak with one of our account executives to walk you through a live demo.
Article: What is a Work Order?