Prolong the Life of Assets, Prevent Breakdowns,
Control Costs and Adhere to Compliance Standards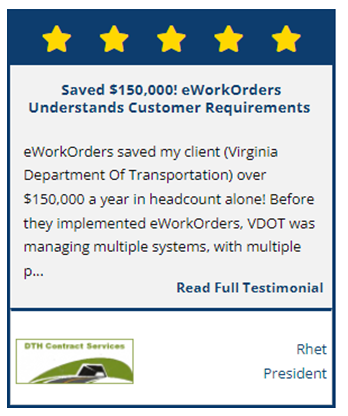 In the oil & gas industry companies need a state-of-the-art maintenance solution to optimize asset utilization and ensure flawless operation. Being able to effectively manage maintenance becomes very challenging and time-consuming without the right tools in place. eWorkOrders CMMS helps organizations keep operations running safely and reliably, minimizes unplanned maintenance, reduces maintenance costs, and increases uptime. eWorkOrders offers a powerful suite of features for managing facilities in the oil and gas industry. Through eWorkOrders you can easily manage and track the history on all of the maintenance work orders, inventory, assets, and more. 
Asset Management in One Centralized Location
Asset management and maintenance of all the devices, applications and components is a fundamental requirement, necessary to achieve the complete lifecycle of the oil and gas industry.  Ensuring safety and minimizing environmental impact while maximizing return on investment requires optimization across the entire maintenance management process. Maintaining and scheduling maintenance on assets is just one of the important tasks to successfully increase overall equipment effectiveness and help reduce production costs. eWorkOrders is a centralized management system for all of your technical and commercial data and is an efficient tool for mapping all maintenance information such as work orders, contracts, service management, and other documents.
Preventive Maintenance – Reduce Downtime
Equipment malfunctions can be expensive due to the initial cost of repairs and the time lost while an asset is out of commission. eWorkOrders allows you to create customized checklists and issue them as part of your inspection protocol and preventive maintenance programs. Meaning all your assets and their associated maintenance records will be easy to track and you can better ensure your equipment always operates flawlessly.
Interactive Rig & Well Scheduling and Maintenance
eWorkOrders brings everything together in one cloud based system. Whether you are managing or maintaining big rigs in the Gulf of Mexico or small wells in the Midwest, with eWorkOrders CMMS maintenance work orders flow into one centralized location.  With eWorkOrders built-in GIS you can track assets and work orders in real-time.  eWorkOrders CMMS provides quick and easy retrieval of important information such as: planned and unplanned work history, assets accounting information, warranty and service contracts, nameplate data, scanned documents, libraries of computer-aided drawings, and complete descriptive information.
Compliance and Reporting
In a heavily regulated industry like oil and gas, meeting all compliance standards is crucial. Our software allows for convenient storage of safety manuals, procedure guides and other documents and makes them easily accessible in the field. And when compliance needs to be proven to inspectors, comprehensive reports can quickly be generated.
Access On-the-Go from your Mobile Device
Our software is accessible on any smartphone, tablet or computer; so you can manage work orders, input service requests and more from any of the locations under your command. Manage your facilities from anywhere with eWorkOrders.