Simplifying Stadiums and Arenas Facility Management With CMMS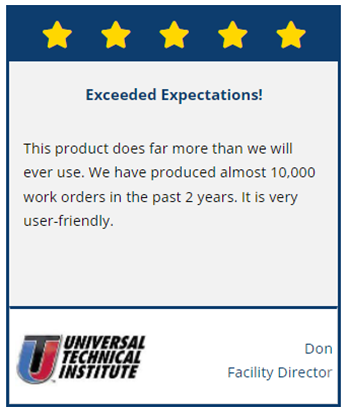 Keeping stadiums and arenas safe and clean is a high priority, but is also challenging. Managing the maintenance processes for stadiums and arenas can be very complex. Maintaining the thousands of seats, scoreboards, elevators, screens, safety materials, parking lots and equipment requires organization and an effective software system to track and manage assets and processes.
eWorkOrders affordable, easy-to-use web-based Computerized Maintenance Management System (CMMS) can help stadiums and arenas manage their maintenance operations more effectively. eWorkOrders provides users with the tools to help:
Enhance Preventive Maintenance Programs

Minimize Downtime

Extend Asset Life

Track and Manage Work Orders

Control Maintenance Costs

Control and Manage Labor Costs and Activities

Manage Inventory

Lower the Total Cost of Maintenance

Asset Management
Understanding and keeping track of the thousands of assets that sports arenas and stadiums have is a huge responsibility and a challenge. It is important to have maintenance software to help track and manage these assets. With a CMMS, it is easy to schedule maintenance tasks, repairs, and prepare for inspections. Having a CMMS in place to manage preventive maintenance plans will help increase the life span of assets, reduce costly downtimes, minimize investments in inventory and lower the total cost of maintenance.
Implementing a CMMS you can:
Track asset tasks and performance across your entire corporation.

Minimize asset life cycle and maximize profitability.
Geographic Information System Tracking
The eWorkOrders Geographic Information System (GIS) feature, uses technology to track assets and work orders. This is especially important when responding to a crisis that relies on a geographic information system that can efficiently gather, store, share, manage, analyze, and deliver data on-demand.
• Parking Lot Maintenance
eWorkOrders is configurable to your specific needs and desired workflow. You can create specific equipment categories for anything; such as; identifying lights in specific areas and assigning them each a unique icon for quick and easy identification in the field.
• Track Infrastructure Assets
eWorkOrders GIS module is a system of record for all of your infrastructure assets. Users can easily search for specific assets to add or edit details.
Preventive Maintenance
The goal of preventive maintenance is to try to maintain and keep the equipment working at peak performance and to help prevent any unplanned downtime or accidents. Managing checklists and ensuring that tasks are completed is important in this industry. eWorkOrders makes it easy to implement a preventive maintenance strategy to help organizations experience substantial improvements in their organization's processes, including increased productivity, increased efficiency, improved safety, and reduce unexpected breakdowns.
Work Orders
The bathrooms are not working, food courts need cleaning, steps broken, broken seats, turnstiles that won't turn, and spills could leave attendees focused on your stadium's poor condition more than the action on the field. Managing your facilities with a CMMS gives users the ability to create work orders on demand and have them routed to the appropriate person to take action. With real-time updates, management is always kept informed on the status of work orders.
Facility Management
A properly maintained facility is critical to the success of any stadium or arena. Part of the experience of attending a concert or event at a stadium or arena is the interaction with the facility. A poorly maintained environment will leave a negative impression on attendees, who may not return.
eWorkOrders provides users with the tools to effectively execute facility maintenance operations strategies including:
Help keep maintenance and repairs under control.

Reduce expenses with proper preventive maintenance.

Improve the safety of equipment and facility environment.

Improve the overall buildings and facilities.
Safety
Safety is a very big concern in Stadiums and Arenas. Because these are public facilities, failure to maintain a safe and clean environment could result in accidents and possible legal action. A CMMS provides all the necessary tools to help optimize your maintenance operations and help keep establishments safe and clean. With eWorkOrders you can:
Track maintenance staff training and certifications.

Maintain and create documents and reports for easier inspections.

Store the necessary documentation to help minimize injury negligence claims.
Employee Tracking
eWorkOrders CMMS further enhances your facility and maintenance operations experience with employee management and time tracking features. In order to achieve an adequate level of work quality, time tracking is a critical component of eWorkOrders. It factors into labor availability, reporting, costs on work orders, etc. Keeping track of employee and volunteer training to ensure that processes, procedures and compliance regulations are followed. Labor costs are another big factor that contributes to a big part of running an arena or stadium. Time Management through a CMMS is a valuable feature in managing employees' and vendors' time and tasks.
Reports and Dashboards
Having all of your asset information, work orders and expenses in one centralized system gives users the ability to have real-time information available at any time. Easily extract this data into detailed reports to quickly be ready for inspections and audits. With the ability to create comprehensive dashboards and reports, managers have all of the most pertinent information available to them at any time.
Mobile
With our mobile access, users have all of the most updated information and can manage all of their maintenance processes from a computer, tablet, Smartphone or mobile device. Submit maintenance requests, create work orders, assign technicians, access asset history and documents from anywhere.
eWorkOrders Brings Sports Stadiums and Arenas


the Most Powerful CMMS to Achieve and Exceed Goals and Objectives