Spare Parts Inventory Management Software
Take Control Of Your Spare Parts Inventory & Supplies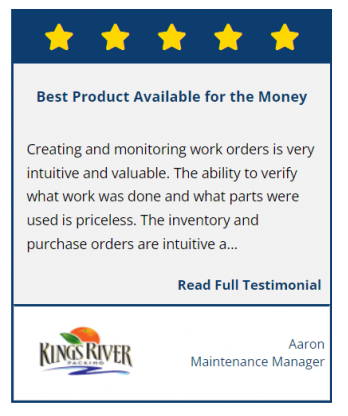 You never realize how important it is to have the proper inventory to manage maintenance, repairs, and operations until it is too late. Using eWorkOrders CMMS parts and inventory management software, provides organizations with the tools to easily manage inventory, increase productivity, reduce equipment downtime, control parts spending and labor time. The power of eWorkOrders CMMS Inventory Management software gives organizations the tools to effectively manage their inventory from anywhere at any time.
What is Spare Parts Inventory Management
Spare parts inventory management is the strategic planning of having the right stock of critical parts available while keeping the cost of inventory parts and supplies at a minimum. With eWorkOrders CMMS you can set minimum and maximum inventory stock levels so that when the minimum quantity is reached a Purchase Order will automatically be generated and sent to vendors for replenishment. Having the right parts in inventory reduces the time-consuming task of trying to locate hard-to-find parts, added shipping costs, and equipment downtime.

Benefits Of CMMS Spare Parts Inventory Management
The eWorkOrders CMMS powerful inventory management tool gives organizations the ability to:
Access, view, and control inventory levels to multiple locations from anywhere.

Access detailed information on parts and supplies.

Locate parts inventory from a computer or mobile device.

Setup inventory level triggers for auto re-ordering of parts or supplies.

Analyze trends to determine repair or replacement timeframes.
Vendor Management
With eWorkOrders vendor information, costs and supplies can all be stored and accessed through your CMMS software.
Track all your vendors and their sales contacts in eWorkOrders.

Track and view parts, costs and shipping timeframes by vendors.
Purchase Orders
eWorkOrders CMMS software gives organizations the ability to create and receive Purchase Orders, track purchases, returns and run detailed reports.
Track the materials ordered from your vendors and know:

when they were ordered

where they are at in the shipping process

when they will be delivered

the costs

Track stock levels. As the stock is being removed and reaches the minimal limits, eWorkOrders will automatically generate Purchase Orders to your vendors to replenish your inventory.
Purchase Returns
With eWorkOrders, always know the status of your inventory.
eWorkOrders is always there to maintain your inventory, if you need to send materials back to your vendor, our CMMS will track what materials were sent back to your vendors and automatically update your inventory levels.
Real-Time Inventory Tracking
Enhance your inventory process! Identify and document specific parts with assets for preventive maintenance tasks, to make routine repairs and maintenance easier.
eWorkOrders can track which materials were removed and can even apply those costs to the work order for billing your customers. Inventory levels are automatically updated as stock is removed and replenished.
Inventory Returns & Avoid Waste
CMMS software makes it easy to manage inventory returns, avoiding the waste of expensive materials.
Leftover materials from jobs can easily be entered into the system and


automatically update inventory levels.
Cycling Count / Counting Orders
To ensure you have accurate knowledge of the inventory sitting on your shelf, eWorkOrders schedules counting orders so that you can go out and count the items on the shelf.
With eWorkOrders, there is no need to shut down your inventory stockroom to perform cycle counting as all counts are date and time-stamped.
Latest Technology – Handheld Scanners
Labeling your inventory with codes that are stored in your CMMS gives organizations the ability to use barcode scanners to quickly manage your inventory.
eWorkOrders is ready to work with your handheld computers with barcode scanners to make the job of controlling and tracking the flow of materials in and out of your inventory as convenient as possible.
Inventory Key Performance Indicators (KPIs)
Organizations have their own measurements of success or key performance indicators (KPIs}. eWorkOrders CMMS provides organizations with the tools to help track and manage inventory, improve purchasing, increase productivity, manage cash flow and improve profitability.
CMMS Bottom Line
Your inventory is an important part of your business and using eWorkOrders CMMS Inventory Management software, organizations can effectively manage costs, parts and increase their Return on Investment (ROI).