Power Plants Need Powerful Tools!
Today more and more power plants are turning to computerized maintenance management systems (CMMS) to help them meet all the required maintenance compliance regulation benchmarks for safety performance, power output, and efficiency.  CMMS software is a powerful system that helps keep you compliant with safety regulations, minimizes costs, and prolongs the life of your power generation assets.  Always be prepared for inspections!
What is Power Plant Software?
Computerized Maintenance Management Systems (CMMS) is powerful asset, facility, and maintenance management software that helps you take control of your plant operations.
With this centralized system, automation, and management of tasks, you can control almost every aspect of your power plant, including:
Organizing Maintenance Tasks

Streamlining Processes

Scheduling Workers

Scheduling Preventive Maintenance Tasks

Collecting and Maintaining data in real-time from anywhere.

Track and Manage Assets

Reduce Downtime – Keep Assets Operating at Peak Performance
Why Use CMMS for Power Plant Maintenance?
Maintenance professionals in the power plant industry use Computerized Maintenance Management System (CMMS) software to increase asset life, improve labor efficiencies, and manage their preventive maintenance program.
CMMS gives organizations easy-to-use tools to manage their preventive maintenance programs and keep those mission-critical assets operating. 
CMMS Helps Meet Power and Entergy Industry Challenges
 Some of the most important Power Plant Objectives: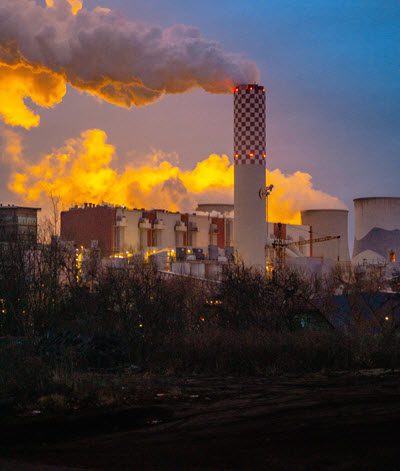 Maintenance Management Optimization

Keeping assets operating at peak performance

Keeping Accurate Records For Inspections

Meeting Compliance and Regulations Guidelines
The best tool for this is a CMMS.  CMMS is a user-friendly software solution that helps organizations track asset and equipment repairs and history; schedule preventive maintenance; create, manage and prioritize work orders; be prepared for inspections to real-time data from anywhere and more.  
The Power of CMMS for Power Plant Maintenance
CMMS provides an extensive set of features giving organizations the most powerful tools to help manage:
Assets
CMMS software monitors and tracks the health of your plant's assets. it takes the guesswork out of how long your assets will last when they will need repairs, and which strategies will maximize plant efficiency.  Using a CMMS will minimize operational and maintenance costs while increasing the reliability of power delivery.
The preventive maintenance features in CMMS can help you automate the process of scheduling repairs and inspections for equipment and assets. (Generators, pumps, motors, etc.)  The work order process in CMMS will notify your staff automatically upon submittal to ensure that they never miss critical assignments or dates. This keeps your plant operating more efficiently but also keeps you more prepared to pass those critical regulatory audits and meet compliance standards.
Maintenance Planning
CMMS is designed to manage all of your maintenance and repair activities and all operations and maintenance expenses in one centralized system.  A few of the advantages of using a CMMS include:
Keeping up-to-date accurate records and tracking the maintenance schedules of equipment on a daily basis.

Having the ability to easily document all expenditures involved with the operation and maintenance.

Create work orders including detailed instructions, images, or checklists.

Access to spare parts inventory, manuals, and other information.

Access information in real-time.

Access to information for a computer, Smartphone, or mobile device.

Schedule preventive maintenance when it is convenient for your business operations.

Access and run detailed reports in real-time.

Manage and monitor important Key Performance Indicators (KPIs).

Always know the health of your maintenance operations with detailed.
Mobile Access
One of the biggest advantages of a CMMS is its mobile access from a computer, Smartphone, or mobile device from anywhere.  Having mobile access gives workers the ability to enter a plant and quickly access crucial maintenance information rather than waste time trying to locate a PC and to look up information. CMMS is a great collaboration tool that gives operators and technicians in the field access to real-time information and can simultaneously work on issues from anywhere.
Compliance & Regulations
Because of the critical need to keep assets in the power and energy industry running at peak performance, the equipment must go through continuous inspections.  These inspections ensure that the necessary preventive maintenance and repairs have been done to minimize emergencies and reduce downtime.
On top of these routine inspections is another challenge for power plant maintenance teams, which is adhering to regulatory compliance standards, including those set by Occupational Safety and Health Administration (OSHA), Environmental Protection Agency (EPA), and Federal Energy Regulatory Commission (FERC).  The technology in this industry changes frequently and in order to keep up with these changes, power plants need an effective maintenance system that will help them automate processes of maintaining assets to meeting regulatory and compliance standards.
Benefits of CMMS
CMMS is an essential system to help you effectively manage your energy maintenance operations.   A CMMS system is packed with features to help you manage and track assets, create and manage work orders, manage labor and expenses, and inventory tracking and control, and more.  
Some benefits of a CMMS to manage power plant maintenance includes: 
Prolong Asset Lifecycle

Easy Preventive Maintenance Scheduling

Efficiently Track Expenses

Better Inventory Control

Maintain Audit Trails

Time Management and Labor Tracking

Accurate Reporting and Key Performance Indicators (KPIs)

Mobile Maintenance Management

Increase Equipment Uptime

Help Ensure Safe, Effective, and Clean Power Generation Operations

Streamline Processes to Meet Regulatory and Compliance Standards
eWorkOrders CMMS For Power Plant Maintenance Management
Managing the maintenance in a power plant is complex, critical, and dangerous. You need a system that will help you manage your maintenance operations, including the maintenance of assets and equipment, but also to help to streamline processes for routine inspections, installation of equipment, regular reporting, system integrations, and reviews, and scheduled preventative maintenance — all of the work required and more to help the plant continue to operate and say in good working condition from one day to the next.
eWorkOrders CMMS can easily streamline processes to help your power plant meet maintenance regulations and benchmarks for safety, and power efficiency.  Our CMMS is packed with features to help keep you compliant with safety standards, reduce costs, and prolong the life of your power generation assets. Manage and create maintenance work orders across your assets, equipment, machinery, and buildings from anywhere.  There are even more features and advantages that our CMMS software can bring to increase the efficiencies of power plant operations. 
Using eWorkOrders CMMS to manage your power plant will streamline processes, improve the safety of your facility, maximize asset lifespan, increase efficiency, reduce costs, and achieve peak operating capacity.