Easy to Use and Affordable Maintenance Software for Religious Institutions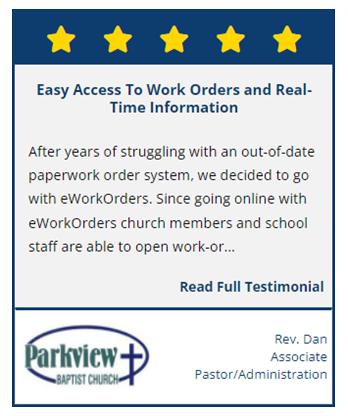 eWorkOrders Computerized Maintenance Management System (CMMS) supports churches and other places of worship of any size denomination, including faith communities with multiple buildings and multiple campus locations. eWorkOrders is a simple, affordable maintenance software solution that provides all the features you need to keep your religious institution's maintenance activities efficient and organized.
Below are some benefits of using eWorkOrders CMMS system:
Work Order Management
Through organized sections within our work orders module, you can easily view and generate lists and details on all open work orders and assignments. Easily respond, assign, and resolve issues while keeping track of time and money spent.
Preventative Maintenance
eWorkOrders allows you to schedule preventive maintenance based on date, run hours, or mileage; giving you the power to craft the perfect maintenance schedule for each of your individual pieces of equipment. Failure trend reports are also easily accessible and give you a crystal clear picture of the corrective to preventive maintenance ratio over time.
Robust Reporting and Analytics
With eWorkOrders you can easily create and share multiple dashboards and reports. Efficiently manage the congregation's work orders, track the work done, and control the facility maintenance inventory without needing a separate church inventory software product.
Inventory and Asset Management
Knowing the history of each asset under your command is important. eWorkOrders tracks, history, downtime and accrued costs for each piece of critical asset in your organization. Create reports, which can be analyzed so that major repair or replace decisions can be made with complete confidence.
Access On-the-Go from your Mobile Device
eWorkOrders powerful suite of features provides unlimited users access to data through their smartphone, tablet or computer for the ultimate convenience.