Quick and Easy Cloud-Based CMMS Software Implementation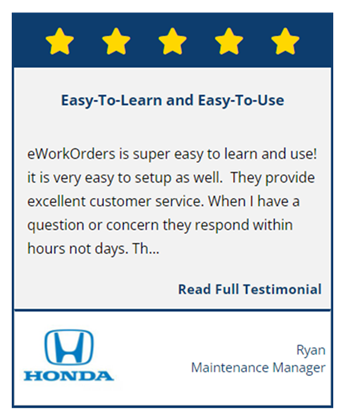 With over 25 years of experience, we have helped organizations around the world implement a world-class cloud-based CMMS maintenance solution. We have developed a very simple process to ensure a smooth implementation that meets your requirements. Here is what you can expect:
Customer: Preparing for Implementation
Attend a personalized demonstration to ensure that eWorkOrders is a good fit for your organization. This demonstration will be run by your assigned account manager. Your account manager will be with you for all of your setup and training sessions. They will also be available in case you need any advice or to review your account with you at any time.

Determine your requirements, reports, etc.

eWorkOrders will prepare and send you a quote that meets your specifications.

Sign your quote, complete our simple new customer form and pick a start date.

Gather a list of all assets and other data to be entered in the CMMS. We have standardized spreadsheet templates for importing much of your data. This will make your setup go quickly and smoothly.

Return the paperwork to us via email, fax or mail.
e

WorkOrders Implementation
Your website and database will be set up typically within 24 hours (or by your selected start date).

Your setup session can be scheduled as soon as your subscription begins.

During the setup session we will go through many different settings and help you input or import some of you data so that you feel comfortable with the process.

After your setup session you may have some homework. You may want to enter or import more data before your training session.

Attend a personalized training session for your organization. Using your actual data makes it very easy to understand exactly how everything works.

The setup and training sessions are recorded and available to you and your team at any time.

If you need more help, you can contact technical support or your account manager. You can also use our online help or video training library at any time.

Need to cancel? Cancel anytime for any reason. Unlike our competition, we don't lock you into a long term commitment or make you pay annually!
Success!