Attractions Management Software
Streamline Asset and Maintenance Management Processes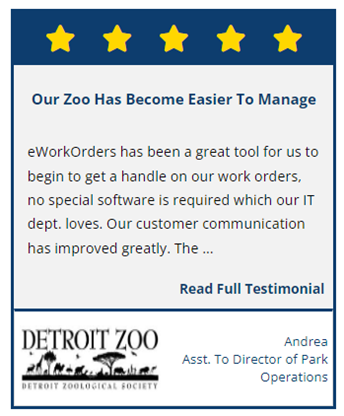 Theme parks, state parks, amusement parks, water parks, museums, zoos, animal parks and playgrounds all have one thing in common, the unique maintenance challenge! Using eWorkOrders easy-to-use web-based maintenance application can help your Amusement park(s) or zoo(s) track maintenance costs, manage equipment maintenance, improve labor productivity, reduce costly downtimes, minimize investments in inventory and lower the total maintenance cost.
Ensure Customer Satisfaction and Safety – While Better Maintaining Your Assets
eWorkOrders user-friendly software can be setup in a day! Our software solution can help lower costs, increase safety, lower capital expenditures and most importantly give asset and maintenance managers confidence that the park is in great operating condition to provide the best visitor experience.
Custom Maintenance Checklists
Our software allows you to create your own interactive checklists and issue them as part of your planned maintenance program. All your assets and their associated maintenance records are easy to track, ensuring your attractions are always operating at peak performance and your customers remain safe. You're also given the ability to track employee performance to ensure they're compliant with all ASTM International F-24 industry standards.

Inventory Tracking
When dealing with rides and other mechanical contraptions, the need for spare parts is critical. eWorkOrders allows you to track your inventory so you're never without critical components and your attractions are back up and running in less time.
Mobile Access and Interactive Location Maps
The amount of physical space that most managers of various attractions have under their command is vast. eWorkOrders makes the ground you need to cover smaller by providing you an interactive map of your property that's accessible on any phone, tablet or computer. You can then populate this map with all your equipment and pending work orders so you always know at a glance what needs to be worked on and where.
Every need, from the management of various work orders and replacement parts to the scheduling of employees and routine maintenance, is made easier with eWorkOrders.