CMMS In The Agriculture & Farming Industry
Extending Equipment Life & Managing Operating Costs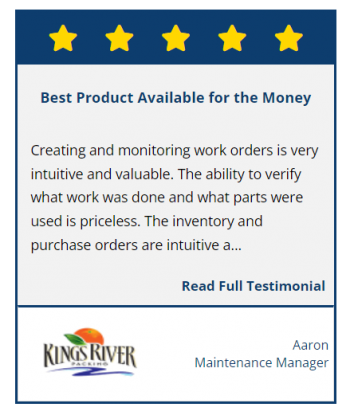 Improve Equipment ROI                                                                 
Streamline Processes

Maximize ROI on Machinery, Equipment, Facilities, etc.

Preventive Maintenance Scheduling

Labor Tracking

Historical Records and Analysis

Control of Operating Costs

And More….
Maximize Uptime by Minimizing Unscheduled Downtime
As with all industries, and specifically in the Agriculture & Farming Industry, "time is money".  Managing processes against the changing weather, demanding deadlines, and equipment downtime are big concerns in this industry.
eWorkOrders CMMS provides the right tools to increase uptime and decrease downtime.  With our Preventive Maintenance module, routine maintenance and employee availability can be scheduled at your convenience.  Adhering to a preventive maintenance schedule identifies any potential issue that can be fixed before it causes significant unplanned downtime.
Spare Parts Inventory
Over purchasing and stale spare parts can take a big bite out of budgets.  It can be very costly to just keep parts in stock sitting on a shelf.  With eWorkOrders inventory module, users can easily see what is in stock, manage inventory orders and returns, know when to reorder and create purchase orders.
Centralized Database
With eWorkOrders CMMS, your data, documents, manuals, images, drawings, work orders, and other information are safely stored into one centralized database and easily accessible.

Safety
Implementing eWorkOrders CMMS Preventive Maintenance into your organization will ensure a safer work environment and reduce the risk of accidents.  Safety training modules can also be incorporated into your program, guaranteeing that operations are performed properly.  Identifying and fixing problems early in the process and scheduling preventive maintenance with safety checklists can greatly reduce the potential of injury and accidents.  Checking for obstacles and hazards regularly makes for a safer facility and workspace and will keep you ready for inspections and audits.
Mobile
eWorkOrders CMMS is accessible from a computer or mobile device at any time from anywhere.  With real-time updates, you will always know the status of work orders, inventory levels, worker schedules, etc.
Regulatory Compliance 
Throughout the Agriculture and Farming Industries and including food production, there are many regulations. Whether its aquaculture, dairy farming, livestock and poultry, crop production and organic farming, regulatory rules can apply to the growing of fields, nurseries, greenhouses, forestry, water provisions and runoff, farm facilities, fuel and  equipment, buildings, construction and renovation, pesticide and other chemical handling, air emissions, and wastes.  Trying to maintain and report on this information can be labor-intensive and challenging when only using paper or Excel.
eWorkOrders CMMS gives users reliable scheduling tools to easily track their maintenance and allocate resources accordingly.  Users can store and retrieve historical records. Having such a comprehensive system to manage all of these regulatory concerns allows agriculture professionals to focus on the work at hand, rather than getting bogged down trying to find the paperwork and history.
Conclusion 
These are just a few of the features that eWorkOrders CMMS can provide in helping agriculture professionals achieve their goals and objectives, minimize downtime, expand equipment life, prepare for regulatory inspections, improve safety, increase efficiency, productivity, and save money.
Additional Resouce
Essential Farm Equipment Maintenance: 10 Key Tips For Smooth Operations