Minimize Downtime and Operating Costs While Streamlining Your Maintenance Operations
Wi

th eWor

kOrders Cloud-Based CMMS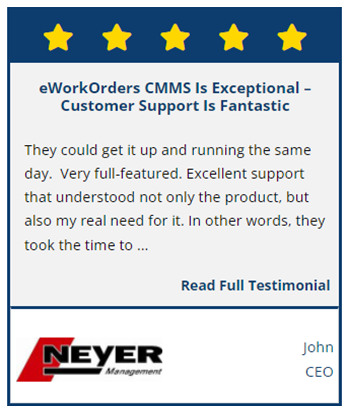 As a professional in the industrial laundry field, you deal with a constant flood of various complications every day. Fortunately, eWorkOrders is the perfect solution to help streamline your process and keep your laundromat or dry clean facility operating at peak performance. From inventory control to preventive maintenance and beyond, our CMMS software efficiently handles your every facility management need.
Inventory Control
When most people think of the industrial laundry field, they don't think of inventory control as being a major concern. But you know better. Machinery needs to be constantly evaluated and assessed for repairs; spare parts need to be kept on hand; cleaning chemicals, information tags and sorting bins need to be purchased. eWorkOrders makes inventory control a breeze with customizable checklists and practical reporting features so you know at a glance what you have in stock and what needs to be ordered.

Preventive Maintenance
Without a successful preventive maintenance program in place, you run the risk of limited productivity and even serious injury to you or your employees due to failing machines. And both of these scenarios will cost your business money. Use our software to schedule regular inspections and implement a preventive maintenance program that keeps your equipment in working order. If a piece of equipment does happen to break down, log the information in the secure eWorkOrders system. These details can be assessed down the road in order to better make a repair or replace decisions.
Accurate Reporting
It's extremely difficult to optimize what hasn't been measured. That's why eWorkOrders comes with robust reporting features that will give you a comprehensive overview of your entire business. Better organize and assess your processes and discover areas for improvement through our software's intuitive interface.
The Complete Industrial Laundry Facility Solution
eWorkOrders is available on any smartphone, tablet or computer. Meaning our software is accessible whether you're inputting service requests from your downtown location or generating reports in your personal office. By using eWorkOrders solution to manage your business, managers will always know where there assets are located, the condition they are in, their complete maintenance history and be able to better forecast repairs/replacements. Run your business efficiently with eWorkOrders.