What Is Enterprise Asset Management (EAM)?
Computerized Maintenance Management System (CMMS) and Enterprise Asset Management (EAM) are both Maintenance Management Software, but EAM offers a slightly different set of features.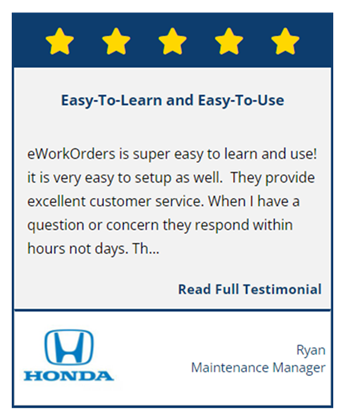 Computerized Maintenance Management System (CMMS) software manages the maintenance during the operational part of an asset's life when it's up and running and working.
Enterprise Asset Management (EAM) software is an asset lifecycle management approach that supports asset performance for the entire lifecycle of an asset, from acquisition to the removal of the asset. EAM system software is used by asset-intensive organizations that need to manage large portfolios of physical assets across multiple locations. However, the popularity of these systems has increased across small and mid-size organizations that need to manage system performance while adding the ability to plan and control budgets.
Reasons Why EAM is Important
No matter what size company you may have or what industry you support, everyone has assets that need to be maintained. EAM helps organizations track, assets, manage and optimize asset quality and reliability.
If you can relate to a number of these issues below then it is time to look at EAM.
• EAM helps organizations track, assess, manage and optimize asset quality and reliability.
• You have enterprise assets and equipment that needs to be tracked.
• You have assets across multiple departments and need to streamline processes and improve communications.
• You have hundreds of physical assets, along with complex systems and operations across multiple sites.
• You need to control security settings to ensure that only authorized personnel has access.
• You need better asset and inventory management to reduce the costs of redundant purchases.
• You need to standardize your asset strategy to be consistent across your organization.
• You need to make sure you are meeting all regulatory reporting compliances for your organization's industry.
• Enterprise asset management can shrink capital costs, lower asset-related operating costs, extend the life span of an asset and improve Return on Assets (ROA).
Benefits and Value of Enterprise Asset Management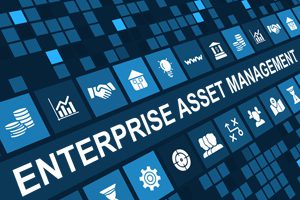 Improve Health and Safety Practices: Eam's powerful health and safety management tools provide a centralized repository for health and safety information.

Centralize Asset Information: Provides all of the information about your organization's physical assets in one centralized system. Having real-time information that is accurate and available to any department.

Best Practices: Create workflows and checklists to maintain consistency and best practices for your organization.

Establish Better Benchmarking and Performance Management: EAM gives clear visibility and access into maintenance performance across the organization to enable benchmarking, best practice sharing, and performance management.

Identify Issues Before They Occur: EAMs preventive maintenance tools help keep assets and equipment operating at peak performance.

Move From Reactive to Proactive Maintenance Operations: EAM software helps you to keep on top of maintenance and asset management and work toward a better Preventive Maintenance (PM) strategy. You can setup notifications to have the system prompt you when assets need maintenance and repairs. With the automatic generation of work orders, purchase orders, and much more based on the schedules you've created, jobs can be completed on time.
Inventory/Maintenance, Repair and Operations (MRO) Management: EAM gives you control and full oversight into inventory procurement and management by letting you see where the demand for materials is at its highest and lowest levels.

Prolong Asset Lifecycle: Equipment lifecycles are prolonged through more informed maintenance strategies into business processes to improve return on investment.

Reliability: Properly maintained equipment improves asset performance.

Warranty Management: Warranty information can be entered into the CMMS database for each asset, including equipment and spare parts.

Work From Anywhere with Mobile: Using a Smartphone or a mobile device, you can manage and access work orders and asset information in real-time, capture electronic signatures, and use bar codes.

Reporting and Analysis: Run reports and create dashboards to analyze asset performance and spot issues before they escalate into bigger problems. Get a better understanding of your maintenance operations by generating key performance indicators for your entire maintenance organization to make better business decisions.

Better Preparation for Audits and Inspections: Having access to historic and real-time maintenance information gets you better prepared for audits and inspections.

eWorkOrders Interactive Asset Mapping: Our EAM Interactive Mapping feature gives users a better and quicker visual of where assets are located along with the important information associated with every asset. (Not offered by all vendors.)

eWorkOrders Asset Reservations: The Asset Reservation feature in eWorkOrders gives users the ability to reserve assets for specific time frames. Once approved, other users won't be able to reserve the same asset at conflicting times. (Not offered by all vendors.)
Return on Assets (ROA)
eWorkOrders provides powerful tools to help organizations maximize Return on Assets (ROA) and minimize maintenance costs. Optimizing the maintenance of all assets and streamlining processes will lead to decreased expenses and increased revenue. Capture and store real-time information from work orders.
• Capture and store real-time information from work orders.
• Create reports that drive Preventive Maintenance schedules.
Total Cost of Ownership (TCO)
An EAM solution enables you to record and track the way your asset performs. Having access to this information lets you calculate the TCO and analyze "repair vs. replace" decisions.
Regulatory Compliance
eWorkOrders effective maintenance management tools help improve processes, make passing inspections and promoting a safe work environment seamless. CMMS provides detailed information to create dashboards and comprehensive reports to help organizations meet compliance audits and regulations.
• Make compliance easily traceable for audits.
• Create detailed on-demand reports on assets.
• Automate processes for tracking standards, new codes, and updating assets.
Introducing eWorkOrders EAM Solution
If you want to protect your valuable assets and keep them running at peak performance, then you need an Enterprise Asset Management solution.
eWorkOrders CMMS/EAM Suite of applications puts you and your team in control, providing you with the tools for obtaining operational visibility of your assets throughout their lifecycle with improved ROI, increased productivity and operational uptime.
Want to learn more about Enterprise Asset Management? Contact us and speak with one of our Account Executives, who were actual users of eWorkOrders in previous jobs. One of our Account Executives will walk you through a live demo and answer any of your questions to help you make your business decision. Having actual industry experience, they have the experience and expertise to provide additional helpful tips to further enhance your experience with eWorkOrders.
Awards
We have received Top Awards and Recognition in Enterprise Asset Management and Maintenance Management.
Note: Not all CMMS and EAM packages are alike. It is important to work with your account manager to discuss your needs and objectives to come up with a solution that best fits your requirements.