What Is Enterprise Asset Management (EAM)?
Asset Management (AM)
Maximizing asset value and performance while minimizing risks and costs across diverse asset types (physical, financial, and intangible). Used in finance, real estate, and manufacturing.
Enterprise Asset Management (EAM)
Focused on efficient lifecycle management of physical assets (e.g., machinery, facilities) within organizations. Widely used across various industries, including manufacturing, utilities, transportation, healthcare, and many others.
Specialized software for streamlined maintenance operations, work order tracking, preventive maintenance, and equipment reliability across various industries.
eWorkOrders Some of Our Key Features & Solutions
Asset Management  
Centralize all asset information in one system, enhancing accessibility and organization.
Asset Tracking
Track and manage all your assets, including equipment, machinery, vehicles, and facilities.
Centrally manage both planned and unplanned tasks seamlessly, from the initial request to completion, ensuring organized and efficient maintenance operations.
Schedule and automate routine maintenance tasks to reduce downtime.
Gain control over inventory levels and efficiently track spare parts and supplies.
Access work orders and asset information from anywhere using mobile devices.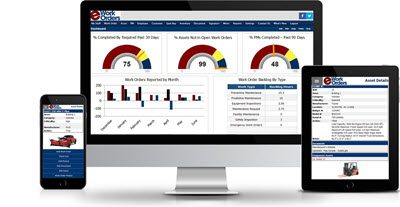 Generate reports and leverage analytics to make informed maintenance decisions.
Vendor Management  
Manage vendor information and streamline vendor interactions.
Our EAM Interactive Mapping feature gives users a better and quicker visual of where assets are located along with the important information associated with every asset. 
Create personalized dashboards and key performance indicators (KPIs) for real-time updates and alerts on critical maintenance issues.
Audit Trail  
Maintain a comprehensive audit trail of all system actions and changes.
The Asset Reservation feature in eWorkOrders gives users the ability to reserve assets for specific time frames. Once approved, other users won't be able to reserve the same asset at conflicting times. 
Effectively track and manage small tools, preventing losses and duplications.
Multiple Location Support  
Manage assets and maintenance across multiple locations from a centralized platform.
Maintain system and data security across all locations with our ongoing cybersecurity program.
eWorkOrders has earned a flawless SecurityScorecard rating of 100, showcasing our robust cybersecurity posture against potential cyber threats. 
Benefits and Value of Enterprise Asset Management
Enhance Health and Safety
EAM's powerful health and safety management tools provide a centralized repository for health and safety information.
Centralize Asset Data
Provides all of the information about your organization's physical assets in one centralized system. Having real-time information that is accurate and available to any department.
Implement Best Practices
Create workflows and checklists to maintain consistency and best practices for your organization.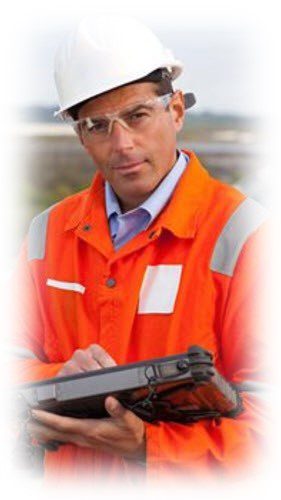 Establish Better Benchmarking and Performance Management:
Benchmarking and Performance Management: EAM gives clear visibility and access to maintenance performance across the organization to enable benchmarking, best practice sharing, and performance management.
Identify Issues Before They Occur
EAMs preventive maintenance tools help keep assets and equipment operating at peak performance.
Move From Reactive to Proactive Maintenance Operations
EAM software helps you to keep on top of maintenance and asset management and work toward a better Preventive Maintenance (PM) strategy. You can set up notifications to have the system prompt you when assets need maintenance and repairs. With the automatic generation of work orders, purchase orders, and much more based on the schedules you've created, jobs can be completed on time.
Inventory/Maintenance, Repair, and Operations (MRO) Management
EAM gives you control and full oversight into inventory procurement and management by letting you see where the demand for materials is at its highest and lowest levels.
Prolong Asset Lifecycle
Equipment lifecycles are prolonged through more informed maintenance strategies in business processes to improve return on investment.
Reliability
Properly maintained equipment improves asset performance.
Warranty Management
Warranty information can be entered into the CMMS database for each asset, including equipment and spare parts.
Work From Anywhere with Mobile
Using a Smartphone or a mobile device, you can manage and access work orders and asset information in real time, capture electronic signatures, and use bar codes.
Reporting and Analysis
Run reports and create dashboards to analyze asset performance and spot issues before they escalate into bigger problems. Get a better understanding of your maintenance operations by generating key performance indicators for your entire maintenance organization to make better business decisions.
Better Preparation for Audits and Inspections
Having access to historic and real-time maintenance information gets you better prepared for audits and inspections.
Return on Assets (ROA)
eWorkOrders provides powerful tools to help organizations maximize Return on Assets (ROA) and minimize maintenance costs. Optimizing the maintenance of all assets and streamlining processes will lead to decreased expenses and increased revenue. Capture and store real-time information from work orders.
• Capture and store real-time information from work orders.
• Create reports that drive Preventive Maintenance schedules.
Total Cost of Ownership (TCO)
An EAM solution enables you to record and track the way your asset performs. Having access to this information lets you calculate the TCO and analyze "repair vs. replace" decisions.
Regulatory Compliance
eWorkOrders effective maintenance management tools help improve processes, make passing inspections, and promote a safe work environment seamless. CMMS provides detailed information to create dashboards and comprehensive reports to help organizations meet compliance audits and regulations.
• Make compliance easily traceable for audits.
• Create detailed on-demand reports on assets.
• Automate processes for tracking standards, new codes, and updating assets
EAM Drives Operational Optimization Across All Industries
Learn how eWorkOrders EAM solutions are tailored to address the unique challenges of your industry. Click here to learn more.

Achieving Operational Excellence through Asset and Maintenance Reliability
At eWorkOrders, we recognize the crucial role asset and maintenance reliability play in achieving operational excellence. Our holistic approach helps organizations optimize operations, reduce downtime, and boost efficiency. By partnering with us, organizations can develop and implement strategies ensuring asset and maintenance reliability, resulting in improved performance and a competitive edge.
Asset reliability maintains assets, optimizing their performance under various conditions. Maintenance reliability focuses on proactive strategies, preventing failures, and extending asset life. Effective maintenance practices are key to asset reliability and overall efficiency. Prioritizing reliability reduces costs, minimizes downtime, and enhances operational efficiency.
eWorkOrders EAM Solution
If you want to protect your valuable assets and keep them running at peak performance, then you need an Enterprise Asset Management solution.
eWorkOrders CMMS/EAM Suite of applications puts you and your team in control, providing you with the tools for obtaining operational visibility of your assets throughout their lifecycle with improved ROI, increased productivity, and operational uptime.
Want to learn more about Enterprise Asset Management? Contact us and speak with one of our Account Executives.
Additional Resources
Asset Management Terms and Definitions Glossary
Maintenance Terms & Definitions Glossary