Empower Your Team With the Right Facility Management Tools!
Improve Efficiency and Productivity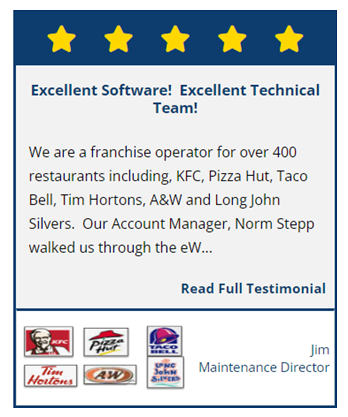 Responsive and efficient maintenance management is key to guest satisfaction.  In order to achieve this goal, your facility must be well organized and maintained and customer requests must be answered in a timely fashion. eWorkOrders CMMS software makes it easy to stay in the loop with all of your facility's maintenance needs. Our software is accessible on any smartphone, tablet or computer giving you easy access to communicate with staff, contractors and vendors. eWorkOrders is easy-to-use and affordable, making it an accessible and dependable hotel maintenance software solution for your entire organization.
Comprehensive Compliance Checklists
Our software allows you to create inspection checklists to ensure compliance with every rule and regulation in your state. Know at a glance what standards have been met and which you're still working on. And since compliance information is securely stored and easily accessible inside our system, you'll be able to quickly prove your compliance to any inspector or auditor.

Preventive Maintenance Schedules
When important assets such as HVAC units or water heaters break down or malfunction, the satisfaction of your customers is nearly impossible to guarantee. That's why preventive maintenance is so important. Use eWorkOrders to implement and maintain an equipment servicing strategy to ensure your assets not only break down less often, but last longer.
Mobile Access and Permissions

Your housekeepers are on the frontlines of your customer satisfaction efforts. So it only makes sense for them to be able to access your system and generate requests. Does room 163 need new towels? Is the TV in room 247 not turning on? By allowing your housekeepers to input service requests directly into your system, you'll ensure that rooms are ready for new guests and also a timely response for your current guest's needs. Since eWorkOrders is web based CMMS software it is accessible on any smartphone, tablet or computer, your housekeeping team can submit their requests no matter what floor or building they happen to be in.
Stress-Free Facility Management for the Hospitality Industry
Our software was designed to make the management of your facility stress free. From local, family run motels to major resort chains, let eWorkOrders help you run your establishment more efficiently.