Automate Maintenance Management with


e

WorkOrders Web-Based Manufacturing & Equipment
Maintenance Software
Implementing CMMS software helps manufacturers resolve some of their major challenges while providing some of the following benefits.
Improves Equipment Performance
A CMMS provides you with easy to use tools, making the management of your equipment, preventive maintenance, work orders, and inventory simple and streamlined. Having control of these tasks boosts your productivity improves equipment lifespan and increases profits through efficient equipment maintenance.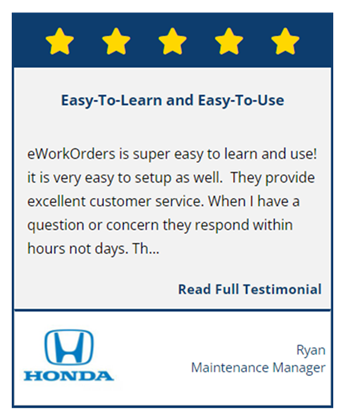 Reduces Downtime
A CMMS provides you with easy-to-use tools to help you manage your preventive maintenance program, as well as implementing and documenting preventive maintenance activities.  CMMS gives organizations more control of scheduling and managing preventive maintenance tasks, controlling spare parts inventory and keeping your equipment running at peak performance. Having a preventive maintenance program to build maintenance schedules and allocate resources reduces the likelihood of equipment failure, prevents downtime and business disruptions before they happen.
Increase Work Order Efficiency
Work orders contain detailed information and can track maintenance work time, expenses, capture notes, attach documentation, upload images, and can be closed out from anywhere.  Using a CMMS to manage work orders and tracking can be a seamless part of your operations.
Manage Work Order Backlog
Work Order backlog can cost you time, money and customers.  Backlogs can be easily maintained and kept up to date by utilizing a CMMS to manage, prioritize, and keep track of pending work orders.  Having real-time information helps ensure that work orders are closed or canceled as needed. 
Prolongs Asset Lifespan
With a CMMS historical and real-time information is stored in a central system that is readily available and easily searchable.  The information can be easily analyzed to identify improvements and provide the necessary information to make sound business decisions.
Control of Your Inventory
Every piece of equipment and every asset has its own maintenance schedule.  Some of these schedules may be based on run time, repairs, etc.  A CMMS helps maintenance teams create preventive maintenance tasks and work orders based on the manufacturer's or organization's guidelines.  You can easily manage all of your maintenance tasks to ensure that you can immediately repair a breakdown without incurring major expenses or prolonged business disruptions.
Manage Costs
The cost of equipment and facility management can run pretty high for any size manufacturing business.  Managers or supervisors are always looking for ways to reduce costs. Even though it seems impossible to control expenses, it still has to be done.  Maintenance expenses are controllable and can simply be managed through a CMMS.  With extensive real-time and detailed reporting, you can access informative information to help you identify the different problems with equipment, staffing and spare parts, and more that are costing you money.  Having access to this information will help you better manage your expenses and budgets.
Access Information From Anywhere
If your team is running back and forth from your shop or other buildings to check on which tasks or work orders they have, this is prolonging the time it takes for the repair to be completed and is costing you a lot of time and money.  While the desktop-based CMMS allows users to easily access and manage the information you are still tied to a computer. 
CMMS is the best tool for maintenance teams needing fast turnaround times, limited resources and constantly changing production schedules.  The implementation of CMMS mobile offers you a tool that responds to your needs and is easy to use from anywhere. 
Crystal Clear Communications
A well-run facility depends on communication. Every department within the manufacturing cycle must be on the same page and aware of each other's needs and expectations, as even minor miscommunications can lead to wasted time and money lost. eWorkOrders, allows your team to communicate and share documents effectively, across departments and keeps your manufacturing facility in the black.
Intuitive Tracking Measures
Communication inside individual departments is important too. With eWorkOrders, your service department, for example, can easily track and assess all of your company's equipment and schedule preventive maintenance when necessary. Material purchases can also be coordinated with your planned maintenance schedule so that you always have the replacement parts on hand when you need them.

Demonstrate Compliance with a CMMS Maintenance Database
A CMMS is a powerful system that keeps businesses compliant by documenting asset maintenance tasks to prove that you have performed all of the necessary steps to be compliant.  Being able to easily supply regulatory agencies with this information will help you to avoid penalties and fines.
Labor Management
eWorkOrders also allows managers and supervisors to quickly view the current workload of each employee and assign new work orders appropriately, in the order of most importance. By connecting the right employees with the most pressing issues, you'll ensure each task is finished on schedule.
Maintenance Reports
The more you know about how your maintenance operations is performing, the better decisions you can make. A CMMS provides you with full reporting capabilities that are essential for managing your manufacturing maintenance operations.  The reporting features ensures that the data you collect is used to provide you with all of the information on your maintenance processes.  From demonstrating the effectiveness of your maintenance program to identifying trends leading to equipment breakdown, CMMS reports provide you with the necessary data for continuous improvement.
Key Performance Indicators (KPIs)
A CMMS enables users to create a master set of KPIs and drill down to find the reasons for certain results. Users can generate in real-time an overview report that shows the state of the maintenance department, highlight any issues such as incomplete jobs, unplanned jobs, and identify trends. Having this data can help managers identify issues and improve results with minimum effort, making the collection of KPI data important and essential for your company.
Summary
In order to be successful, you need to invest in tools that will help improve productivity and efficiency.  Investing in a computerized maintenance management system (CMMS) is an essential system in helping to solve many of the problems and issues that manufacturers face today.  For more information about how CMMS software can improve your bottom line, contact eWorkOrders today, get your questions answered and get a free demo!
Article:   How CMMS Resolves Manufacturing Maintenance Problems