Maintenance and Facility Management Software
Improve Asset Management and Compliance Requirements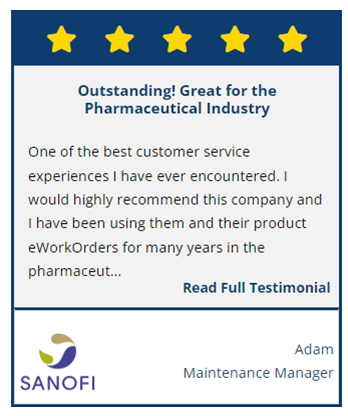 Proper management of hospitals, clinics, outpatient care centers and other healthcare facilities can be the difference between life and death for the many individuals seeking care there. But attempting to meet this challenge without the proper tools is nearly impossible and could lead to lives lost and expensive lawsuits. Our software allows you to do what you do best; save lives, without agonizing over day-to-day details like asset repair history, preventive maintenance and biometric inspections. Keep your healthcare facility running smoothly with eWorkOrders.
Asset Management
Knowing exactly where each critical asset is located in your healthcare facility as well as its cost and service history is important. Our software will tell you at a glance, where each piece of equipment is, if there are any open work orders for it, how much money has already spent repairing it in the past, and when the end of life is expected. This makes future decisions to repair or replace much simpler.
Service Requests
Service requests can be submitted by anyone of your choosing; doctor, nurse, administrator, etc. Duplicate checking of each request can alert requesters prior to submission, saving everyone time and aggravation. When service requests are sent, you'll instantly be notified. And since we track the workloads of each of your employees, you'll be able to quickly dispatch the appropriate staff member to fix the problem.
Preventive Maintenance
When lives are at stake, equipment malfunctions are not an option. eWorkOrders allows for easy tracking and scheduling of preventive maintenance so that your most critical assets are always running at peak performance.
Custom Compliance Checklists

Healthcare facilities are heavily regulated and biomedical inspections are mandatory. By creating checklists inside our software, you'll be able to ensure complete compliance. And since every facility operates differently, each checklist is fully customizable to your preferred workflow.
Accreditation Assistance
eWorkOrders can also assist in both accreditations for organizations like the Joint Commission on Accreditation of Healthcare Organizations (JCAHO) and the National Committee for Quality Assurance (NCQA) and in complying with any audits that may arise.
Mobile Accessibility
eWorkOrders is accessible on any smartphone, tablet or computer and is the only tool you need to properly manage your healthcare facility. From preventive maintenance to accreditation assistance, our software makes your job a whole lot easier and allows you to focus on what's most important: your patients.