Water & Wastewater Plant Maintenance Software
Drives Productivity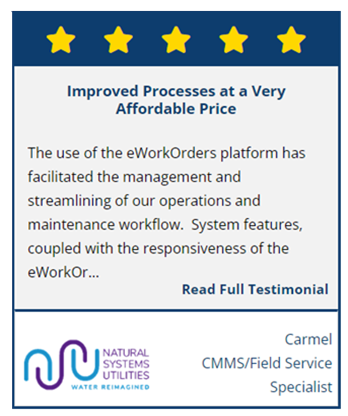 Preventive Maintenance
Effective preventive maintenance programs are essential to the success of your operation. Our software allows you to schedule preventive maintenance based on date, run hours, or mileage; giving you the power to craft the perfect maintenance schedule for each of your individual pieces of equipment. Using eWorkOrders CMMS software for treatment facilities offers an easy way to view and manage open work orders, upcoming preventive maintenance, and ongoing maintenance tasks to help facility managers stay updated and on track.
Extend the Life of Equipment
eWorkOrders is designed to dramatically increase the efficiency of equipment by automating all maintenance activities. Schedule preventive maintenance and trigger notifications to keep facility managers and field technicians aware and updated on important tasks. Our mobile access gives technicians the ability to access their assigned work, record the time taken, add notes, update asset information, locate inventory, issue replacement parts and submit their order requests. Early identification of potential failures and faulty parts ensures timely maintenance and extends the longevity of infrastructure equipment.
Compliance
eWorkOrders CMMS asset management software with mobile computing makes it much easier to avoid hassles and stay compliant. Water and wastewater utilities can leverage our asset management software to keep a constant check on their vital equipment and to configure customized reports for audits or year-end reporting.
Access On-the-Go from your Mobile Device
eWorkOrders powerful suite of features is accessible on any smartphone, tablet or computer for the ultimate convenience. Scan an asset barcode to instantly pull up asset details, repair history, replacement parts, take a picture of the repair, and create the work order while you're in the field and on the job. It is that quick and easy!
Value of eWorkOrders CMMS Wastewater Treatment Plant Software Solution
One of the biggest advantages of CMMS software is that it gives insights into operations, empowering facility managers to organize, manage, and monitor every asset and process in the most efficient and timely manner. The automation of tasks and processes frees up additional time so that facility managers can shift their focus from tracking work order logistics to reducing costs and improving efficiency.  Some of the main benefits include:

Extends the service life of treatment plant assets  

Minimizes maintenance costs

Maintains the value of your treatment plant assets

Reduces risk downtime and business interruptions

Always be prepared for audits and inspections

Manage resources more efficiently

Run reports and maintain dashboard information in real-time
eWorkOrders CMMS Cybersecurity Program
We value our customer data.  As an effort to maintain the security of our systems and our customer's data, we have utilized a third party, SecuirtyScorecard to analyze and continuously rate how well prepared we are at preventing cyber-attacks.
We are pleased to announce that we have achieved a perfect SecurityScorecard score of 100 on their scale of 0 – 100. See our SecurityScorecard
eWorkOrders CMMS Water & Wastewater Software Solution
eWorkOrders CMMS software helps water and wastewater plants to plan effective preventive maintenance on equipment, grounds and facilities. With our maintenance software, you can ensure everything you do is safe and compliant. 
eWorkOrders award-winning CMMS software provides all of the above features plus more.  We have high standards and provide a high quality software solution.  We are known for our excellent customer service, and long-standing reputation in the maintenance management software industry. Contact us today to learn more about our software products and services.  Schedule a demo today!