Affordable Maintenance Management Software
Reduce Operational Costs and Improve Efficiency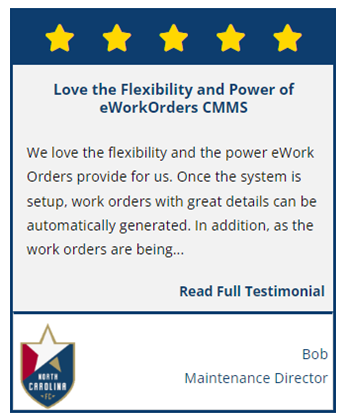 Maintaining facilities while keeping costs down is a challenge to many organizations, but it is even more difficult for non-profit organizations. Whether you are a small non-profit or a large non-profit, you may not have a full-time maintenance manager, and those that do often have volunteers handling at least some of the maintenance and repair work. It's difficult to communicate and identify what has previously been done or what needs to be done, since everyone may not always be available or understand your actual maintenance needs. If something should break down and the information or the right people are not around, you could incur unnecessary charges and waste a lot of time.
In order to run a nonprofit successfully, you need the right tools. eWorkOrders CMMS software is the perfect tool for helping organizations manage their facilities, maintain their records, documents and reducing costs. eWorkOrders can streamline your business operations so you can focus on more important things.
Detailed Database Management
Nonprofit organizations depend on the support of generous people donating money or precious time in order to support a specific cause. eWorkOrders allows you to organize, store and maintain valuable information, helping you to manage your facilities and workers. Administrators can give users access to the specific information they need to complete important projects without having to compromise confidential data.

Unique Workflows and Tech Support
Nobody does things quite like your nonprofit does. Our software gives you the ability to create unique workflows for various maintenance and service operations. The eWorkOrders team will work with you in configuring the system to your specific needs, you'll be able to streamline processes, manage costs and cut down on unnecessary spending.
eWorkOrders is easy to use and we'll be there every step of the way to help you through the process. From our live web-based training to our recorded training sessions and our outstanding technical support team, we ensure that our customers are fully trained on our software. Our professional team is very responsive and will be able to assist you with any questions that you may have.
Organization at Your Fingertip

s
Organization and maintaining detailed information in one centralized place is key to the success of any organization. But this is especially true in the nonprofit organizations where budgets are tight and volunteers may not be readily available or have the necessary knowledge. eWorkOrders allows you to store and organize all your nonprofit's vital information — for each of the facilities under your management — in one centralized location. And our software is accessible on any smartphone, tablet or computer so you'll always have access; no matter where you are.
A Better Approach to Non-Profit Facility Management
eWorkOrders is the answer to better managing of any size nonprofit organization at an affordable price.