Maintenance Management On-The-Go
Manage all of your work orders and maintenance tasks from anywhere!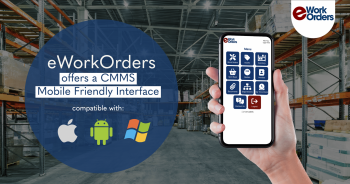 Mobile interfaces for enterprise asset management (EAM) software and computerized maintenance management systems (CMMS) have been around for a long time.  but have managed to penetrate only a very small number of organizations. Research suggests that acceptance of mobile EAM and CMMS has been increasing in this technology.
For instance, the price of handheld electronics has dramatically decreased. These days, handhelds come in a variety of sizes and designs, from ruggedized devices to basic consumer smartphones with Android or iOS operating systems. Many businesses have also updated their mobile interfaces to benefit from new hardware, operating systems, and the knowledge gained from previous interfaces.
An effective maintenance team needs the flexibility of having access to asset information from anywhere at any time. Our CMMS Mobile solution provides your maintenance team with simple, online tools to create, update, track and complete all of the maintenance tasks that come through your department. You can scan barcodes, or just click to search to retrieve asset details and work order history. You will be able to access spare parts inventory, spot buys, view, open, and close your work orders, track your time, or search through all the work orders, all in real time. eWorkOrders robust mobile solution is focused on the unique workflows of remote maintenance technicians in the field.
What Is CMMS Mobile?
CMMS Mobile software provides communications, organization, and accountability between maintenance teams. From Smartphone or mobile device, users can create and manage assigned work orders and PMs, receive real-time notifications regarding a work order, upload pictures to report problems, access critical asset information, and inventory from anywhere at any time.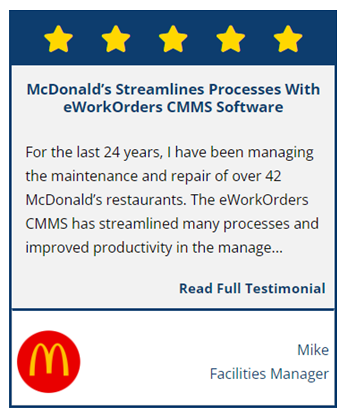 Why Do You Need Mobile Maintenance
Integrating mobile software into your organization improves production accuracy, increases efficiency, and improves the completion time of work orders. Provides better communications and collaboration between maintenance teams, which results in a quicker response to complete work orders.
Maintenance On The Go
With  CMMS Mobile, your maintenance personnel and your assets will operate at their highest productivity and performance levels.
The mobile application allows field service technicians access to crucial asset data and history. This CMMS mobile application allows for the real-time collection and entry of maintenance information, equipment readings, usage history, security checks, and readings of the equipment.
Centralize Data
Every user will have real-time access to the same, comprehensive information— across sites and mobile devices – in one single location. This streamlines work, reduces errors, eliminates information siloes, and allows teams to work effectively and plan for future maintenance needs.
Manage Work Orders From Anywhere
CMMS Mobile gives remote technicians all of the tools at their fingertips to easily access all of the information they need such as all work orders, asset history, manuals, spare parts inventory, checklists, images, and more from anywhere.
Checklists 
Managers can create, manage, and attach checklists to work orders, to ensure that tasks and proper procedures have been followed and completed before a work order is closed out.  Each field in the checklist is recorded and can be tracked and reported on.  Checklists are commonly used for preventive maintenance and can also be used as a formal document and reminder when certain types of events occur (inspections, audits, etc.).  Checklists have the ability to generate follow-up work orders when needed and are connected to the original checklist.
On-The-Go Customer Capture
Our signature capture feature allows managers to set up different types of electronic sign-off. Create different statements for people to electronically sign. For example, customers can sign off by granting permission before starting work or verifying work was completed satisfactorily when closing out a work order. Signatures can be captured along with the statement they are signing off on and other pertinent information. Once signed off, they automatically attached to the work order they related to. (This is an Enterprise feature.)
Asset Management
See everything you want to know about an asset's repair history so you can get a better understanding of the breakdowns and complete repairs faster.
Barcodes 

              
With eWorkOrders, accessing your CMMS records on your mobile device has never been easier or faster. With the use of your mobile device, no matter how many employees in your organization handle inventory, they can record inventory transactions as they happen – and send data to the central database in real-time, meaning you always have current inventory status. 
Mobile Interface
With eWorkOrders CMMS software, field technicians can use our user-friendly mobile interface to access their work orders, log labor hours and notes, record when work is completed, and enter condition monitoring readings while out in the field.
eWorkOrders CMMS Mobile software gives technicians all of the tools and mobile advantages to improve maintenance operations and manage work orders more accurately and efficiently. 
Supervisor Dashboard.
Managers can create customized dashboards that provide a real-time comprehensive overview of their maintenance operations.  
Benefits of CMMS Mobile 
Create and manage work orders from any mobile device

Immediately update notes, inspection results, time, and parts, etc.

Upload and access pictures and other documents

Receive notifications of assignments in real-time

Better collaboration and communications

Easy access to parts and asset information

Create and manage to-do checklists

Complete work assignments faster

Sustain a paperless environment

Real-time tracking & reporting

Access information on-the-go

More efficient process

Reduce errors

And more…
The trend and direction that businesses are moving in is paving the way for mobile technology in all of our lives. CMMS Mobile is not just for the maintenance industry but for businesses throughout any industry. So if you haven't considered mobile CMMS yet, now is the time to consider it for your business.  
Speak with one of our Account Managers and get a free demo.