Maximize Asset Life and Labor Productivity
With

 

eWorkOrders Asset Management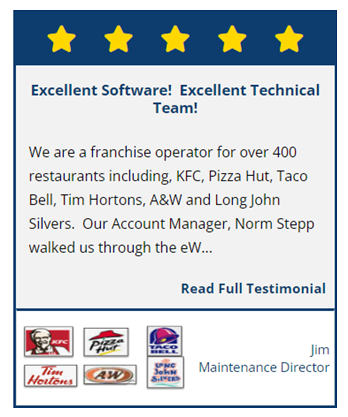 Analyze maintenance costs for repairs and replacement.

Add photos to document the tools\equipment\facility condition. 

Works with handheld computers barcode scanners and smartphones with barcode scanner apps.

Stay on top of preventive maintenance.
Asset Performance
Having effective asset management strategies in place, organizations can see the benefits of equipment performing at peak performance, reduced downtime, lower operating costs, and maximizing ROI.
Track asset tasks and performance across your entire corporation.

Minimize asset life cycle costs and maximize profitability.
Tools & Equipment Management
The eWorkOrders Asset Management module integrates all asset management and tracking into one easy-to-use centralized database.  CMMS helps simplify the management of assets, extend asset life span, improve performance, enhance safety programs and streamline processes.
Analyze maintenance costs for repairs and replacement.

Implement a check-in and check-out process for tracking all assets.

Add photos to document the tools\equipment\facility condition. 

Return on Assets (ROA)
eWorkOrders provides powerful tools to help organizations maximize Return on Assets (ROA) and minimize maintenance costs.  Optimizing the maintenance of all assets and streamlining processes will lead to decreased expenses and increased revenue.
Capture and store real-time information from work orders.

Create reports that drive Preventive Maintenance schedules.
Regulatory Compliance
eWorkOrders effective maintenance management tools help improve processes, make passing inspections easier, and promote a safe work environment seamless. CMMS provides detailed information to create dashboards and comprehensive reports to help organizations meet compliance audits and regulations.
Make compliance easily traceable for audits.

Create detailed on-demand reports on assets.

Automate processes for tracking standards, new codes, and updating assets.

The ability to access each asset's warranty information, stored within CMMS software, also proves beneficial in processing claims and recouping costs.
CMMS Reporting and Dashboards
With the reporting features in CMMS software, users can make critical decisions related to asset management, such as equipment replacement. Although an asset may have reached its anticipated lifespan, following an effective preventive maintenance plan could help continue assets operating for years to come.
Cybersecurity Program
eWorkOrders has an ongoing effort to maintain the security of our systems and our customer's data.  We have utilized a third party, SecuirtyScorecard to analyze and continuously rate how well prepared we are at preventing cyber-attacks.
We are pleased to announce that we have achieved a perfect SecurityScorecard score of 100 on their scale of 0 – 100.  Click here to view our perfect scores in all of the categories.
Selecting a CMMS Solution – Questions You Should Ask
When selecting the best asset management CMMS software, it's important to consider:
Security: Is your data going to be protected? Is your vendor going the extra mile to protect your data?

Function & Feature: Does this software meet your requirements?

Technology: Does the vendor offer free upgrades?

Training & Support Services: Does the vendor provide training and support? What other options are available for new employees?

Legacy Systems Integration: Can legacy systems be integrated into the software? Will the vendor work with you to support this initiative?
eWorkOrders can answer yes to all of these questions – can your vendor do the same?
eWorkOrders is a global solutions provider that works with companies, providing them the tools they need to better manage their assets, maintenance operations, resources, equipment, control costs and increase overall productivity.
Integrating and Optimizing CMMS with Geographic Information System (GIS) & Enhanced Image Mapping Technology