Workflow Management for Service Providers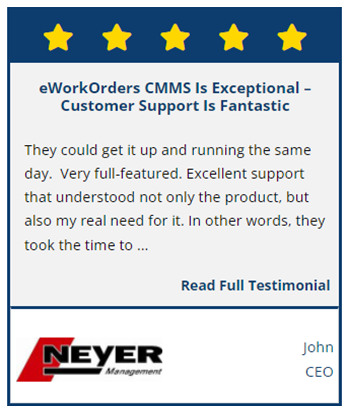 CMMS software is a wise investment for many service providers in a wide range of industries. Whether you own a small local operation or run a giant fortune 500 company, the eWorkOrders software suite can help you do it more efficiently with its work order management features, automation capabilities and reporting options.
Maintain Organization
As a service professional, you field numerous work orders every day, respond to various customers and clients and generate countless reports. That's a lot of data you need to process, organize and store! Fortunately, eWorkOrders allows you to do it all inside one centralized, user-friendly system; saving you countless hours and reducing administrative costs.
Mobile and Customizable
eWorkOrders is accessible on any smartphone, tablet, or computer; giving you the ultimate convenience and location independence. No matter where you are — your home office, downtown location, or somewhere else — you'll have access to your crucial business data.
Our software is also highly configurable and can be customized to your industry's specific requirements and your company's unique workflow. Various aspects of your processes can then be automated to your preferences.

Reporting Capabilities
Accurate reporting is vital to the success of your service business. That's why eWorkOrders comes with extensive reporting features that will give you a comprehensive overview of your entire business. Use our software to better track key information and inventory, analyze your processes, and prove compliance with our intuitive reporting capabilities.
Supercharge Your Business with

e

WorkOrders
eWorkOrders gives you the tools to streamline your processes and increase efficiency within your service based business. Stay organized; create customized, automated workflows; and generate detailed reports from our mobile-friendly CMMS software solution.