Facilities Maintenance Software for
Schools and Universities
Reduces Maintenance Costs and Improves Response Time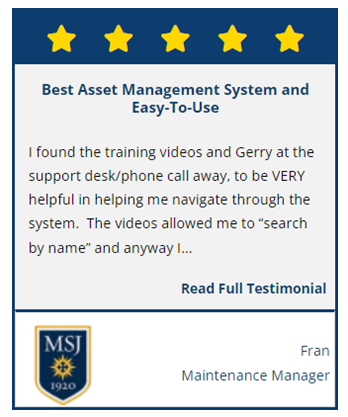 Whether you're an independent learning institution or a member of a public school or university, proper school building maintenance and efficient workflow are imperative in making sure that equipment, grounds, and technology at your school are up and running on a daily basis. Regardless of the size or geographic footprint of your educational facility, all maintenance departments face similar challenges. Doing more with less, understanding the full scope of the equipment and facilities within your responsibility, developing a plan, and reducing deferred maintenance costs are your daily challenges. We provide customers the tools to manage their assets more efficiently and is an affordable and accessible maintenance solution for your entire organization.
Flexible & Easy To Use Maintenance Management Software
Maintenance management in the education industry is a never-ending job throughout the year. Our computerized maintenance management software (CMMS) for educational facilities helps to streamline processes and minimizes maintenance challenges at an affordable price..
Simplify Your Maintenance Operations
eWorkOrders is a flexible software solution that gives you the tools to manage all of your maintenance tasks and secure the health and safety of staff, children and visitors.
Assign work orders and track the progress.

Schedule preventive maintenance at your convenience.

Management, track, and maintain assets more efficiently.

Flexible and scalable to meet your growing needs.

Access from a computer, smartphone, or mobile device.

User-friendly service requests form.

Security validation of 100% rating in all categories.
Powerful Service Requests
When work needs to be done, eWorkOrders allows anyone of your choosing; teachers, administrators, students, etc., to quickly submit the service request. Our software also provides duplicate checking measures to prevent wasting time on unnecessary requests. When a request is submitted, it's easy to automatically dispatch the appropriate workers or have an administrator review it and schedule the work with in-house staff or outside contractors.
Safety
One of the primary objectives of educational institutions is maintaining and ensuring the safety of students, faculty, and staff. From the safety of equipment to the COVID-19 pandemic and flu season all are challenging tasks that maintenance teams must face every day.
To promote safety and the comfort of your institution's students, eWorkOrders gives requesters the ability to see photos of the workers scheduled to perform maintenance. By ensuring that staff and students know what and who to expect, you'll ease anxiety and help foster a more productive learning environment.
Maintenance technicians are on the go in schools and universities. From repairing broken equipment, fixtures, windows, doors, and any of the hundreds of assets that students touch every day, their list is continually growing. The large number of facilities, assets, and people within schools and universities means that maintenance teams are receiving a high volume of service requests and work orders every day.
It's critical for facilities managers to quickly organize and prioritize work orders. With just a few clicks, eWorkOrders CMMS for schools and universities allows managers and team members to generate, schedule, assign, track, and close work orders in real-time from a computer, smartphone, or mobile device.
With our CMMS mobile feature, the entire maintenance management team can access maintenance information on the go, communicate information, and manage all of their routine tasks from anywhere at any time.
GIS Asset Mapping
Our interactive map feature provides educational facility managers with a visual view of where assets are located populated with assets and accessed on any smartphone, tablet, or computer. From classrooms to sports fields, fitness facilities, and dining rooms, the assets in every location you oversee are viewable as are any open work orders. Now you can know at a glance, what needs to be worked on and at what location.
Benefits Of CMMS To Schools & Universities
Respond and complete work orders quickly and efficiently.

Perform maintenance on the go with mobile CMMS.

Schedule preventive maintenance at your convenience to decrease the likelihood of broken equipment or safety hazards.

Enhance safety for students, faculty, staff, and visitors.

Simplify tracking of assets and equipment.

Maintain reports and customized dashboards

Track your asset's lifecycles to create more accurate annual reports.

Customizable dashboards to always know the status of your work orders.

Store and retrieve documents, manuals, warranties, images, and more from one centralized system.

Always be prepared for inspections and audits.
Conclusion
eWorkOrders has over 25 years in providing affordable, easy-to-use, flexible, and scalable maintenance software for schools and universities. Our CMMS helps schools & universities accomplish the goal of providing the best maintenance management software for educational institutions. Learn more about CMMS software benefits for schools and universities by contacting us for additional information.