What is a Service Request (Work Request)?
A Service Request sometimes referred to as a Work Request, provides communications and management of services needed, allowing you to streamline request intake and maximize work performance efficiency.  The Service Request Module provides customers with a quick and easy form to fill out from a computer, smartphone, or mobile device.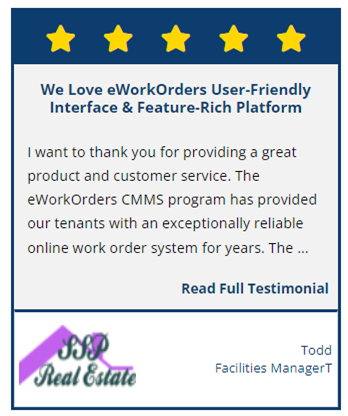 Difference Between a Service Request and an Incident
A Service Request is a formal request for scheduled work that needs to be provided.  Some examples include resetting a password; installing software; creating an email group, etc.   
An Incident is an unplanned interruption task that requires an immediate resolution.  A few examples include a computer not booting up, WiFi not working, or a safety hazard that needs to be taken care of. 
Difference Between a Service Request and a Work Order
A CMMS Service Request Interface gives users the ability to communicate between the maintenance team and other departments across organizations. 
CMMS work order management software is used to generate work requests and automates work order activation, assignment, processes, and distribution to ensure that work orders don't fall through the cracks.  A flexible maintenance calendar provides a snapshot of upcoming work orders so that you can plan for the days or weeks ahead. 
Importance of a Service Request
The main objective of the Service Request Module is to be able to organize and manage service requests, streamline processes, and increase performance efficiency.  In order to be successful, the Service Request form has to be convenient, easy to use, and accessible from a computer or mobile device.   
Benefits of a Service Request

Easy Access
Real-time communications with 24/7 access.

The customers that you service can enter their own service requests through the Customer Web Request Module.

Customers can also use this module to check the status of a service request. They can see who has worked on a request, when they performed the work, and how much time was spent. This saves you time by eliminating many annoying phone calls asking about the status of a request.

A very user-friendly interface allows your customers to select from a menu of services that you offer.

There is no need for requesters to have user ids or passwords unless you prefer that option.
Automatic Routing
Requests are assigned a tracking number and are automatically routed to the appropriate service provider/employee for immediate action.

Each time a customer returns to the site their contact and location information will automatically be filled out so that it only takes a few seconds to create a new request.

These new requests will be immediately available through the work orders and reporting modules.
Customer Notification
Your customers can also be notified via email when notes are added to a request and when the request is completed.

Requesters can use this section to provide feedback about the work performed. This is a great way to address opportunities for improvement and to recognize outstanding performers.

There is no need for requesters to have user ids or passwords unless you prefer that option.
eWorkOrders Service Request software is highly configurable and can be customized to your industry's specific requirements and your company's unique workflow. Various aspects of your processes can then be automated to your preferences.