What Is A Service Request (Work Request)?
A Service Request sometimes referred to as a Work Request, provides communications and management of services needed, allowing you to streamline request intake and maximize work performance efficiency.  The Service Request Module provides customers with a quick and easy form to fill out a from a computer, smartphone, or mobile device.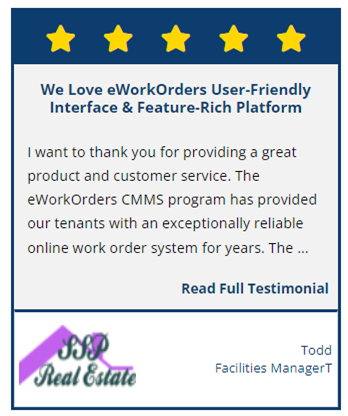 Difference Between A Service Request And An Incident
A Service Request is a formal request for scheduled work that needs to be provided.  Some examples include resetting a password; installing software; creating an email group, etc.   
An Incident is an unplanned interruption task that requires an immediate resolution.  A few examples include a computer not booting up, WiFi not working, or a safety hazard that needs to be taken care of. 
Difference Between A Service Request And A Work Order
A CMMS Service Request Interface gives users the ability to communicate between the maintenance team and other departments across organizations. 
CMMS work order management software is used to generate work requests and automates work order activation, assignment, processes, and distribution to ensure that work orders don't fall through the cracks.  A flexible maintenance calendar provides a snapshot of upcoming work orders so that you can plan for the days or weeks ahead. 
Importance Of A Service Request
The main objective of the Service Request Module is to be able to organize and manage service requests, streamline processes, and increase performance efficiency.  In order to be successful, the Service Request form has to be convenient, easy to use, and accessible from a computer or mobile device. 
Examples of Service Requests
Employees, vendors, or customers can all submit service requests. Depending on the industry, size of the company, and size of the maintenance team, service requests can be classified in a variety of ways. Below is a list of a few different maintenance requests.
Type Of Requestor
Tenant Request: HVAC stops working, clogged drains, something leaking, running toilet, light bulb needs replacing, drywall repairs, painting, etc.

Employee Request: Broken furniture, moving furniture, relocation, burnt-out lights, carpet repair, chair repair, etc.

Machine Operator Request: Machine stops working, fluid leaks, breakdowns, etc.
Type Of Businesses\Organizations
School Request: Fields, restrooms, classrooms, laboratory maintenance, spills, etc.

Park Request: Turf, landscaping, sign repair, road repair, broken benches, etc.

Industrial Request: Furnaces, boilers, conveyor maintenance, lights not working, etc.
Best Practices For Managing Service Requests
The following suggestions can help you enhance your service request management process.
Invest In Service Request Management Software
Without a formal system in place, managing service requests is difficult, if not impossible.  Both administrators and requesters can benefit from the one system for submitting and managing service requests provided by service request management software The service request management features of computerized maintenance management system (CMMS) software are commonly used by maintenance teams to manage requests.
Make It Simple To Submit Requests
Provide requesters with an easy way to submit service requests to the maintenance team.
Requesters ought to be able to complete the form with ease and provide you with the necessary details you need to respond to the request.

Service Request Notifications Should Be Automated
Many maintenance teams struggle with communication, especially when it comes to following up with requesters. People who need maintenance help want their requests acknowledged and to be informed when they will receive assistance CMMS software automatically sends status update notifications to requesters, providing such transparency.  eWorkOrders CMMS Customer Portal gives requesters the ability to always see the status of their jobs, and does not require an ID or password. This eliminates a lot of phone calls to maintenance teams trying to find out the status of work that needs to be done. 
Set Service Request Priorities
It is not a good use of maintenance resource time to respond to service requests in the order they are received. The maintenance team is forced to prioritize small chores when there are more pressing demands when requests are handled on a "first come, first served" basis. Instead, order requests according to their seriousness. Emergency, high, medium, and low are typical priority levels. The specifications for each level should be established and followed.
Review Common Service Requests On A Regular Basis
It is feasible to search for trends in what maintenance problems recur by looking back at previous service requests in a CMMS. There is a chance to lessen problems if they repeatedly occur by performing more preventive maintenance (PM). It is simple to modify the maintenance plan to suit your needs when service requests and preventative maintenance data are combined in a CMMS.
Use KPIs to Optimize Service Request Management
One of the most powerful tools built into CMMS software is metrics and reporting. This is your opportunity to learn from past successes and failures, take predictive measures, and to communicate this data across your organization. You have control over what reports are generated, how often they are generated, and who gains access to this information.
Benefits Of A Service Request 
eWorkOrders Service Request software is highly configurable and can be customized to your industry's specific requirements and your company's unique workflow. Various aspects of your processes can then be automated to your preferences. Contact us today to learn more and get a free demo.