Stay Organized, Maintain Equipment and Pass Inspections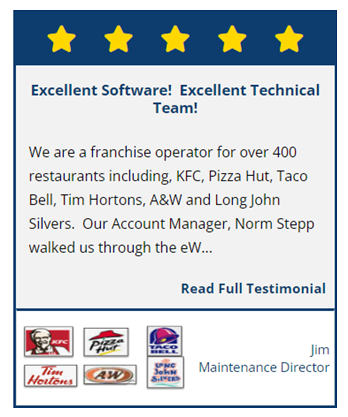 Simple Service Requests
Even with top of the line equipment and routine maintenance schedules, things break down. It's just part of the business. When this happens, the restaurant that can get back up and running the fastest wins. That's why we've made submitting and responding to service requests as simple as possible. Report on malfunctioning equipment in just a few clicks and know at a glance its repair status.
Stay Compliant and Pass Inspections
Do you dread inspections and audits? With eWorkOrders, you don't have to. Our software allows you to create intuitive, customizable checklists to ensure you continually meet all requirements and pass each inspection with flying colors. Necessary documentation such as safety manuals and management reports are also easily accessible and securely stored inside our system. Don't let disorganization or the fear of inspections slow you down.
Convenient Mobile Accessibility
Whether you manage the neighborhood's favorite local eatery or a chain of national restaurants, eWorkOrders can help you do it better. And since our application is accessible on any smartphone, tablet or computer, it's incredibly convenient, too. Focus on the flavors coming out of your kitchen, not the tools you use to run your business.