Fleet Maintenance Management Software
Reduce Operational Costs and Improve Efficiency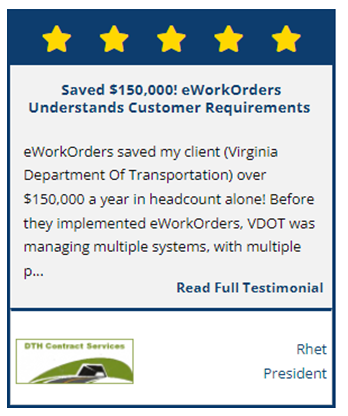 Fleet management involves a lot of moving parts — literally. And as the manager of a fleet of vehicles, you need a complete and accurate picture of your assets at all times. eWorkOrders allows you to reduce maintenance costs, improve operational efficiency and extend the life of each of your vehicles with our intuitive software suite.
Fleet Management Made Easy
With eWorkOrders CMMS software, you can manage all of your vehicle information and manuals in one centralized location. Save time by being able to have immediate access to specific information on your vehicles, such as VIN numbers, serial numbers, images, manuals and manufacturer detail, installation dates, inspection dates and much more. eWorkOrders CMMS software is a great way to keep current and get notified when insurance, registration and inspections and other important events are due across your entire fleet. All of this information can be accessed anywhere from a computer, tablet or smartphone.
Preventive Maintenance
The implementation of an effective preventive maintenance program is a high priority for most fleet managers. Without one, your vehicles are at risk of unexpected breakdowns and shorter lifespans. Both of which could prove costly for your organization. eWorkOrders gives you the ability to schedule preventive maintenance based on date, run time, or mileage so that you're vehicles get the exact care they need. Keep your fleet running better for longer with practical preventive maintenance scheduling.
Asset History
Tracking the history of your vehicles is important. eWorkOrders can catalogue and produce reports on everything from work order history to repair costs for each of the assets under your command. You can then use this information to make complicated repair or replace decisions with confidence.

Inventory Management
The worst nightmare of every inventory manager is a stock room with missing or wrong inventory. eWorkOrders provides cloud-based inventory management to help businesses prioritize and organize inventory, keep facilities and warehouses running smoothly, and make information easily available to every user.
Maximize Efficiency
Our software aims to make your business process more efficient by tracking and storing your vital company information in one secure location. Reduce your use of paper documents, which are easy to lose, with our digital solution. Rather than digging through oversized filing cabinets, important company documents are easily located and retrieved inside the eWorkOrders system.
Constant Access
eWorkOrders is easily accessible on any smartphone, tablet, or computer. Meaning you can respond to inquiries and view essential fleet and cost information no matter where you are — 24 hours a day, 7 days a week! Both you and your vehicles are constantly on the go. You need a software solution that's as mobile as you are.
Your Complete Fleet Management Solution
eWorkOrders makes fleet management a whole lot simpler. From preventive maintenance and asset history tracking, to digitized documents and intuitive reports, our software is the best solution for your company's unique needs.