Types of Preventive Maintenance
Some of the most common types of preventive maintenance are:
Time-Based Preventive Maintenance – Also called Calendar based Preventive Maintenance.
Time-based preventive maintenance activities are scheduled based on a specific date, or a time interval such as the number of days.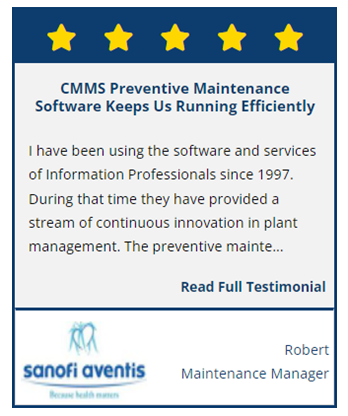 An Example: Scheduling and setting up regular inspections for a critical asset or a key piece of equipment that would cause major unscheduled downtime in the case of a breakdown.
Usage-Based Preventive Maintenance – Also called Runtime-based preventive maintenance.
In usage-based preventive maintenance, maintenance activities are scheduled based on a specific measured runtime unit, such as the number of hours worked, a certain amount of miles, the number of production cycles, and more.
An Example: Changing the oil in a vehicle every 30,000 miles, scheduling the preventive maintenance on the odometer readings, not a recurring time interval.
Predictive Maintenance
Predictive maintenance is a form of preventive maintenance that is possible with the use of CMMS software. Predictive maintenance is based on preset and predetermined conditions of specific pieces of equipment, utilizing different technologies.
When data is entered into a CMMS for a long time, maintenance personnel can identify breakdown patterns and manufacturer recommendations to circumvent it.
An Example: Monitoring of a specific piece of equipment within a manufacturing facility. By linking condition-monitoring sensors to the CMMS, the system will automatically create a work order to alert technicians once there is a deviation in the machine's operating conditions.
Preventive Maintenance Planning
In developing your preventive maintenance strategy, organizations have their own goals, objectives, and regulations that they need to follow. eWorkOrders CMMS software gives organizations the tools to effectively schedule, plan, manage, and track maintenance tasks and operations in one centralized system.
As you assess the areas and equipment that you want to target for preventive maintenance, some of the basic steps in preparing include:
• Define your goals for each piece of equipment or asset. Example: Perhaps for a particular piece of equipment, your goal might be to experience zero lost time due to repairs on the machine for the year.
• Plan and schedule your maintenance, which means identifying the most convenient day for doing repairs, upgrades, etc.
• Evaluate staff training to ensure that the appropriate people are trained to perform preventive maintenance on equipment and other assets.
There are other functions that have an impact on your business, but should not be classified as preventive maintenance, and are considered corrective maintenance, including changing a light bulb, repairing a broken hose, etc. Things that have already encountered a failure are considered reactive maintenance.

Preventive Maintenance Checklist
One of the most valuable tools included in our preventive maintenance module is the ability to create preventive maintenance checklists.
Creating a preventive maintenance checklist should be a part of the planning process, and is a good way to ensure that you are not overlooking anything, you remain on task, processes are being followed and everything is being completed within your defined guidelines.
What Can CMMS Preventive Maintenance Software Do For You?
Using CMMS software to manage your preventive maintenance program will significantly benefit your business. CMMS software provides powerful tools for creating and scheduling work orders digitally for preventive maintenance.
CMMS preventive maintenance software gives technicians easy access to all of the preventive maintenance work orders they need to perform and will send alerts and reminders when the next inspection is due. You also have the ability to track work orders through the complete process from start to finish and will have access to data and trends that show operational downtime, repair costs, along with what caused the issues.
Benefits of Preventive Maintenance
• Prolonged life of company equipment.
• Less unscheduled downtime caused by equipment failure.
• Less unnecessary maintenance and inspections.
• Fewer errors in day-to-day operations.
• Improved reliability of equipment.
• Fewer expensive repairs caused by an unexpected equipment failure that must be fixed quickly.
• Reduce the risk of injury.
• Easily schedule future activities and allocate the appropriate resources.
Summary
Focusing on planned and preventive maintenance using a CMMS to manage maintenance tasks simplifies the processes and minimizes downtown. eWorkOrders award-winning CMMS software is easy to use, easy to implement and provides access to all of your maintenance information from anywhere.
We offer you everything you need to manage your maintenance tasks in one centralized location. With our extensive set of features, users can easily manage work orders, preventive maintenance scheduling, and keep track of all the assets in your facility. Schedule a demo today to learn more about how eWorkOrders CMMS Preventive Maintenance software can help you.