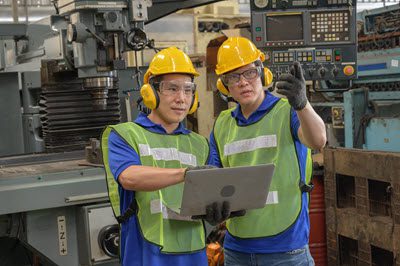 Maintenance management metrics play a crucial role in achieving effective maintenance operations. These metrics provide a straightforward and measurable way to monitor the effectiveness of maintenance activities. By gathering and analyzing data on key performance metrics, organizations can gain valuable insights into the efficiency and effectiveness of their maintenance operations.
Below are a few important facility maintenance KPIs that organizations should consider tracking:
Equipment Uptime
This KPI measures the amount of time that equipment is operational versus the amount of time it is down for maintenance, repairs, or other reasons.
Mean Time To Repair (MTTR)
This KPI measures the reliability of non-repairable equipment. It calculates how long an asset is anticipated to function before failing. MTTF is used when fixing an asset is not an option, in comparison to MTBF which is used for repairable objects. 
Mean Time Between Failures (MTBF)
This KPI measures the reliability of an asset as well as the interval between failures. MTBF measurements offer accurate and comprehensive information on the condition of assets. 
Reactive Maintenance Percentage
This KPI measures the percentage of maintenance activities that are performed on equipment after it has already failed. 
Preventive Maintenance 
This KPI measures the percentage of scheduled preventive maintenance activities that are completed on time. 
Planned Maintenance
The percentage of maintenance hours that are spent on planned vs unplanned maintenance activities is known as the planned maintenance percentage. The scheduled maintenance labor hours are divided by the overall maintenance labor hours for the given time period to determine this percentage.
Work Order Backlog
This KPI measures the number of work orders that are awaiting completion at any given time.
Root Cause
This metric helps you to get a deeper understanding of why problems occur and what their root cause was. With the use of this metric, you may better comprehend the causes of issues and the reasons they arise. This thorough understanding will help maintenance crews in finding solutions more quickly. If the study reveals that it was a mistake made by a person, this is a solid indication that your personnel needs more training to prevent future problems. The bottom line is that you must pinpoint any problems and their underlying causes in order to take the required steps to resolve them and put in place procedures to reduce the likelihood that they will occur. 
Maintenance Cost Per Unit Of Production
This KPI measures the cost of maintenance activities per unit of production. 
Customer Satisfaction
This KPI measures the satisfaction of the facility's customers, such as tenants or employees, with the maintenance services provided. 
Maintenance KPI Goals and eWorkOrders
Maintenance management software such as eWorkOrders CMMS allows organizations to define and monitor KPIs related to everything from productivity to the overall maintenance performance of their business. This software enables users to establish baselines to assess and identify areas in need of improvement.
With CMMS, users can track work orders, labor costs, and preventive maintenance metrics, perform advanced reporting, and evaluate all KPIs from a centralized system. This helps organizations streamline their maintenance operations and make informed decisions based on accurate and up-to-date data. By utilizing a CMMS, organizations can effectively manage their maintenance activities and optimize their performance.