August 2021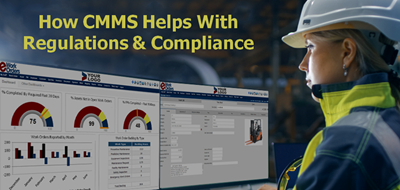 Inspections are a very important part of your business.  Ensuring the safety and protection of your workers and meeting compliance standards can be frustrating and complex.  Trying to get everything organized and prepared for safe quality food (SQF) EPA audits, OSHA and other inspections means a lot of work and a lot of your time trying to prepare. 
With the increase in regulations, safety, etc., audits and inspections are not the same as they were in the past.  Having an employee walk through the department with a spreadsheet looking for signs of problems is no longer efficient.  Trying to manage processes and keeping everything organized and under control requires more than a spreadsheet, pencil and paper.
Having everything stored in and accessible in a centralized system has lots of benefits and makes preparing for inspections and audits a lot easier and less challenging.  A computer maintenance management system (CMMS), can help you to easily organize, store, and quickly access audit-related documents in one centralized system and create detailed reports instantly to help show that you meet inspection and audit requirements.   All of this can be done from a computer, smartphone or mobile device.  And anyone on the team can do this no one needs to be an expert. It is that easy.  Read more….