What Is A CMMS?  Definition
The term CMMS stands for a computerized maintenance management system, and it refers to software that assists maintenance teams in managing assets, planning maintenance, and monitoring work orders.
What Does Computerized Maintenance Management System (CMMS) Do?
A computerized maintenance management system, sometimes known as a CMMS, is software that organizes maintenance data and streamlines maintenance operations. It promotes optimizing the use and accessibility of physical assets, including vehicles, machines, communications, plant infrastructures, and other assets. Manufacturing, oil and gas production, power generation, construction, transportation, and other industries where physical infrastructure is important use CMMS system software. 
The database is the core of a CMMS. It contains a data model that categorizes data about the assets that a maintenance organization is responsible for maintaining, as well as the tools, supplies, and other resources needed to do so.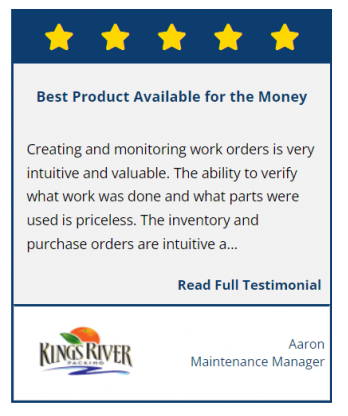 How CMMS Works
The data in a CMMS system supports the many functions, which make it possible to do the following things:
Labor Resource Management
Employee personnel records can be tracked via the labor resource management module in CMMS software, including status, skill level, billing rate, contact information, and more. You can easily match employees or vendors to the assets they maintain, and assign tasks accordingly. You may monitor employee attendance, productivity, and overtime hours in addition to basic information.
Asset Register
Asset registers are management tools that are used to keep track of the assets that a company has. The capitalization policy of each business determines which assets should be listed in the asset register.
Maintain, share, and access detailed lists of compiled asset information including:
Date of Purchase

:

  The moment the asset became the property of the business. The asset's creation date could be another value.
Purchase Price: 

The amount paid by the business to acquire the asset. This valuation may include all relevant receipts from the item's purchase for auditing purposes.

Owner Of The Asset: 

As long as the asset is registered in that person's or entity's name, the asset owner could be an individual, a group of individuals, or even another entity.

The Asset User:

  A person or group of people with the authorization to use the asset in the performance of their respective duties.

The Manufacturer's Warranty Information:  

This includes information on the asset's original manufacturer, who guarantees the asset's state at the time of purchase. Information might include how long an asset is acceptable for exchange or return.

The Asset's Barcode Or Serial Number:

  These parallel, machine-readable characters and numbers allow for speedy asset identification. Businesses provide their assets with distinctive barcode codes, which may be scanned to quickly find out further details on the asset.

Asset Location: 

A description of the asset's position on the business grounds. For instance, an LCD projector would most likely be located in the audiovisual room in a school setting.

Asset Description: 

A basic description of the asset that simply explains what it is. Brief descriptions facilitate identification because some businesses give their products codenames.

Insurance Coverage:

 

Any type of asset insurance policy. To safeguard these assets from potential losses, businesses may get property insurance for their structures, such as fire insurance, flood insurance, or earthquake insurance.

The Asset's Current Value:  

The amount the owner could receive if they sold the asset as of the current date.

The Depreciation Technique Applied:  

The method of depreciation used to determine the company's losses after purchasing the asset.

Maintenance Data:

 

This could include information on how to fix the asset or a history of repairs or replacements. The names of people who fixed the assets as well as the invoices for their work may also be included.

Asset Lifespan: 

How long an asset is expected to continue earning income for the organization. Of course, this value evolves with time.

The Salvage Value Or Estimated Resale Value:

 The book value of an asset after depreciation has been fully incurred.
Asset Management Glossary of Terms and Definitions
Work Order Management
A Computerized Maintenance Management System (CMMS) Work Order may be a request for repair, restoration, or replacement of equipment or asset.
Work Orders typically include information such as:
Work Order Number

Description And Priority

Order type (repair, replace, scheduled)

Cause And Remedy Codes

Who Is Requesting The Work Order

Who Is Authorizing The Work Order

Personnel Assigned

How To Complete The Task, Including Necessary Parts And Other Notes

When The Work Order Needs To Be Completed

Where The Work Order Needs To Be Performed

How To Complete The Task, Including Necessary Parts And Other Notes
Other features of Work Order Management include.
Automate The Creation Of

Work Orders

Attach Any Relevant

Documents,

Repair, And Safety Materials

Schedule And Assign Workers, Crews, And Shifts

Review, Track And Manage Downtime

Reserve Materials And Equipment

Record Budget And Actual Expenses

Manag

e Inventory
Preventive Maintenance:  Automates the start of work orders depending on usage, time, or triggered events.  Preventive maintenance is used to organize and associate assets across multiple orders.
Inventory Management:  Inventory, distribute and reclaim maintenance and repair operation (MRO) equipment and materials across storage areas, distribution centers, and facilities. Manage suppliers, monitor inventory expenditures, and automate restocking.
Reporting:  Create reports for several maintenance categories, including supplier evaluations, material usage, labor and material expenses, and asset availability. Gather and arrange information for audits and analyze data to understand asset availability, performance trends, MRO inventory optimization, and other data to support business choices.
The Evolution Of CMMS Software
Before CMMS, obtaining centralized, dynamic visibility and automated management was impractical because maintenance information was buried in paper files, and later, scattered across spreadsheets.
Large businesses were often the primary users of the original CMMS systems, which first appeared in the 1960s. To update digital records and keep track of maintenance chores, technicians used punch cards and IBM mainframes. Punch cards were replaced by checklists that technicians entered into CMMS systems at the end of their shifts in the 1970s.
In the 1980s and 1990s, as computers become smaller, more accessible, more widely distributed, and more connected, CMMS became more common among small and medium-sized organizations. In the 1990s, CMMS started transferring data across LANs, or local area networks. Many of the new CMMS systems ran on one server but could be accessed from any terminal in the facility.
Intranets and web-based connectivity became more common in the 2000s, extending CMMS capabilities to a variety of mobile devices, field applications, and operational sites. This generation's CMMS software ran on local servers, therefore upgrades had to be handled locally by the client, who typically watched over the process while vendors handled upgrades remotely using conference calls.
A cloud-based, highly mobile version of CMMS is currently available. Higher data security, quicker installation, and greater functionality are all features it offers. With cloud-based CMMS software, there is no need for complex server set-up and configuration; you simply sign up, log in and start using it immediately. This is because Cloud CMMS is built on multi-tenant architecture where everyone is sharing the same CMMS app with the same security, patches, upgrades, and feature set.
As it turns out, cloud-based software is more cost-effective, dependable, and secure. The application is stored on multiple devices on a virtual server, which means if one piece of hardware fails, another kicks in seamlessly with no loss of service. Automatic upgrades take place at predetermined intervals and are a hands-off approach. 
EAM and CMMS Defined
EAM is frequently associated with a computerized maintenance management system (CMMS), but a more intensive glance at EAM versus CMMS uncovers there is a slight distinction. 
CMMS is a software solution that manages the maintenance work necessary to extend an asset's usefulness and profitability. 
EAM optimizes an asset's life cycle in order to decrease the Total Cost of Ownership (TCO) and at the same time maximize overall asset productivity and Return on Asset (ROA).
Understanding the Value of Enterprise Asset Management (EAM)
The Importance of CMMS And EAM
CMMS and EAM are important tools because they make it easier and more efficient for maintenance managers to meet their primary objective of minimizing downtime and optimizing maintenance operations.
The value of assets and physical equipment provide increases with the length of time they are kept in operation. The longer we can keep a piece of equipment in operation without major repair, the more money we will ultimately save.
Key Benefits
No matter how large or small your business is, CMMS software has a big impact on how companies manage their maintenance operations. 
Increased Productivity.  The CMMS centralized system gives maintenance teams direct access to work orders, asset locations, inventory, documents, manuals, and more from a computer, Smartphone, or mobile device.
Improved Workflow And Reduced Backlog.  Less backlog due to better planning, organization, scheduling, and management of resources.
Prolong Assets And Equipment Lifespan.  Proper maintenance extends the lifespan of assets, reduces downtime, optimizes performance, reduces repair expenses, and improves reliability, which leads to an increase in ROI.
Less Disruption In Business Operations.   Planned and preventive maintenance schedules can be done at a time that is more convenient for business operations. 
Reduced Labor Costs.  Having better control over resource scheduling reduces unnecessary overtime, and provides the ability to schedule skilled technicians.
Spare Parts And Inventory Control.  Set minimum and maximum inventory spare parts and stock levels, so that when the minimum quantity is reached a Purchase Order will automatically be generated and sent to vendors for replenishment.  Reduces unnecessary costs and downtime.
Document Management Control.  Store and share documents, manuals, pictures, videos, and other information into the CMMS centralized system.
Access From Anywhere.  24/7 access from a computer, Smartphone, or mobile device.
Risks And Accidents Are Reduced.  Properly maintained assets\equipment reduces the risk of accidents, and injuries, and minimizes the loss of work time and disruption in business operations.
Better Control Of Budgets And Expenses.  With a CMMS you have more control over maintenance budgeting for expenses such as labor, parts, and miscellaneous costs for the completion of work orders, and replacement of equipment at the end of its lifespan.  
Increase In Customer Satisfaction.  A CMMS gives you a better view and control of your maintenance operations.  Keeping assets/equipment running at peak performance provides a better customer experience.
Compliance And Audit Preparation Streamlined.  The data-tracking capabilities in a CMMS streamlines the data to generate accurate reports for inspections and compliance regulations.
Quick Reporting And Analysis.  Data can be pulled quickly and effortlessly from the CMMS for analysis.  Accurate and reliable reporting helps organizations spot critical weaknesses, so solutions such as regular inspections, preventive maintenance, or spare parts can be put in place to proactively reduce downtime going forward.
Measurement Of Success.  CMMS solutions allow companies to collect maintenance information, turning historical data into insights for an in-depth understanding of how well their organizations are doing.
Selecting CMMS software: Factors To Take Into Account
It's crucial to take support into account while choosing new CMMS software, in addition to functionality and technological aspects. Naturally, a maintenance management software solution should quickly address all of your functional requirements. 
Some of the functions that you should consider:
Flexibility

License Pricing Model If Applicable

Data Importation

Software updates
Maintenance Glossary of Terms and Definitions