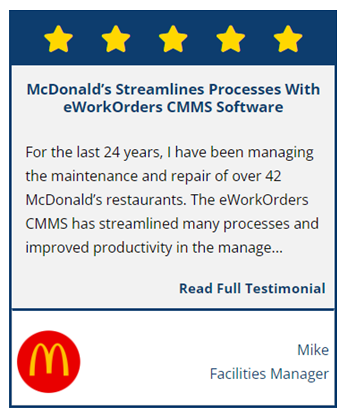 No matter what size company you may have, or what industry you may be in, everyone has assets that need to be maintained.  EAM helps organizations track, assess, manage and optimize asset quality and reliability. If you can relate to a number of these issues below then it is time to look at EAM.
You have assets and equipment that you need to keep track of. 

You have assets across multiple departments and need to improve communications and streamline processes.

You have hundreds of physical assets, complex systems, and operations across multiple sites.

You need to control security settings to ensure that only authorized personnel have access.

You need better asset and inventory management to reduce the costs of redundant purchases.

You need to standardize your asset strategy to be consistent across your organization.

You need to make sure you are meeting all regulatory reporting compliances for your organization's industry.

Enterprise asset management can shrink capital costs, lower asset-related operating costs, extend the life span of an asset, and improve ROA (return on assets).
The Importance Of Enterprise Asset Management
EAM is significant on the grounds that it helps businesses track, manage, and enhance asset quality and dependability. No matter what size company you may have, or what industry you support, everyone has assets that need to be maintained.  EAM comes with an array of benefits, including speedy maintenance routines, easier contract management, better organization, simplified asset tracking, and much more.  Implementing EAM best practices give organizations more control and management to:
Improve Asset Utilization and Reduce Costs:  EAM incorporates the entire lifecycle of an asset, which includes the optimal management of the physical asset/equipment of a business to maximize value.
Centralization of Asset Information:  A CMMS, as a component of EAM, provides maintenance teams with the information they need on where an asset is located, what it needs, what resource expertise is need to work on it, and the time frame.  With the automation of critical asset management workflows data is easily accessible and auditable.
Oversee Maturing Resources and Infrastructure:  Return on investment is improved through more informed maintenance strategies, and including risk management into business processes.
Identify and Resolve Issues Before They Occur:  EAM asset management strategies enable organizations to effectively manage assets and prevent downtime.  One of the most important software features includes the ability to stay on top of preventive maintenance. Implementing a standard preventive maintenance plan helps keep assets running at peak performance and extends asset lifespan
EAM:  Is a combination of software, data, and processes used to maintain and control functioning assets and equipment. The main objective of EAM is to optimize the quality and utilization of assets throughout their lifecycle, which can help increase productivity uptime and lower operational costs.

Types of Maintenance
Reactive (sometimes referred to as corrective):  Fix it when it breaks.
Preventive:  Maintenance on a predetermined schedule.
Predictive:  Condition-based monitoring triggers work orders.
EAM Highlights
Work Order Management
EAM software automates, documents, and streamlines the timely processing of work orders from beginning to end.
Preventive Maintenance Scheduling
Easily plan, schedule, and assign work orders for greater control over maintenance processes and procedures.
Reducing Health & Safety Concerns
EAM is an intuitive repository for enterprise operational data.  Enhance incident reporting and disaster response with real-time data.  With easy documentation and reporting of health and safety issues EAM makes it easy to analyze incident issues, take corrective action and have traceable reports for insurance audits.
Mobility
EAM web-based software provides users with access to the same information no matter where they're located.  The electronic delivery of work order information allows technicians to immediately assess the complaint, cause, and correction options, including researching repair options, needed (and available) parts, schematics, service bulletins, manuals, and other information needed for a fast and efficient preventive or corrective maintenance process.
Supply Chain Digitization 
EAM technology is both driving and being driven by supply chain digitization. The increased efficiencies acquired in parts procurement, receiving, storage, delivery, and disposition are a positive impact on maintenance efficiency, asset uptime, and performance. 
Reporting and Key Performance Indicators (KPIs) 
Get a comprehensive view of your maintenance operations through the powerful dashboard and reporting features.   KPIs are a good foundation to keep track of those areas that may need a deeper analysis.  Maintenance analytics and KPIs provide great visibility into asset condition and health.  
Key Industry Applications
No matter what size company you may have, or what industry you support, everyone has assets that need to be maintained.  Below are a few examples of some industries and the applications that they use EAM for:
Manufacturing 
Manufacturing incorporates a wide variety of areas:  automotive, food, aerospace, defense, electronics, industrial products, consumer products, and the list is unlimited.  For manufacturers to achieve their full operational growth potential, there are several things that must be considered to achieve these goals.  Organizations need to control and reduce maintenance costs, improve physical asset lifespan, streamline workflow and maximize production efficiency.  These can easily be achievable through the implementation of an Enterprise Asset Management (EAM) solution.
Education
Universities, college campuses, and schools need to adhere to strict regulations and rules.  Preventive maintenance activities and tasks to support these educational institutions are more than just fixing broken equipment.  From weather, natural wear and tear, asset failure or neglect, keeping these educational intuitions safe, attractive, and in good condition, can be done easily through EAM software. 
Hotels & Restaurants
Hotels, casinos, restaurants, etc., these industries depend on an EAM solution that can help them understand and effectively manage all facilities, equipment, compliance regulations, and energy costs to ensure that they exceed customer expectations. 
Energy and Utilities 
EAM software solutions are used by energy and utility companies to ensure their infrastructure is able to meet diverse challenges. EAM is used to accommodate complex crew scheduling and consider geospatial information from remote assets. 
Healthcare 
Healthcare organizations using EAM  are more prepared to integrate equipment management, reporting, performance monitoring, and other key functions.  When using an EAM solution they can ensure that crucial medical equipment is always available when healthcare personnel needs it to deliver patient care.  EAM software offers a wide array of additional benefits and helps them to meet several key business goals. 
And the list goes on! 
Improve ROI
EAM reduces costly emergency repairs, increases asset lifecycle and uptime through preventative maintenance.  Being prepared for audits and inspections, organizations can save money on fines and negative publicity.
Efficient EAM solutions combined with the appropriate business processes help organizations to refine their work processes, enhance working conditions, and spot areas for improvement.  Having this information available in real-time gives managers the ability to make insightful changes in the right areas and using the right skilled resources to run efficiently.
Introducing eWorkOrders EAM Solution
If you want to protect your valuable assets and keep them running at peak performance, then you need an Enterprise Asset Management solution.  
eWorkOrders EAM Suite of applications puts you and your team in control providing you with the tools for obtaining operational visibility of your assets throughout their lifecycle with faster ROI, increased productivity, and operational uptime.
Want to learn more about Enterprise Asset Management?   Contact us and speak with one of our Account Executives, who were actual users of eWorkOrders in previous jobs.   One of our Account Executives will walk you through a live demo and answer any of your questions to help you make your business decision.  Having actual industry experience, they have the additional expertise to provide some very helpful tips to further enhance your experience with eWorkOrders.
.