February 2022
You've got control of your livestock. You've got control of your crops. But is your maintenance management under control?
Equipment breakdowns, quickly deplete spare parts inventory, locating manuals and repair documents, keeping track of workers, controlling costs, and keeping up with the competition are all costing you time and money. These are just some of the things that today's farmers have to deal with. How do you keep ahead of everything and still keep everything running smoothly while trying to keep expenses down?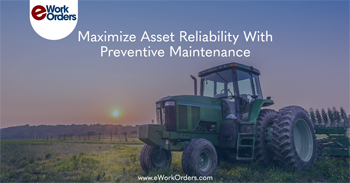 Today, farmers are looking for affordable, cost-effective, and easy-to-use tools to help them manage their maintenance operations. Keeping up with daily tasks and competition means you need to find ways to work faster and find more efficient ways to manage your equipment and assets. The days of spreadsheets and working with paper and pencils are no longer the best solution to manage your business operations. The farming industry is embracing the use of software tools, such as a Computerized Maintenance System (CMMS), to get a better understanding of operating costs, extend the life of their equipment, improve processes, and optimize their maintenance operations.
Why CMMS is Important for Farm & Agriculture Maintenance
With such strict timelines in the farming and agricultural industry, a good preventive maintenance plan is a necessity. Having a good maintenance plan and good maintenance software like a CMMS in place helps:
Minimize the risk of failures and helps reduce repair costs.

Extends asset lifespan so you don't need to replace them so often.

Reduces the chance of failures and unexpected downtime.

Less downtime means fewer interruptions to business processes.

Regular maintenance reduces the risk of accidents. 

Reduces inefficiencies.

Simplifies the process of complying with the regulatory requirements
CMMS is a useful tool for maximizing the return on investment (ROI) on equipment, assets, machinery, and buildings.
Streamline Processes with CMMS
Some of the benefits that eWorkOrders CMMS can bring to your organization include:
Streamline Work Orders:  With a CMMS in place, work orders with attached checklists can be assigned to workers. Workers can update the work orders and checklists remotely and in real-time, ensuring that the most accurate information is available. All of this is done within a centralized system that is accessible from anywhere.
Manage Spare Parts Inventory:  Managing Spare Parts Inventory and knowing what parts will be needed versus having parts sitting on the shelves because they are hard to obtain, or paying high prices for shipping of those parts that are not in inventory and hard to find can be very costly. Tracking down hard-to-find parts and scheduling the proper people to fix the equipment are all time-consuming.
A CMMS keeps track of inventory levels and manages the tracking of stock in and stock out. As inventory limits get low, purchase orders can be sent to vendors to replenish the stock. Tracking vendors, products, and prices are all stored within the CMMS database.
Minimize Downtime:  Scheduling routine maintenance and managing resources can be scheduled at a time that doesn't interfere with business operations. 
Increase Safety:  Following a good preventive maintenance plan creates a safer working environment and lowers the chances of accidents.
Mobile:  With eWorkOrders Mobile you can access information at any time from any location using a computer, smartphone, or mobile device. You'll always know the status of work orders, inventory levels, worker schedules, and more with real-time updates.
Regulatory Compliance:  Having a CMMS solution in place helps keep all of your records in one centralized location and saves a lot of time when preparing for audits and inspections.
Scheduling:  Our CMMS provides users with dependable scheduling features that allow users to quickly track their maintenance and manage resources as needed.
eWorkOrders CMMS
These are just a few of the numerous ways that eWorkOrders CMMS software can help owners within the farming and agriculture industries in meeting mission-critical goals and objectives including minimizing downtime, extending equipment life, preparing for regulatory inspections, improving safety, increasing efficiency, productivity, saving money and more.
Outdated maintenance plans on pieces of paper and spreadsheets are inefficient, unorganized, and can cause you time and money.  That's where an affordable, easy-to-use and all-in-one computerized maintenance management software (CMMS) solution like eWorkOrders can help you manage your maintenance operations.