Monitoring & Controlling Your Maintenance Operations
& Keeping Your Business Running From Anywhere
The Remote Worker and the way we do business today!  With the COVID-19 pandemic, some companies are having the task of managing their businesses remotely, and some businesses are considered essential and need to stay open.  Everyone has the same goal in mind to keep everyone safe and keep their business operating.
No matter what location an employee works from, maintenance still needs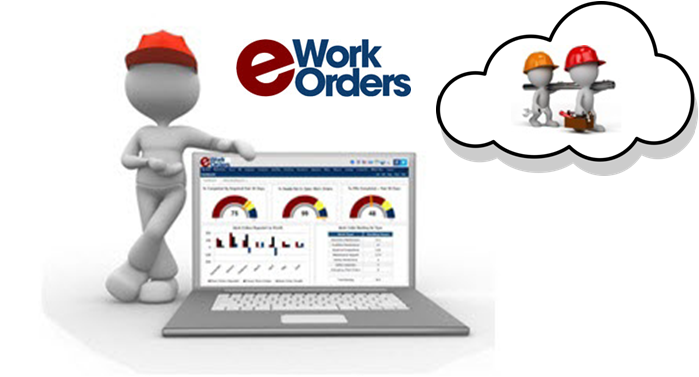 to be done on equipment, buildings, and assets across all industries.  Everyone has the same concerns while doing their job, to effectively keep equipment running at peak performance, trying to keep the environment sanitized, clean and safe for their employees, and minimize the spread of viruses.  Working remotely, one of the biggest tasks is organization and having real-time information on the status of everything while working remotely.
eWorkOrders has always done the setup and training for new customers remotely via web conference, even those working from home.  For customers that are on lockdown and can't get to their job site, now is a great time to get started by going through the setup and training process and implementing standardized operating procedures.
With so much going on:
How do you prioritize and make sure that tasks are being done?
Are safety processes standardized and being followed?
How do you know the status of your inventory?
How can you effectively manage all of these tasks from a remote location?
Remote Access – eWorkOrders Computerized Maintenance Management System (CMMS) Software 
One of the major features of a CMMS is the ability to provide real-time information, stay connected and manage maintenance and facilities operations from anywhere.  eWorkOrders has always had the tools to manage maintenance and facilities remotely, but with the outbreak of the COVID-19 virus, our CMMS software solution has now become more essential to help keep businesses operating safely.
Benefits of Using eWorkOrders Remote CMMS Access 
Remote Management:

 Remotely access your maintenance and facilities operations from a computer, tablet or mobile device.
CMMS Software: No need to install any hardware or software.  We manage, maintain and support the software, keep it updated, resolve issues, and backup data, allowing you to free up your IT team to work on other tasks.
Resource Management

: Effectively prioritize and manage resources and change work schedules to meet demands.
Data Management & Storage: Repair data, maintenance information, drawings, images, etc. are all accessible by authorized personnel.
Checklists: Create checklists and attach them to work orders to ensure that all tasks and safety guidelines are being followed.
Scalable: Our software solution is scalable to meet the needs of any organization.  As organizations grow or restructure, our software is adjustable to accommodate your adjustments.
Security:  Remotely set user permissions to control access to necessary features.
Reports: Transform your CMMS data into meaningful reports for a better understating of your maintenance operations.
Dashboards: Create dashboards to analyze real-time data and have a better insight on how well your maintenance operation is performing.
Back To Business: Ability to quickly ramp up when your business is back in full operations. 

With eWorkOrders CMMS it will be business as usual. No matter who entered the data or from what location, all of your information is stored in one centralized location and accessible from anywhere at any time. 
We offer a wide variety of additional features that can be managed and monitored remotely from anywhere. 
eWorkOrders Features At A Glance
Bottom Line
As an Industry Leader in CMMS, our eWorkOrders CMMS software solution delivers results.  We help maintenance teams manage their assets, schedule and track maintenance tasks, and keep historical records of work they performed.  All of this results in:
Reduced Equipment Downtime

Minimized Maintenance Costs

Increased Productivity

Improved Safety

Extended Lifespan Of Assets

Improved ROI
The bottom line is that all of this can be done REMOTELY from anywhere with eWorkOrders CMMS Software!