August 2020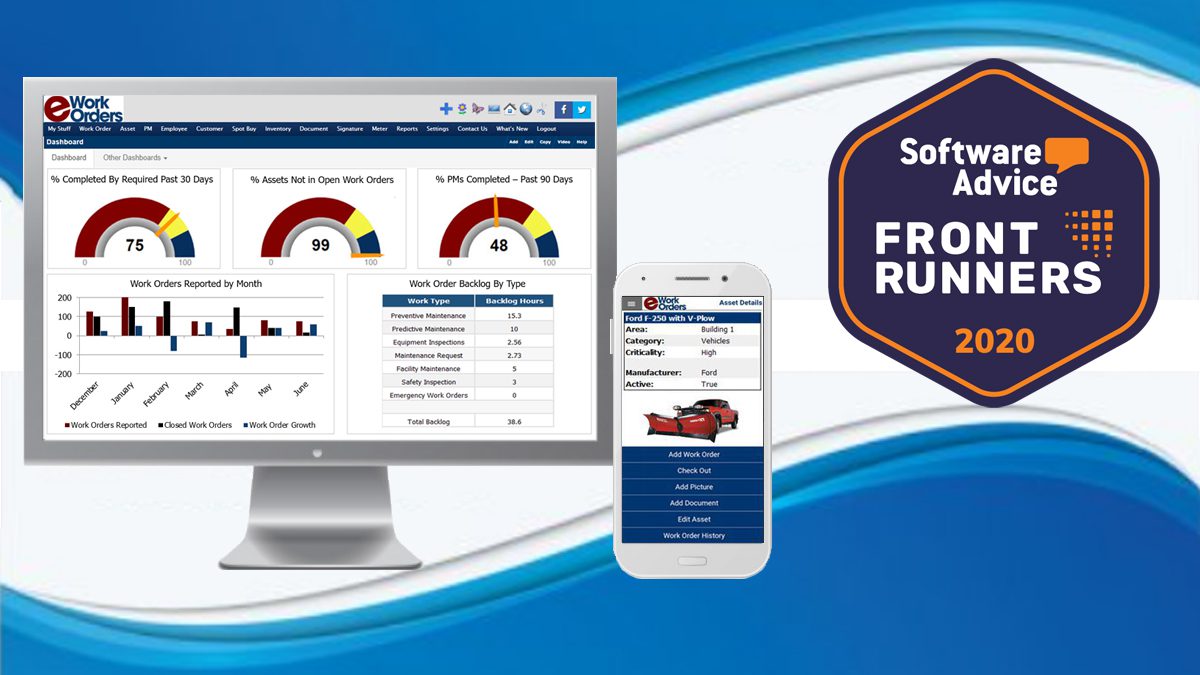 Whitehouse Station, NJ August 12, 2020: eWorkOrders, a leader in asset tracking and computerized maintenance management system (CMMS) solutions for companies of all sizes, announces their inclusion in Capterra's Top Asset Tracking Software list. This recognition affirms eWorkOrders commitment in providing CMMS asset management tracking tools that help businesses needing a simple, secure platform to track and manage their assets.
"Our continued recognition by the Capterra community is a testament to the exceptional work of our team," said Jeff Roscher, President and Owner of eWorkOrders (Information Professionals, Inc.). "Our commitment is to continue to develop and deliver outstanding Enterprise Asset Management (EAM) and Computerized Maintenance Management System (CMMS) solutions to meet our customer's needs. I want to personally thank our customers for their loyalty and taking their time to provide us with such outstanding reviews."
eWorkOrders continues to enhance their customer experience with an Interactive Asset Mapping feature that gives users the ability to view, manage and use icons to identify assets on an interactive map. With eWorkOrders CMMS Interactive Mapping feature you can display drawings, site maps, floor plans or any other image.
Our CMMS Interactive Mapping feature gives users the ability to view and manage exterior assets and the multiple floors of assets within their facilities. With the interactive icons, users can access asset details and work orders directly from the map. Need to enter a work order on a broken pump? Need to update an asset? No problem, users can click on the icon and enter a work order or update an asset right from the interactive map.
We listen to our customers and are continually enhancing our CMMS tools to give them the best applications to meet their growing needs.
About eWorkOrders CMMS
eWorkOrders is an easy to use, affordable and powerful, web-based CMMS that helps organizations easily manage and report on daily operations and plan for future requirements. A CMMS provides the tools and features to help manage and track service requests, work orders, equipment/assets, workers, inventory levels, expenses, and more. Some of the benefits of implementing a CMMS are to improve accountability, decrease business disruption due to equipment downtime, keep historical information on repairs and issues for better preventive maintenance scheduling, extend the lifespan of assets/equipment, provide better distribution and management of resources, and be able to create detailed and accurate reports on your organization's activities. Implementing a CMMS will help minimize expenses and maximize ROI (Return On Investment). Learn more at https://eworkorders.com/.
Capterra Top 20
Top 20 Most Popular Asset Tracking Software is an independent assessment that evaluates user reviews and online search activity to generate a list of market leaders in the asset tracking space that offers the most popular solutions. The Top 20 Asset Tracking report is available at https://www.capterra.com/asset-tracking-software/#top-20/
Top 20 constitute the subjective opinions of individual end-user reviews, ratings and data applied against a documented methodology; they neither represent the views of, nor constitute an endorsement by, Capterra or its affiliates.