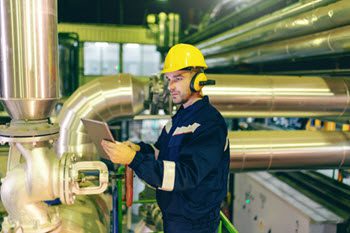 Maintenance management is the core of your business. Not managed right it can cost you a lot of time, money, and sometimes your business. The maintenance management experience today is very different from that of spreadsheets, notebooks, pencils and paper. With the centralization and mobility of data, businesses are looking at a web-based Computerized Maintenance Management System (CMMS) to manage their maintenance operations.

No matter what size business or organization you have, the number of locations, or where in the world you are located, companies have similar goals:
More on applications by industry.
Keep detailed accurate records of all assets.

Schedule maintenance tasks and activities, maintain historical records, and keep track of work completed.

Store all data such as work orders, history, manuals, etc., in one centralized location, and have the ability to access the information at any time from any location, via computer, smartphone, or mobile device.

Generate desired reports.

Implement a program where all of the users are comfortable using the solution.

Protection against cybersecurity.
Why you need maintenance management software?
Without maintenance management, there can be significant delays in products and services, disruption to business operations, and an increase in expenses. Maintenance management helps companies organize and manage time and costs, to ensure the efficiency of processes and procedures while maintaining resources and controlling costs.
What is the best maintenance management solution?
Moving from spreadsheets, paper and pencils is a big step. Adopting computerized maintenance management system (CMMS) software is the first step towards streamlining and making maintenance operations at your facility cheaper, more effective, and more efficient. More on effective maintenance management.
If you would like a better understanding of CMMS software you can read this article on "What is a CMMS".
How CMMS manages tasks.
To help you better understand the powerful features in a CMMS, below outlines some of the maintenance tasks and how using a CMMS software can help manage these processes, reduce costs and improve productivity.
Work Orders
A work order is a formal request for maintenance, repair, or tasks that need to be done and outlines the processes and procedures for completing those tasks. Learn more about work orders
Maintenance Management Software Helps:
Organize, manage, prioritize and reassign work orders.

Manage and track work order completion time, status, job expenses, and more.

Work can be scheduled to be done at off-peak hours or at a more convenient time.

Labor time and overtime can be controlled.

Expenses can be monitored and controlled for the ordering of supplies and materials.

Access related equipment history, manuals, photos, and other important information from computers, smartphones, or mobile devices.

Monitor workflow and increase efficiency.

Maintain and generate work order history reports.
Preventive Maintenance
Preventive maintenance gives users the ability to control, plan, schedule, and identify the materials, parts, and labor to do repairs and maintenance within a specific timeframe. The advantages of preventive maintenance is to keep existing equipment in good working condition, prevent equipment downtime, increase the life expectancy of assets, decrease the number of major repairs, and control expenses. More on Preventive Maintenance.
Maintenance Management Software Helps:
Calendar scheduling of preventive maintenance activities.

Track maintenance history.

Control equipment downtime.

Reduce costly unplanned equipment failures.

More control over repair expenses.
Spare Parts Inventory Management
Inventory management is the process of having the right spare parts inventory in stock, in the right place, at the right time, and at the right cost. The objective is to minimize costs by helping maintenance organizations know when to purchase more inventory based on routine usage rates.
Maintenance Management Software Helps:
Minimize human error and reduce the time required for manual inventory management.

Just In Time inventory shared between multiple sites.

No need to shut down your stock room to perform cycle counts.

Create, track and receive purchase orders.

Automatic monitoring and notification of inventory levels.
Vendor Management
Seamlessly integrate vendors, suppliers, resources, and third-party vendor information into your maintenance system.
Maintenance Management Software Helps:
Track suppliers that contribute to your maintenance management operations, such as, parts vendors or equipment manufacturers.

Track vendors, purchase orders, returns, etc.

Track contact information, invoices, work history, and schedules, and more.

Track and maintain a record of a vendor's time, parts used, and other important data.
Asset Management
Asset lifecycle management supports asset performance for the entire lifecycle of an asset, from acquisition to the removal of the asset. Understanding the value of Enterprise Asset Management.
Maintenance Management Software Helps:
Maintain historic records of assets.

Know when it is time to retire an asset. Is it costing you more than it is worth?

Analyze and interpret historical data to determine problems and successes.

Improve asset reliability and reduces costs.
Geographic Information System
Get a comprehensive view and data associated with each asset on a floor plan, schematic, site map, or any other image. Additional information on GIS Asset Management.
Maintenance Management Software Helps:
GIS module is a system of mapping your infrastructure assets.

Users can visually locate specific assets to add or edit work order or asset details.

Workers in the field can easily confirm they're at the correct location or look up details about infrastructure before starting a job.
Document Management
Document management is a system or process used to capture and store paper-based documents, digital images, and more.
Maintenance Management Software Helps:
Store and access manuals, documents, images, and drawings in one centralized location.
Manage Labor
Capture critical information about a wide range of variables beyond labor hours: start and completion of jobs, repair parts consumed, type of work performed, skill sets employed, service and part vendors involved, and more.
Maintenance Management Software Helps:
Track work order time, vacations, sick time, breaks, payroll and billing information.

Control scheduling and management of labor costs.

Control operating costs, prevent labor overtime, and ensure equipment uptime and availability.
Mobile Access
CMMS gives you the flexibility to access all of your information on your assets, work orders, preventive maintenance, and more from anywhere at any time.
Maintenance Management Software Helps:
Access maintenance data, view manuals, documents, historical information, drawings, and pictures from a mobile device, anywhere and anytime.

Technicians can update work orders from anywhere.
Reports & Dashboards
Create and assemble the data you have been collecting within your CMMS and transform it into reports that are meaningful to you and others in your organization. Create dashboards that give you a real-time view of all of your systems. Understanding MTTR, MTBF, MTTF Failure Metrics
Maintenance Management Software Helps:
Monitor workflows and maintenance activities to increase efficiency and improve productivity.

Create reports that meet the needs of your organization or business.

Incorporate KPI (key performance indicators) data into your dashboard views.
Communications
A CMMS allows you to manage work orders, assets, and inventory while communicating with the assigned manager or vendor directly inside of the work order.
Maintenance Management Software Helps:
Improved communications between maintenance teams and other departments.

Quickly change work priorities, work orders, and due dates and communicate them quickly to the whole maintenance team.

Improves accessibility real-time and updated information.
Real-Time Updates
The real-time data that is always generated by CMMS gives users and management more accurate information.
Control Costs
Cost savings are gained through improved management, more preventive maintenance, and less corrective unplanned maintenance.
Accuracy
Improves accuracy with the direct import of clear concise data in real-time. No redundancy.
Compliance
Generate clear and accurate detailed reports for industry audits and regulatory compliance inspections.
Safety
CMMS improves safety tracking and compliance and creates a safe work environment for employees.
Important! Cybersecurity – Choosing the right vendor.
Cybersecurity has now become a daily word in every industry. With ransomware attacks maintenance and reliability teams throughout all facilities, government organizations, and manufacturers all need to assess their level of cyber risk and improve their cyber preventive maintenance actions.
A vendor with a poor cybersecurity score can open the doors to security breaches and bring your business to a halt.
Vendors say they have a secure network, but do they really? Today, there are companies that specialize in analyzing vendor networks to ensure that their data is secure. These vendors provide "Security Scorecards" rating them on their security in various categories. This would be a good time to choose a vendor that has a 100% rating. When evaluating a vendor ask them what their rating is and to share their cybersecurity scorecard with you.
Cybersecurity Scorecard Example
Summary
As you can see, maintenance management has come a long way from spreadsheets, pencil and paper. Having a maintenance management system in place like a CMMS provides users with a set of features that helps:
Reduce Equipment Downtime

Improve Resource/Labor Utilization

Increase Asset Reliability & Lifespan

Manage and Control Inventory Management

And more…