July 2020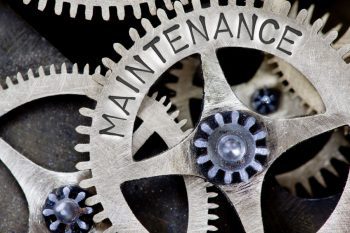 Whether you have a few pieces of equipment/assets or thousands, keeping them working at peak performance is important. Having business operations coming to a complete halt because of an equipment breakdown is devastating to the bottom line
With better preventive maintenance planning and scheduling of routine tasks, you can make your maintenance team more effective in handling equipment maintenance and reducing those unexpected emergencies.
Below are some tips to help improve preventive maintenance planning.
Equipment Maintenance Management Planning Tips
1. Equipment/Asset Assessment
Do an assessment and create a baseline of your facility and equipment/assets. Gain an understanding of the number, age and types of machines, the OEMs of your machinery, any historical maintenance issues. This will help you identify the strengths and weaknesses of your equipment, for better preventive maintenance planning.
2. Historical Documentation
Review repair records and identify the equipment breakdown trends. There are a lot of things that may have an impact on equipment breakdown, such as seasonal, weather, machine stress, etc. Identifying these trends ahead of time will allow for better planning, purchasing parts and managing resources.
3. Establish Standards
Working with your maintenance team, it is important to identify and establish a maintenance management plan that meets the needs of your entire organization. It is important to establish and document guidelines to measure performance and improve efficiency. Create and document processes, procedures and schedules that need to be followed. In CMMS software, checklists can be created and managed within work orders to ensure that tasks are never missed.
4. Manage Assets By Criticality
When setting schedules for preventive maintenance, identify the tasks that are:
* critical that must be done on time
* ones that are less critical that can be rescheduled for another time and
* those tasks that are important, but do not have a major impact on the business and can be rescheduled
With CMMS software all of these tasks can easily be managed from your computer, smartphone or mobile device.
5. Employee Training
Ensure that technicians are properly trained in the operations and maintenance of equipment. For example, ignoring equipment warnings and other indications can cause major breakdowns. Having technicians trained to fix routine issues will ensure less downtime or disruption to your business operations. Employee training and certification records are easily stored and managed within CMMS.
6. Spare Parts Inventory
Breakdowns are unpredictable. Having an inventory of spare parts sitting on shelves can be costly. When equipment breaks down, trying to find parts can be expensive and very time-consuming. With a CMMS, you have access to all of the repairs and historical data which will give you a good idea of the spare parts and supplies you need to have on hand to handle most types of breakdowns.
7. Resource Management
Having the right skilled people available to work on equipment at the right time is important. With a CMMS, you can schedule preventive maintenance around the schedule of your resources. Being able to schedule technicians during off-peak hours will save the organization time and money.
8. Mobility
In today's environment, especially with social distancing, having the ability to manage your data from anywhere at any time is valuable. A CMMS gives managers the freedom and flexibility to properly manage and track all their maintenance activities on the go. CMMS Mobile gives you all the power, flexibility and features you need to streamline your maintenance processes from anywhere.
9. Reporting – Compliance Regulations
CMMS software provides the essential reporting tools that give you the power to assemble the data you have been collecting within your CMMS and transform it into reports that are meaningful to you and others in your organization. With the wide variety of reports, you are able to retrieve pertinent information needed to demonstrate compliance for regulatory standards set forth by various agencies.
10. KPI Dashboard – Measurements of Success
Get an overview of your CMMS data. Create dashboards to provide you with a quick and easy way to view all of your systems. Some dashboard widgets are presented in a graphical format making it simple to quickly see trends or maintenance items that require immediate attention. View daily reminders of how well your facility and your team are doing. Modify and customize multiple dashboards to meet your needs. The dashboard may be set as the default screen so that it loads when the user logs in or added to your toolbar, giving you easy access to view the status of your systems
11. Review Your Maintenance Plan
Maintenance plans are built to be modified. It is important to always analyze the results of a preventative maintenance program and adjust or improve it as necessary. If something isn't working, change it.
12. Improve Preventive Maintenance with CMMS Software
Preventive Maintenance planning requires the collection and analysis of maintenance data. CMMS software provides you with the tools to track and maintain data regarding maintenance schedules, procedures, processes, and resource disbursement. Monitor and keep track of inventory levels and manage resources. A CMMS is a powerful system that helps you manage resources more efficiently, maximize asset performance and control costs by minimizing equipment downtime.
Contact eWorkOrders today to learn more and get a free demo. https://eworkorders.com/