July 2021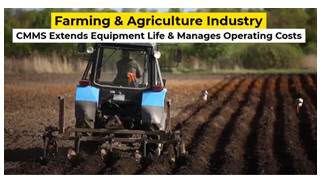 You've got control of your livestock. You've got control of your crops. But do you have control of your equipment maintenance?
Equipment breakdowns, depleted spare parts inventory, locating manuals and repair documents, keeping track of workers, controlling costs and keeping up with the competition. These are just some of the things that today's farmers have to deal with. How can they keep ahead of everything and still keep their business running smoothly, while trying to keep expenses down?
Today, farmers are looking for affordable, cost-effective and easy-to-use tools to manage their farms. With the competition looking for faster and more efficient ways to manage their farms, spreadsheets are being replaced with more modern systems. The farming industry is embracing the use of software tools, such as a Computerized Maintenance System (CMMS), to get a better understanding of operating costs, extend the life of their equipment, improve processes and optimize their maintenance operations. Read more….