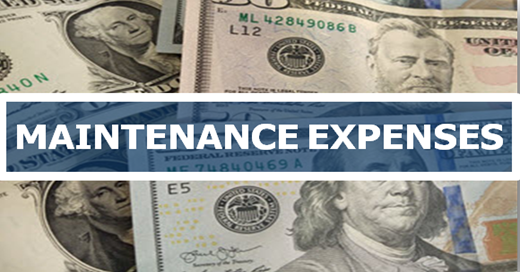 Maintenance costs are a significant part of an organization's budget and are usually the first department that encounters cuts. Cutting costs is only part of the solution, organizations have to work smarter and look at more innovative ways to work more efficiently and boost their return on investment.

Reducing maintenance costs is not just looking for places to cut costs; it is finding creative ways to make your investments deliver better returns.

Some ways to reduce maintenance costs include:
Getting Rid of Spreadsheets
If you are still managing your maintenance and facilities operations using spreadsheets this can be costing you more money than you think! A lot of organizations start out by managing their maintenance and facilities using spreadsheets. Spreadsheets are part of a standard computer software package and are easily available. As businesses grow, keeping ahead of the competition, spreadsheets may not be the most effective way to keep up with the complicated demands of managing operations.
Spreadsheets take a lot of manual processing time and analysis of data, risks of errors are extremely high and are not suited for mobility, which affects team productivity and the reliability of the data.
Reduce Reactive Maintenance
Reactive maintenance also referred to as breakdown or corrective maintenance is performed only when the equipment has failed. This means no regular maintenance or repairs have been scheduled or planned to reduce breakdowns. This means that technicians may be spending a lot of hours doing reactive maintenance instead of proper planning. Equipment breakdown wastes a lot of time, slows down production and is costing you money.
Preventive Maintenance Planning
Without a maintenance plan in place, everything eventually will cost a lot more, with unscheduled downtime, expensive repairs, and disruption in business operations.
If you are waiting for assets or equipment to wear out, or breakdown, you will be spending more money on repairs than implementing a preventive maintenance program. This can result in higher repair costs as compared to the minimal cost if a proper preventive maintenance plan was in place.
Implementing a computerized maintenance management system (CMMS) or an enterprise asset management system (EAM) helps in preserving assets, ensuring they have the maximum life expectancy, and keeping things running in optimum condition while saving time and money.
Improve Inventory Control
Trying to find spare parts or waiting for them to arrive is very time-consuming. Not being able to get these parts in a reasonable amount of time can cause a big disruption in production or business operations. Also, any parts that have to be shipped quickly can be very costly.
Implementing a computerized maintenance management system (CMMS) or an enterprise asset management system (EAM) provides the ability to manage and control inventory to ensure that technical managers have those critical parts available whenever they need them.
With a CMMS in place to manage spare parts inventory, organizations can:
Set minimum and maximum quantity limits.

Receive automatic email alerts on low inventory levels.

Get detailed information on vendors, parts, and costs.

Automatic generation of purchase orders when required.

Keep track of parts usage and costs.
The inventory management feature helps businesses manage parts inventory between multiple locations, prevent inventory overstock or understock by setting stock quantity thresholds. CMMS makes it easier for managers to monitor equipment and inventory records, and avoid unnecessary purchasing and shipping of expensive spare parts.
Managing Employee Asset Assignments
Without the proper tools, it's difficult to measure employee performance. Trying to manage employee assignments, the time associated with work orders and work order completion times can be a difficult task. This causes inefficiency in managing equipment maintenance.
Computerized Maintenance Management System (CMMS) software provides an accurate feedback system to evaluate employee behavior and makes them more accountable and efficient. Work Orders track all of the important information, from the time when a job has been started to completion, repair parts, expenses, checklists, and more. Managers can use computers, smaratphones or mobile devices to provide work instructions, track work completion, document work performance including photographs, drawings, spot buys, and keep teams fully engaged throughout their workday.
Vendor Management
Managing repairs, spare parts, and vendor expenses can be time-consuming and cost you a lot of time and money. With CMMS can get your expenses and inventory easily under control. CMMS gives you better insights on what you've purchased from the individual vendor, how often you purchase orders from that particular vendor and the parts costs. With this knowledge, you will be able to assess the parts that you have purchased from your vendors and determine if there is an issue with the equipment or if the parts do not measure up to your standards.
Benefits of using CMMS
CMMS software is the software system that will help you manage your equipment and maintenance operations more efficiently, and save you time and money. Along with improving efficiency, CMMS gives organizations the tools to streamline processes, monitor, organize, document, giving you the ability to analyze equipment maintenance operations providing the following key benefits:
Improves processes and streamlines tasks.

Reduces inventory costs by improving the tools to manage parts, suppliers, purchasing contracts, and more.

Improve equipment efficiency with preventive maintenance, parts availability, and repair history.

Reports that provide parts purchasing frequency will enable you to have a better understanding of equipment deterioration, vendor purchasing, and parts quality.

CMMS provides the tools for more efficient scheduling and workload balancing of maintenance tasks.

Optimizes the life of assets and equipment while providing data for equipment replacement or investment decisions.

Easy preparation of reports for audits and inspections. Repairs, maintenance tasks, costs, procedures, and resources are all documented and maintained one system accessible at any time from anywhere.
Conclusion
Businesses now have to work more efficiently and realize that reactive maintenance is costing their organization time and money. Reducing maintenance spend is always difficult, but this is only part of the solution. The objective is to improve workflows, manage and control costs. and ensure that maintenance teams are working more efficiently. Implementing CMMS software will help organizations be more proactive and efficient in managing maintenance schedules, managing assets and inventory control, tracking equipment parts, and prioritizing work orders. This is the best and most cost effective solution your business can invest in.
eWorkOrders offers an affordable solution with no software to install, no hardware to purchase, and you can access eWorkOrders anytime, anywhere. Upgrades & technical support are included, which means you are always working with the latest and greatest version.
eWorkOrders CMMS software has been helping businesses, throughout all industries, reduce maintenance costs for over 25 years. Schedule a free demo today.