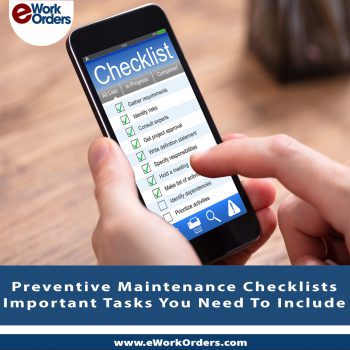 When equipment breaks down, it can cost you unexpected repair costs, delays in production, and lost revenue. The best way to avoid these disasters and improve maintenance efficiency is to create preventive maintenance checklists. Preventive maintenance checklists can help reduce equipment downtime, minimize operational expenditure, and provide workflow standardization, increase productivity and ROI.
What Is a Preventive Maintenance Checklist?
A preventive maintenance checklist is a list of tasks that guides the technicians through the process of asset preventive maintenance. These tasks need to be completed in order to close out a preventive maintenance work order.
The objective of the preventive maintenance checklist is to ensure preventive maintenance procedures are done correctly and done the same way regardless of which maintenance employee completes them.
There are two main types of preventive maintenance checklists:
Pass-or-fail preventive checklists allow you to set the percentage that a user must achieve in a checklist task to be recognized as 'successful' in that task.
Step-by-step preventive maintenance checklists provide detailed instructions outlining the processes that need to be followed.
Suggested Tasks To Include On Checklists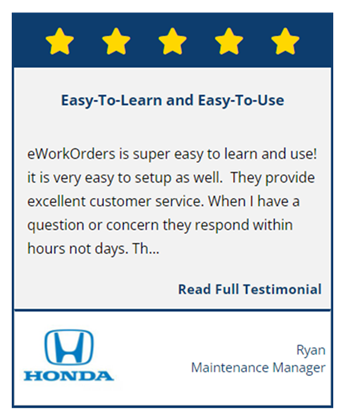 Note: These are general preventive maintenance guidelines. Your specific facility will determine what unique checklists are needed based on your asset\equipment inventory.
Preventive Maintenance – Machines
Daily check to make sure that machines\equipment are wiped clean of lubricant, dirt, and other debris.

Weekly check all machinery\equipment, belts, fluid levels, leaks, air filters, etc. and replace as needed.

Weekly inspect tools for sharpness, and free of any grease, rust, or debris.

Check and replace worn or damaged tools, cords, etc.

Set a routine yearly schedule to check motors and power sources.

Routinely check to make sure that safety guards are properly secured.
Preventive Maintenance for Network and Data Systems
Set up a time to review your network security procedures.

Set up a routine check to review and identify any recent threats to your network security, recent industry data breaches, etc.

Set up a routine schedule to change Wi-Fi and other network passwords.

Set up a routine to remind employees about company security processes and procedures for changing passwords and email best practices.
Building & Interior
Check that all exits are clearly marked, and there is proper lighting.

Do a yearly check of batteries and test smoke and carbon monoxide detectors.

Check the condition of floors, ceilings, and walls.

Schedule routine cleaning of floors, ceilings, and walls. If a disinfectant is used make sure that it meets EPA guidelines

Check for leaks or water damage in bathrooms and ceilings.

Check heating, ventilation, and air conditioning systems.

Check that doors lock and unlock easily.

Check that there is nothing blocking doors or stairways.

Check that stairs and railings are not loose.

Check that lights are working, free from dirt or dust, and replace bulbs as needed.

Conduct routine pest inspections and treatments.

Check fire extinguishers to make sure they are in working order.

For employee safety, define vendor processes and procedures, dropping items off, picking things up, vendor interaction with employees, and restricted areas.

Set up preventive maintenance schedules for all equipment. Such as oil changes, air filter changes, and general maintenance. If you have any electric equipment, make sure the charging stations are working, charging stations are easily accessible and are in good shape.

Yearly software checks. Check to make sure that virus, malware, firewall protection, server maintenance or upgrades, software installation, and licensing, are all up to date.

Yearly security checks to make sure that the business's doors, windows, alarm systems, and surveillance cameras are all in good working condition.
Building Sanitization (Some companies have additional sanitization processes.)
Check to see if there are any additional sanitizing guidelines that your company has put in place.

Create checklists to ensure that janitorial schedules, daily cleaning practices, spot sterilization, and workplace-specific sanitization standards are all being done to your company's guidelines.

Check to ensure that company guidelines are being done to accommodate all additional processes and procedures for cleaning and disinfecting common high-traffic areas, like doorknobs, vending machines, desks, etc. If a disinfectant is used make sure that it meets EPA guidelines

Check sanitization processes for shared equipment such as kitchen appliances, printers, copiers, etc.

Check to make sure that all cleaning supplies meet the guidelines for the CDC sanitization requirements.
Building Exterior
Check the outside environment to make sure that it is clear and free of any debris or anything that might cause an accident.

Check the condition of sidewalks for cracks or loose materials.

Check parking lots for potholes and lighting.

Check the condition of windows to make sure that they close correctly.

Clean debris from the roof and gutters.

Monitor the condition of exterior paint and siding and fix or replace any loose boards, etc.

Check decks, patios, and stairs for rot or loose railings.

Test generators and other equipment in case of a power outage.

Check to see if all of your outside security systems, cameras, etc are working.

Check to make sure seasonal maintenance equipment (snow plows, lawn mowers, etc.) is properly maintained and stored during off seasonal times.
Lawn Maintenance
Weekly keep the lawn mowed and the weeds at a minimum.

Weekly remove dead plants and grass.

Schedule seasonal pruning on shrubs and trees.

Check trees for any loose branches that may fall.

Test and make sure sprinklers work properly.

Schedule lawn seeding during fall and winter.

Schedule lawn care as needed.
Lighting
Inspect cords and cables of exterior lights and other hardware.

Make sure that lighting fixtures are free of dust and dirt.

Test and make sure that the parking lot lights are all working and in good shape.

Make sure that outside lighting is timed to properly accommodate time changes.

Ensure globes, refractors, and reflectors are clean.

Ensure gaskets are properly seated and provide a watertight seal.

Check transformers, control gear, and/or accessories.
Electrical
Clean and make sure that all electrical connections are not damaged.

Make sure the electrical panel is accessible and free of any obstacles.

Replace fuses as needed. Make sure that you have extra fuses in your inventory.

Make sure meters are clean and well-lit.

Check if automatic and manual switches are all operating properly.

Inspect electrical connections and boxes for overheating.

Test outlets for proper operation and make sure they are easy to get at.

Ensure batteries work in flashlights and smoke and carbon monoxide detectors, and test instruments work properly.

Ensure exhaust fans are clean and functioning properly.

Check all fusible switch units to make sure that all fuses are from the same manufacturer and are of the same class and rating.
Plumbing
Once a year inspect all plumbing for any leaks or unusual noises.

Once a year apply bearing lubrication on domestic water booster and circulation pump systems.

Periodically test boiler and process heaters.

Lubricate condenser fan motor bearings of drinking water chillers. Make sure the oil in the compressor oil reservoir is drained and replaced.

Check sump and sewage ejection pumps. Replace as needed. Lubricate exposed pumps at least once a year.

Test running water in sinks and tubs to ensure adequate hot and cold running water is available and working properly.

Check drains connections to the sanitary sewer.

Make sure the low water shut-off is functioning properly.

Make sure sink traps and building traps are clean to prevent slow drainage.
HVAC
Check air quality to ensure that the environment is safe.

Change air filters monthly or bi-annually.

Set procedures for the replacement of HVAC filters.

Check for excessive noise or vibration when blower motors are running.

Ensure motors and ductwork is clean.

Check flexible duct connectors for cracks and leaks.

Check pumps; bearings must be lubricated once a year.

Inspect the condition of all electrical hardware as well as connections.

Make sure that all safety controls and equipment are working properly.

Make sure all guards and access panels remain secure.

Ensure any mineral buildup inside the water heater is minimized.

Drain the boiler to remove any accumulated sediment.

Ensure the thermostat is properly working.
Safety
Ensure fire extinguishers and alarms are working and easy to get at.

Ensure fire escapes and stairs are free of obstructions.

Ensure chemical products are sealed, clearly labeled, and stored.

Check to make sure that there are first-aid kits and that they are well stocked.

Ensure safety signs and equipment labels are visible and in good condition.

Check and clean respirators.

Check smoke and carbon monoxide detectors.
Preventive Maintenance Software
For years maintenance activities have been tracked using pen and paper or spreadsheets. With the advancements in technology and the automation of projects, those methods have become very time-consuming, prone to errors, and inefficient.
As your business is growing, you are adding expensive assets, and depending on your assets to perform at peak performance, planned preventive maintenance is critical. Investing in computerized maintenance management system (CMMS) software will help make all of your maintenance tasks easier. Checklists are key documents, and being able to attach them right to work orders directly in your CMMS software gives you the advantage of always having access to your checklists from anywhere. With eWorkOrders, creating checklists for each preventive maintenance task only takes a few minutes and can provide tremendous benefits for any organization.
If you are interested in learning more about CMMS and working with preventive maintenance checklists, schedule a free online demo with one of our qualified account managers.