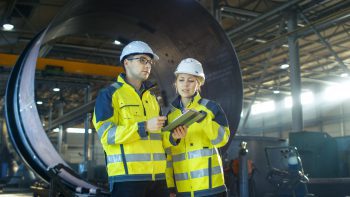 The new year is rapidly approaching, what better time than now to start evaluating how your current system is performing and start preparing your maintenance operations for the New Year.
Start by assessing if your current maintenance management system is meeting your objectives and giving you and your organization the critical data needed to make good business decisions. Then review and assess what your needs are to make your maintenance operations more efficient. Now is the time to establish your needs, set your goals and objectives, and invest in a maintenance management system that will help exceed your goals.
When you are evaluating your current maintenance operations, ask yourself these questions:
Is your data really secure? Does your vendor have a Cyber Security Rating of 100%? With all of the cyber attacks having the wrong vendor managing your data can be devastating to your business.

Is your current system providing you with complete, reliable data to manage your maintenance process?

Does the data include all of the information and detail that you need?

Can you attach drawings, images, and documents?

Can you access your data from anywhere using a computer, Smartphone or mobile device?

Can you keep track of all of your maintenance repair expenses?

Can you access your spare parts inventory from anywhere?

Is your data readily available for inspections?
Once you have taken a look at what processes are working and not working, you want to make the necessary adjustments to your current maintenance processes. Some of the steps that you can take to improve your current processes may include:
Plan and make improvements to your current processes. W

ith the pandemic and other natural disasters, processes and goals continue to change. Now is the time to review and update your maintenance processes to meet current requirements. Analyze the total cost of maintenance and identify opportunities and ways to improve current processes and reduce costs. Review Work Orders, Assets, Spare Parts, Repairs, Facility Maintenance, and Labor.

Optimizing your maintenance processes.

Review and analyze this years' preventive maintenance processes. Is the current plan working? Do you have reports that you can easily generate on the repair history of your assets? Can you easily look at equipment repair history and identify and plan for those pieces of equipment that need to be replaced? Now is the time to evaluate work order history to determine if keeping it is costing you more money. This would be a great time to setup PM schedules to ensure that equipment is ready for the new year ahead.

Managing maintenance processes more effectively.

Work Orders: Are they being assigned appropriately? Are work orders being completed in a timely manner?
Resources:

Are qualified and trained employees being properly scheduled to work on repairs, etc?

Equipment History.

Do you know the repair history of your equipment, what needs to be done, when it needs to be done, or when it needs to be replaced?

Equipment Downtime:

Is preventive maintenance being scheduled appropriately to avoid extensive downtime?

Inventory:

Is inventory being managed efficiently? Do you have expensive spare parts sitting around that you haven't used in a long time? Do you have inventory stocked with spare parts that are frequently needed?

Data Clean-Up.

Now is the time to clean up your data.

Have all obsolete work orders been reviewed and canceled?

Are completed work orders closed?

Are the naming conventions used for assets, labor and parts appropriate and consistent?

Has obsolete equipment or assets been removed from operations?

Has it been communicated to the team which assets have been removed from the system?

Reporting.

Having the information stored in one central system gives you the ability to run end-of-year reports to easily access your organization's maintenance operations. These reports are important in helping you to analyze and identify problem areas and help you to determine what actions you need to take to move forward to improve your maintenance management processes.

Dose the on-demand work order execution meet your goals?

Was your preventive maintenance planning effective?

Was equipment downtime minimized?

Were resources used efficiently?

Were spare part inventories maintained at appropriate levels?

Were expenses minimized?

Budgets.

Compare this year's actual maintenance costs against current budgets. Factor in any additional new programs or upgrades that you plan on implementing in the new year. Are there new tools that you are going to be purchasing or need to upgrade? Look at employee skills and assess if any additional training needs to be budgeted for.
Important! Your Data & Cybersecurity
Cybersecurity has now become a daily word in every industry. With ransomware attacks maintenance and reliability teams throughout facilities, government organizations, and manufacturers all need to assess their level of cyber risk and improve their cyber preventive maintenance actions.
A vendor with a poor cybersecurity score can open the doors to security breaches and bring your business to a halt.
Vendors may say they have a secure network, but do they really? Today, there are companies that specialize in analyzing vendor networks to ensure that their data is secure. These companies provide "Security Scorecards" rating them on their security in various categories. This would be a good time to choose a vendor that has a 100% rating. When evaluating a vendor ask them what their rating is and to share their cybersecurity scorecard with you.
Cybersecurity Scorecard Example
The Maintenance Management System Solution
Trying to manage all of these tasks, assets and work orders using spreadsheets and paper is costing you time and money. Trying to prioritize and keep track of tasks and resources and storing them in filing cabinets is not effective. Businesses are using maintenance management systems, such as a Computerized Maintenance Management System (CMMS) to help them manage all of their maintenance operations. Using CMMS web-based software makes it easy to share information, assign work, and send messages, collect data, and do other maintenance-related tasks. Being able to access this data from a computer, Smartphone or mobile device, teams can see at a glance what their responsibilities are and how long they have to complete their tasks.
With CMMS software you can generate reports to show long-overdue work orders and then determine what the cause was and create a plan to control any backlog.
Maintenance management software, such as a CMMS, managers can prioritize and reschedule jobs as needed and closeout redundant work orders, all within one centralized system.
Benefits of using CMMS
CMMS software is the software system that will help you manage your equipment and maintenance operations more efficiently, and save you time and money. Along with improving efficiency, CMMS gives organizations the tools to streamline processes, monitor, organize, document, giving you the ability to analyze equipment maintenance operations providing the following key benefits:
Improves processes and streamlines tasks.

Reduces inventory costs by improving the tools to manage parts, suppliers, purchasing contracts, and more.

Improve equipment efficiency with preventive maintenance, parts availability, and repair history.

Reports that provide parts purchasing frequency will enable you to have a better understanding of equipment deterioration, vendor purchasing, and parts quality.

CMMS provides the tools for more efficient scheduling and workload balancing of maintenance tasks.

Optimizes the life of assets and equipment while providing data for equipment replacement or investment decisions.

Easy preparation of reports for audits and inspections. Repairs, maintenance tasks, costs, procedures, and resources are all documented and maintained one system accessible at any time from anywhere.
Conclusion
Companies need to protect their employees, keep environments safe, keep equipment running at peak performance, ensure that everything is documented for inspections, make sure inventory is well stocked and the bottom line is that companies need to work smarter and be prepared. Having the right CMMS/EAM software in place is the key to keeping your maintenance operations working at peak performance. eWorkOrders is an industry leader in CMMS/EAM software technology; we provide organizations with high-quality tools to help streamline processes, improve productivity, keep you connected with your team, and your business operating more efficiently. Your family and employees are the most valuable assets that you have. Your business is the second most valuable asset. Implementing a CMMS/EAM system helps businesses take control of their maintenance operations and unleash the power of the system to enable you to manage your business operations more effectively from anywhere. Speak with one of our Account Managers today: 888-333-4617.