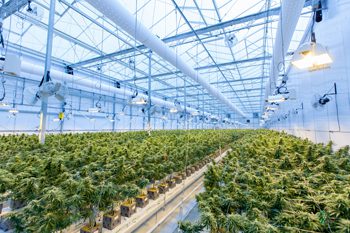 The Cannabis industry is rapidly growing and is struggling through processes, regulations, and compliance. This industry depends on reliable, highly powerful equipment, intensity lighting, humidity control, and more to grow and process cannabis plants.  The demand to manage all of the assets, equipment, the entire maintenance operations, being prepared for inspections, and meeting compliance regulations (FDA, etc.) is challenging.  Managing all of the equipment, tasks and processes requires a maintenance management system that can keep up with the speed that this industry is encountering.  They face many challenges to meet with the growth and the innovative technology, meet specific requirements and deliver safe products to the end-user.
Companies are implementing a high quality and secure computerized maintenance management system (CMMS) or enterprise asset management system (EAM) to manage their maintenance operations.  This web-based driven quality maintenance management solution provides the cannabis industry with a complete solution ensuring the safety of the workplace and workforce, meeting manufacturing standards, packaging standards, and effective reporting for safety and environment compliance regulations.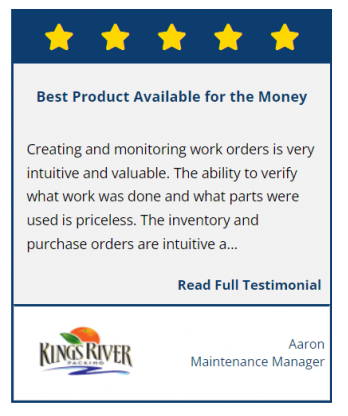 eWorkOrders CMMS/EAM software for the Cannabis Industry is a secure web-based quality system.  Our maintenance management solution provides the complete solution for managing Preventive Maintenance, Document Management, Inventory Control, Asset Management and Tracking, Electronic Signature, Validations, Dashboards, Reports, Analytics and more.
eWorkOrders Cybersecurity Program
 eWorkOrders has an ongoing effort to maintain the security of our systems and our customer's data.  We have utilized a third party, SecurityScorecard to analyze and continuously rate how well prepared we are at preventing cyber-attacks.
We are pleased to announce that we have achieved a perfect SecurityScorecard score of 100 on their scale of 0 – 100.  This includes perfect scores in all categories.  Read more…
Summary
This article covers some of the challenges that facility and maintenance managers face and the advantages of using maintenance management system software to help them streamline their processes, manage their maintenance operations more efficiently and,being prepared for inspections and audits.
Managing the Assets and Equipment
Originally, marijuana was grown mainly outdoors. With the growth of technology and the need to adapt to the environment, this process has now been brought indoors.  Many facilities now have growing rooms that use high-intensity lamps that offer many advantages to the grower, more security, protection from the environment, protection from outdoor pollutants and insects.  Indoor growing rooms give users the ability to control the environment to maintain the ideal temperature, humidity, and air quality conditions.  Any downtime or disruption can be devastating and cost the grower to lose plants and their business. 
Three Types of Facilities
Cultivation and Growth
These types of facilities employ a grower who directs how the plants are cared for. The grower controls every aspect of the grow environment including the strict requirements for temperature and humidity that must be maintained.  Some locations have filtration requirements, to prevent the release of dust or odors.  In some locations, there is a need for additional systems to accommodate the need for carbon dioxide injections to speed up growth cycles.
Extraction
Facility and maintenance teams that manage cannabis extraction labs primary focus is on:
Safety:  The extraction methods involve working with toxic and dangerous gases. When working with dangerous gasses, ensuring the safety of workers is critical.  This includes proper ventilation and that equipment is maintained and working properly
Reducing Contamination:  Facilities need to create and maintain processes and procedures to ensure a smooth workflow and reduce the possibility of contamination. The objective is to maximize efficiency and maintain cleanliness.
Machine Maintenance:  Extraction machines need constant maintenance and cleaning. 
Staging:  There are three stages of the growing process that requires separate rooms for each process to ensure that there is no contamination.  Employees are also given restrictions and access to certain rooms.
Scalability:  As this industry is rapidly growing, planning ahead to scale up as the business expands is important in this industry.
The materials extracted from these plants can be used to make products that will go to consumers for such things as pills or edibles like cookies or brownies, etc.
From the use of specialized equipment to the pulling out of oils and other materials from marijuana plants, to the management of hazard rooms with extensive fire protection equipment, there is a lot to maintain and manage.  Keeping equipment running at peak performance, ensuring that hazard rooms are properly maintained and employee's permissions are properly managed can all be done through a centralized system like a CMMS/EAM.
Dispensary
Dispensaries are specifically in retail spaces where people who are eligible can purchase medical or recreational marijuana products.  Dispensaries must meet specific codes, local and government regulations.  In some instances, there are stricter guidelines where products need to be stored and maintained behind locked doors, and additional filtration must be adequate to ensure dust or odors from the products don't fill the breathing environment.
The rapid growth of the Cannabis Industry and regulations has now put the need for a reliable, secure and scalable system to help manage all of their assets, processes, compliance and regulations.
Advantages of eWorkOrders facility management software in the Cannabis Industry
CMMS/EAM simplifies machine and asset management.  Gives you more control and management of resources and expenses.
We provide a complete maintenance and asset management solution with advanced features to assist cannabis manufacturers with automating workflow and providing total visibility and control of their maintenance operations.  Some advantages of our software solution include:
Create, maintain and prioritize work orders

Manage and track assets and expenses

Interactive and user-friendly graphical interfaces

Scalability

Mobile accessible from anywhere

Automation and streamlining of workflow and processes

Affordability – packages to meet your solution

Multi-location management

Spare parts inventory management

Flexible reporting

Dashboards & KPIs

Better management and scheduling of resources

Electronic Signature to ensure processes are completed

Easy reporting for compliance and regulations

Free Upgrades

No hardware to purchase or install

Free technical support

Free training, videos, help, etc.

Cybersecurity rating 100% across all categories
In Conclusion
Companies need to protect their employees, keep environments safe, keep equipment running at peak performance, ensure that everything is documented for inspections, make sure inventory is well stocked and the bottom line is that companies need to work smarter and be prepared.  Having the right CMMS/EAM software in place is the key to keeping your maintenance operations working at peak performance.   eWorkOrders is an industry leader in CMMS/EAM software technology; we provide organizations with high-quality tools to help streamline processes, improve productivity, keep you connected with your team, and your business operating more efficiently. Your family and employees are the most valuable assets that you have.  Your business is the second most valuable asset.  Implementing a CMMS/EAM system helps businesses take control of their maintenance operations and unleash the power of the system to enable you to manage your business operations more effectively from anywhere.  Speak with one of our Account Managers today:  888-333-4617.
Other Resources