8 Reasons Why You Can Benefit From A CMMS & An
Application Programming Interface (API)

Are you struggling with the task of updating multiple systems with repetitive data?
Are you wasting time inputting data into various systems?
Do you want to reduce the chance of data entry errors?
Would you like to be able to access and sync data between systems through one easy-to-use portal?
A key tool for tackling these challenges is an Application Programming Interface (API).  Through the eWorkOrders CMMS API, users can fully leverage their CMMS by integrating it with any hardware device or software application in the cloud.  Whether importing data directly from machine sensors or exporting data, our platform allows users to unlock the full power of your business assets and infrastructure.  eWorkOrders API gives organizations the ability to automate more processes by creating a  seamless integration between systems in their organization, saving valuable time, reducing data redundancy, minimizing errors, and enabling maintenance teams to be more productive.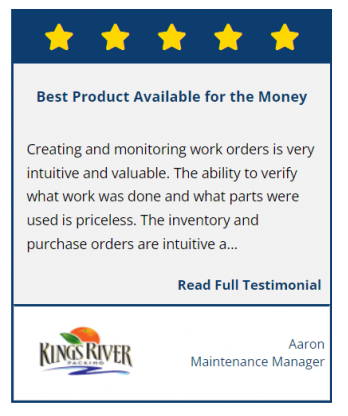 Benefits of integrating an API into your CMMS:
1. System Automation
System integration through an API eliminates the redundancy of separately managing multiple systems.  System data is automatically synced and updated and managed through the API.  That means data is inputted once and distributed throughout the other systems. 
2.  Real-Time Data For Better Decision Making
The integration of systems through the API provides users access to real-time information, giving them the ability to make more informed decisions.  For example, condition monitoring sensor results can push out real-time data through your CMMS API.
 3.  Increase Productivity
With the integration of systems and using the eWorkOrders CMMS API, eliminates the need for entering data into numerous systems and ensures that the data is entered once, with less chance of typographical errors.  With the integration of system data, information is updated in real-time with no delay.
4.  Reduce Errors
Entering system data once decreases the chance of typo's or inconsistent data entry.  With the automatic sync of data, there is no need to replicate the data throughout the other systems.  This saves time and reduces the chance of errors.
5.  Reduce Costs
The integration of systems through a CMMS API:
Eliminates multiple people entering or reconciling data.

Minimizes time and costs for researching errors.
6.  Streamline Processes
The integration of systems through a CMMS API streamlines processes, provides real-time data from anywhere, and simplifies the reconciling process of multiple system data.
7.  Better Collaboration Between Teams
With the integration of systems through a CMMS API:
Teams work closer together through a seamless interface.


There is no need to remember additional login credentials or be trained on new systems.

Sharing of information is easier and faster.
8.  Keeping Up With Technology
As technology continues to grow and departments start developing new system applications, the need to easily connect with the best tools is critical.  Managing your API through eWorkOrders CMMS gives users the most powerful tools to manage their applications.
The Importance of a CMMS API
Connecting your eWorkOrders CMMS with our API feature allows for the management and integration of other critical systems into the CMMS platform. With the integration through our API, data between the systems are synced up in real-time, communications between teams and organizations are improved, productivity is increased and processes are streamlined.  The bottom line is with the right tools, managers can make better business decisions.