API Integration
Seamless Connection to Hardware and Software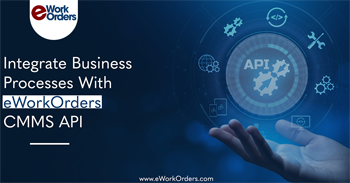 Organizations seeking to create interoperability between internal apps and other data exchange tools are increasingly turning to Application Programming Interfaces (APIs) to manage the flow of information between systems. eWorkOrders allows users to fully leverage their CMMS by integrating it with any hardware device or software application via our Application Programming Interface (API). Whether importing data directly from machine sensors or exporting data, our platform allows you to unlock the full power of your business assets and infrastructure.
What is an Application Programming Interface (API)?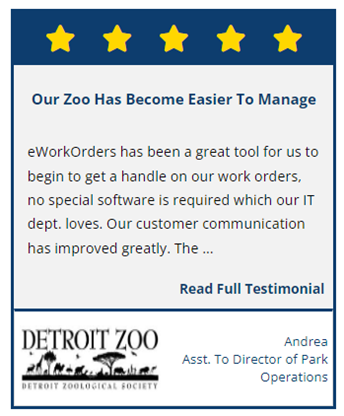 An Applications Programming Interface (API), such as the eWorkOrders CMMS API, is an interface that allows unrelated software programs to communicate with one another. Our API acts as a bridge between two applications, allowing data to flow regardless of how each application was originally designed.
An API System Integration empowers organizations to utilize the best software/hardware packages out there to meet all their different needs and to have those systems integrate and communicate with each other.
eWorkOrders API Integrations
The eWorkOrders CMMS API empowers your organization to connect eWorkOrders to any third-party hardware device or software application with an API interface and transmit data back and forth. With our API, organizations have the ability to automate processes by creating a seamless integration between systems in the organization, increasing the efficiency, quality, and productivity of your maintenance operations.
Although the eWorkOrders API has an extensive array of standard features that can interact and seamlessly integrate with other API capable systems, we regularly upgrade the standard API with even more rich features to meet the needs of our clients. Where needed, our technical specialists can also create a custom API integration.
There are an endless number of applications that can be integrated with eWorkOrders CMMS API, below are just a few examples:
CMMS & APIs
Through a CMMS API, users can fully leverage their CMMS by integrating it with any hardware device or software application. Whether importing data directly from machine sensors or exporting data, our platform allows users to unlock the full power of their business assets and infrastructure.
Condition-Based Maintenance
Condition-based maintenance uses sensors and meters to track actual equipment usage, such as run hours and mileage, as well as real-time equipment conditions, including vibration, temperature, and pressure.
Using a CMMS to communicate with any production system, including PLCs, SCADA systems, and industrial sensors eliminates the uncertainty of manual readings.
Do you have critical freezers containing expensive products that could go down at 2 am on Saturday? With our system you can automatically send an urgent work order to eWorkOrders and have your maintenance crew automatically be notified.
Are you legally liable to keep the lights on in your parking garages? Have your monitoring system automatically send in a repair work order to eWorkOrders when light bulbs go out.
ERP Systems
Enterprise Resource Planning (ERP) software organizes all the different elements of a business, like inventory, accounting, sales, human resources, and more. The main business function of ERP Systems is accounting.
Connecting your CMMS into an ERP enables you to see data from every part of the organization, and the rest of the organization can see relevant information from the maintenance team. An ERP streamlines the process of purchasing, organizing, and spare parts inventory management.
Use eWorkOrders to chargeback your labor and material charges by integrating with your organization's current accounting systems. Let eWorkOrders API integration put some money back into your service department's budget.
Other Third-Party Integration
Many organizations have their own specific applications that they would like to integrate with their CMMS. There are many emerging technologies used today to connect CMMS software with other software applications, but integrating the systems depends upon a company's needs.
This world of CMMS third-party integration has opened new opportunities for maintenance managers who want to further automate their operations and increase the quality of the services provided.
Benefits of CMMS Systems Integration
An API can automate the tasks and synchronize between your systems.

Access Through One Portal




One user-friendly interface makes it easier to access multiple systems and reduces the chance of errors.

Decrease Development Time & Save Storage Space




For applications that function by pulling a constant stream of data from one or more sources, an API is especially important to decrease development time, save storage space on endpoint devices, and overcome any differences in the standards or programming languages used to create the data that lives at either end of the data bridge.

Energy Efficient




CMMS programs that interface with existing energy management and control systems, allow for condition-based monitoring of equipment, making necessary adjustments or repairs to equipment can reduce energy consumption and bring significant energy savings.

Reduce Redundant Information




Business applications store redundant data and tend to implement redundant functionality. Using the eWorkOrders API, businesses can access the data directly and eliminate redundancy.

Reduce Labor Cost




With the streamlining of operations and better time management, companies see a reduction in overtime and other labor costs.

Real-Time Data




With the centralization of data, information is updated in real-time and accessible 24/7 from anywhere.

Performance & Better Data Analysis




Information is gathered and shared instantly across organizations, giving organizations accurate information immediately to make business decisions.

System Collaboration




The integration of systems creates a workflow of information to specific teams and members, providing more accurate tracking, reducing labor time, minimizing errors, and providing for easier data analysis.

Access to Multiple Locations




With CMMS integration you have access to multiple sites throughout any location.

Improved System Security




The integration of systems in a CMMS gives users one system to easily manage their security tools and permissions.
eWorkOrders easily integrates with almost any system, even brand-new emerging technologies, via our API.
CMMS Systems Integration Concern
CMMS System Integration can be either very easy or very complex and it depends on the complexity of the application. Some integrations may depend on importing a spreadsheet, whereas other applications may require the skills of an IT manager to make the links between the databases of the systems.
The vast majority of systems, even brand-new systems, can quickly be integrated with eWorkOrders. What this means for your organization is that you can install the best software and hardware systems and have them seamlessly integrate with one another rather than installing a jack of all trades system to try to do everything for you which in the end will fail you miserably and cost you dearly.
eWorkOrders CMMS API Integration
eWorkOrders is a leader in CMMS software providing the tools that simplify the integration process for numerous applications. The ability to import and export data from other applications and databases has made it easier to integrate maintenance software with accounting, purchasing, payroll, monitoring systems, and other software systems.
eWorkOrders is front and center in this new era of CMMS integration. This gives maintenance operations managers the opportunity to improve communications and automate administrative tasks. Today's powerful eWorkOrders CMMS software makes maintenance operations and tasks more manageable and affordable. The eWorkOrders team is here to take you to the next step and will analyze your system requirements and provide a solution for your CMMS System Integration.