Major Zoo




Optimized Safety, Maintenance and Operations




With eWorkOrders CMMS Solution
Description of the company and what they do?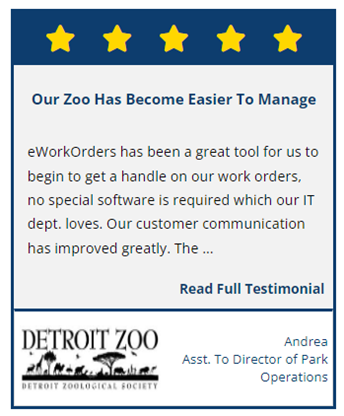 Managing a large Zoo with family attractions and over 1.5 million visitors annually, requires that they provide a clean and safe environment for their employees and visitors.  Having critical information accessible from anywhere and anytime, and managing the maintenance of over 125+ acres of land, along with 2,000 animals and 230 species is extremely important to the safety of the animals, employees, customers, and their families.  Being part of the Greenprint roadmap guides their operations and is the plan by which they refine and improve facilities and daily practices, develop new policies and programs and improve green literacy and action in their community.  Organizing and administrating these processes have become easily manageable through eWorkOrders CMMS solution.
Safety in the zoo is extremely important.  Zoo owners' priorities doesn't stop with customers, but have a broader set of responsibilities to ensure that employees are working in a safe environment, managing costs, improving efficiency, and increasing productivity.  This puts a lot of stress on the owners and managers of the zoo who are responsible for:
Make sure that rides and equipment are running properly, safely, and in great shape.

Displays are properly maintained and safe.

The property is clean and safely maintained.

Make sure that all the vehicles are running and safe to use.

Preparing for inspections.

Inventory is well stocked and maintained.

Issues are resolved quickly, in order to ensure the safety of their guests.
Keeping track of equipment historical data, having parts in stock, documents, and manuals quickly available, all in one centralized location is critical to the success in the management of the zoo.  Having the ability to use a Geographic Information System (GIS) CMMS solution and being able to get a maintenance person to the exact spot, with the work order, manuals, and the right tools and parts the first time is priceless!
Business Challenge
Zoos must be simultaneously fun, clean, and safe for visitors and employees.  Failing to follow regular maintenance schedules for equipment or vehicles, maintaining their rides, maintaining their 125+ acres of property, and repairs to their 50 buildings can be a matter of life or death when handled improperly.  Effectively managing all of these tasks can be very time-consuming and expensive. Using eWorkOrders CMMS Web-Based Solution, the customer quickly streamlined processes and incorporated all of their data into one centralized system, with access from any computer or mobile device.
When managing such a large facility, identifying issues quickly and rapidly getting a technician with all of the documents and information to work on something can be challenging.  Having mobile access with the ability to submit service requests from a computer, smartphone, or tablet, giving them the ability to respond quickly to issues that needed immediate attention.  Safety is a big concern within the Zoo and it is a big advantage being able to have anyone from any location put in a service request.  Technicians can pull up the work order from any location and have immediate access to the history of the equipment, inventory, important documents, manuals, and diagrams, without losing valuable time.  eWorkOrders CMMS solution automated and streamlined processes, while improving efficiency and productivity.
Implementation
The customer said that the implementation was quick and easy.  The software is very easy to use and provided them with a lot of features to help them streamline their maintenance tasks, reduce costs, improve safety and enhance customer satisfaction.
Results
The customer said that everyone loves the eWorkOrders CMMS solution! Having a system that incorporates everything in one centralized location, gives them an instant view of what is going on within the zoo property and within the 50 buildings.  The maintenance team loves the fact that actual documents and manuals are attached to work orders, which gives them all of the information they need to repair equipment right on the spot.  They can now easily see the maintenance schedules and history of repairs on their vehicles and have access to important documents and information, all of which have improved safety and ensured that they are keeping in their Greenprint plan.
They also love the eWorkOrders GIS (Geographic Information System) feature and use it consistently to pinpoint and track assets throughout their facility, which is valuable when responding to issues and locating assets.
Working with eWorkOrders Team
Customer's final comment:  "It has been great working with the eWorkOrders team!  They understood our needs and requirements and worked with us to quickly get us up and running on the software.  It is extremely nice that I can at any time reach out to them with any questions or assistance.  If you really want to achieve success with a new system, it is really nice to have someone who is always there to help. eWorkOrders is in the business of successfully assisting organizations through the implementation process, and they contribute their success to having the best professional technical and management team who all work together to make this happen."
 *As a courtesy to our customers, we do not publish their company names.