One of the most important features of a Computerized Maintenance Management System (CMMS) is the Service Request Module.  The main objective of the Service Request Module is to be able to organize and manage service requests, streamline processes and increase performance efficiency.  In order to be successful, the Service Request Module has to be convenient, easy to use and accessible from a computer or mobile device.   
What is a Service Request?
A Service Request provides communications and management of services needed, allowing you to streamline request intake and maximize work performance efficiency.  The Service Request Module is quick and easy to fill out.  Customers can enter service requests and monitor the progress of their requests as workers complete repairs.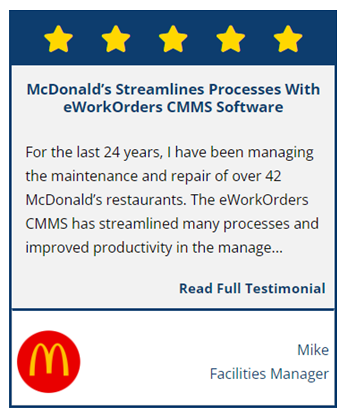 What does a Service Request do?
With real-time communications and 24/7 access, users can enter requests through a user-friendly menu, using their computer or mobile device.  The service request is automatically assigned a tracking number and routed to the appropriate maintenance manager/employee for immediate action. 
What is the difference between a Service Request and a Work Order?
A CMMS Service Request Interface gives users the ability to communicate between the maintenance team and other departments across organizations.  Requesters can monitor the status of service requests and receive automatic updates when maintenance requests are accepted and completed.
CMMS work order management software is used to generate work requests and automates work order activation, assignment, processes and distribution to ensure that work orders don't fall through the cracks.  A flexible maintenance calendar provides a snapshot of upcoming work orders so that you can plan for the days or weeks ahead. 
What is the Importance of a Service Request?
In just a few seconds of your time, you can create a service request, schedule a job, and assign technicians, all from a computer or mobile device.
The Service Request Module can also improve work efficiency by allowing you to prioritize incoming requests, and organize service performance alongside other scheduled or on-demand work. 
Want to know more about CMMS Service Requests?
CONTACT US TODAY FOR A FREE DEMO
 YOUR SUCCESS IS OUR GOAL!