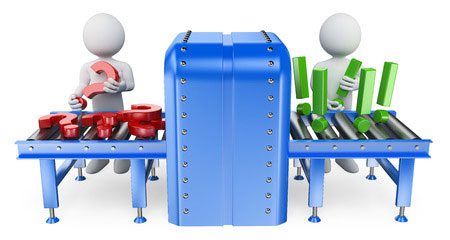 Running an efficient manufacturing facility is no easy task, but eWorkOrders makes it a
lot simpler. From the company Janitor to the CEO, our system gives your entire organization the tools to better manage PO's and WO's, assess inventory, schedule preventive maintenance and more – from any smartphone, tablet or computer.
A well-run facility depends on communication. Every department within the manufacturing cycle must be on the same page and aware of each other's needs and expectations, as even minor miscommunications can lead to wasted time and money lost. eWorkOrders allows your team to communicate effectively, across departments, and keeps your manufacturing facility in the black.
Communication inside individual departments is important too. With eWorkOrders, your service team, for example, can easily track and assess all of your company's equipment and schedule preventive maintenance when necessary. By doing so, you'll greatly reduce the amount of  unplanned downtime within your facility. Material purchases can also be coordinated with your planned maintenance schedule so that you always have the routine replacement parts on hand when you need them.
eWorkOrders also allows managers and supervisors to quickly view the workload of each employee and assign new work orders appropriately via email and/or text message alerts. By connecting the right employees with the most pressing issues, you'll ensure each task is finished on schedule.
If you're looking to increase efficiency, while maintaining a stress-free facility, eWorkOrders is the only solution.