As you may know, the industrial industry encompasses a wide range of fields, including manufacturing, construction, transportation, and more. In these industries, workers often encounter unique and unexpected challenges in their day-to-day work. Sometimes, these challenges can result in unusual work order requests that require creative solutions. From removing a colony of bees from a factory to repairing a machine that has been damaged by spilled soup, these types of requests can be unpredictable and even humorous at times. However, they also highlight the importance of having skilled and adaptable workers who can think on their feet and come up with effective solutions to unexpected problems.
We All Need A Little Laugh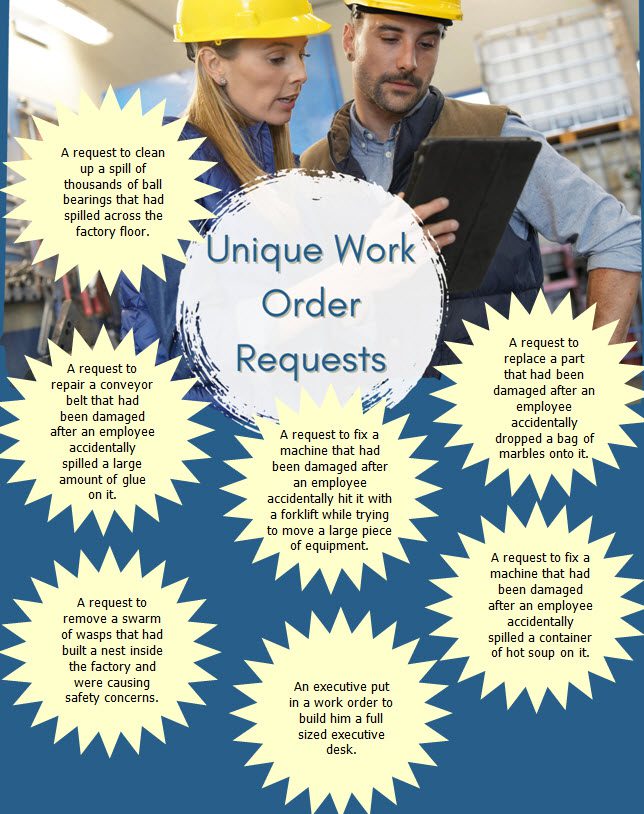 The Solution
A Computerized Maintenance Management System (CMMS) is an invaluable solution for managing a diverse range of work order requests in any industry, regardless of how complex or unique they may be. From coordinating complex tasks that require collaboration across departments, to scheduling routine maintenance tasks, or addressing crazy and unforeseeable issues, a CMMS provides a centralized platform to streamline the process. With its ability to improve communication, promote collaboration, and ensure accountability, a CMMS helps ensure that work orders are completed efficiently and on time, reducing the risk of downtime and increasing equipment reliability. Ultimately, a CMMS is an essential tool for any organization looking to optimize maintenance operations, reduce costs, and boost productivity.