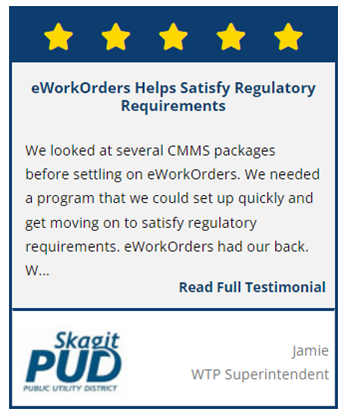 With the start of the New Year, it is time to Empower Your Maintenance Team with the most powerful tools to make your maintenance organization successful.  For over 25 years, eWorkOrders has been providing organizations with award-winning CMMS software that provides them with the most powerful tools to drive productivity, increase efficiency and reduce costs, all at an affordable price.
How can a CMMS improve your maintenance operations?
1. Work Orders – Create, Track & Manage Work Orders From Anywhere
Having the ability to manage work orders from anywhere at any time is the key to getting issues resolved quickly.  With a CMMS Work Order Management module users have the ability to: 
Access all of your open work orders or assignments from a computer, smartphone or mobile device.

Quickly and easily search through your work orders and generate interactive detailed reports.

Manage or print open work orders and open assignments.

Access detailed customer information and history.

Automatic email notifications.

Many more other features.
2.  Preventive Maintenance Scheduling
Having a good preventive maintenance plan in place is the first step to optimizing your maintenance operations.  eWorkOrders provides users with various tools and calendars to view and manage maintenance tasks and schedules.  Being able to effectively manage your preventive maintenance schedules through CMMS reduces breakdowns, saves time, resources and money.
3.  Assets – Extend The Life Span Of Assets
Do you know the health of your assets?  Keeping your assets and equipment running at peak performance is critical to the operational success of any business.  From maintaining historical data to repairing history can all be managed from a computer, smartphone or mobile device. 
Track asset tasks and performance across your entire corporation.

Minimize asset life cycle and maximize profitability.

Analyze maintenance costs for repairs and replacement.

Works with handheld computer barcode scanners and smartphones with barcode scanner apps.

Make compliance easily traceable for audits.  
4.  Spare Parts &  Inventory Management
Do you have the right parts in inventory?  Do you know your inventory levels?  With a CMMS Inventory Management module organizations can prioritize, organize and keep track of spare parts and inventory supply levels, ensuring that you have the most accurate information in real-time.  A CMMS Inventory Management tracking tool gives organizations the ability to:
Manage inventory levels across multiple locations.

Track vendor products, prices, etc.

Track and manage inventory stock levels and automatically generate purchase orders to vendors for replenishment.

Track vendor returns.

And many more features
5.  Mobile Access – The Go-Anywhere CMMS Software Solution
Do you need to access information from anywhere at any time?  Can your technicians access data while out in the field?  Incorporating mobile access into your CMMS, users have access to all of their CMMS data in real-time from anywhere at any time. 
6.  Safe Environment With Proper Maintenance Management
Managing your maintenance or facilities with a CMMS, provides you with the tools to ensure that proper maintenance is done and safety procedures are followed for a healthier and safer work environment. 
7.  Reduce Downtime
With a CMMS maintenance teams can identify and resolve issues quickly. Having the ability to manage preventive maintenance, resources, inventory and maintenance expenses gives organizations better control over the management of their maintenance operations. 
8.  Repair Costs
Using CMMS to manage your preventative maintenance scheduling, assets, labor, and spare parts inventory, are the drivers to keeping repair costs down. 
9.  Communications & Sharing Of Information
eWorkOrders centralized database captures, stores and maintains real-time information, documentation, images, etc. which gives teams the ability to easily share information and work more effectively.  
10. Reports, Dashboards & KPI's
Do you know how well your maintenance operations doing?  Can you quickly determine what is working and what isn't? 
A CMMS provides the essential reporting tools that give you the power to assemble the data you have been collecting within your CMMS and transform it into reports that are meaningful to you and others in your organization.  With the variety of reports, you are able to better understand what is working and gather more insight on what can be improved to increase efficiency and reduce costs.
A CMMS provides you with a quick and easy way to view all of your systems.  Having the right KPIs in place shows the reliability and growth of your organization while providing you with the information within your maintenance operations that needs improvement.
eWorkOrders offers all of these features and more.  Take the steps today to incorporate CMMS software in your maintenance operations and see how processes can be streamlined, extend the lifecycle of assets, reduce costs, and a better bottom line.