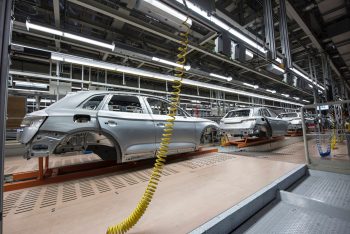 Downtime is a genuine danger to any manufacturing business. One of the most feared situations inside an assembling plant is that on the off chance that one area backs up, it can have a compounding effect on different areas that are waiting for parts to complete processes. Waiting for parts to complete jobs is costing you money. The longer it takes to complete these jobs, the more money it is costing you. The overall objective is to increase efficiency and reduce the amount of time that people or machines are sitting idle. An operational error, poor equipment maintenance, broken hardware or software, and various other things can escalate downtime to dangerous levels. To help reduce losses, there are some steps that can be taken to help minimize downtime.
1. Develop a Regular Manufacturing Equipment Maintenance Plan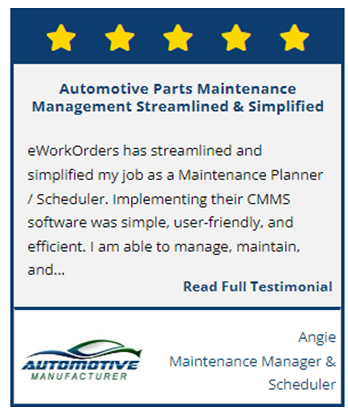 To minimize downtime equipment needs to be maintained in order to avoid mechanical failures. Having a preventive maintenance plan in place is essential in keeping the machines running at peak performance for as long as possible. Scheduling regular maintenance reduces the possibility of breakdown and the possibility of downtimehttps://eworkorders.com/cmms-testimonials/ and also increases safety, efficiency, and productivity.
2. Perform Risk Inspections
Risk inspections or auditing is the fastest and simplest way to reduce downtime that will occur sometime in the future. Assessing and identifying obsolete and older equipment for possible problems ahead of time can reduce future downtime.
The spare parts for aging and obsolete equipment are often difficult to locate, due to manufacturers reducing parts inventory or no longer in business. If the equipment breaks down, there are many issues that this could cause your organization. For one example, this may impact the safety of your workers, plus the long downtime due to the unavailability of spare parts. Doing an inspection and assessing the health of your equipment, analyzing breakdown reports to help identify the spare parts that you need to have in inventory, will have you more prepared for potential problems that may occur.
3. Track Equipment Life Spans
Operating equipment far beyond its expected life, the probability of failure is evident. This is where having a good understanding of equipment life and cost analysis can be very beneficial. Having software like computerized maintenance management (CMMS) is a tool that can be used to better understand how the age, use, and condition of assets affect their ability to contribute to the organization's bottom line. This gives you a better insight and understanding how poorly maintained assets can end up costing your organization thousands of dollars more than regular maintenance and proper repair of assets.
4. Track and Record Equipment Downtime Information
Understanding when, where, and how downtime occurs is essential to know and how to prevent it. The first step in reducing unexpected downtime is to collect data. Having this data stored in a centralized system gives you the ability to assess how your equipment is performing and identify any recurring instances. Having this information gives you a better understanding of what went wrong, making it easier for you to adjust processes or procedures to keep it from happening again in the future.
5. Employee Communications and Training
One of the main causes of production line downtime is user error. Operators can cause the machine to accidently malfunction in many ways, so proper training should not be taken lightly. Machine operators must receive proper education to produce the most effective results. They need to know how to use these tools effectively. Teaching your team members to operate machines correctly will reduce operator errors that ultimately lead to delays and downtime.
6. Store Manuals, Receipts and Documentation Into a Cloud-Based System
Having easy access to manuals, drawings, warranties, and other pertinent information, saves time and frustration when trying to repair equipment in the plant, field or anywhere. Being able to store this information into a centralized system reduces downtime and saves money. Attaching receipts and instructions to work orders and uploading them into a CMMS, keeps all of the information together in once centralized location.
7. Maintenance Checklists
The objective of a checklist is to establish reliable working processes within a facility, factory, or other enterprise by ensuring that all technicians in the maintenance team follow the required PM procedures. In preventive maintenance checklists are usually used as a formal document and reminder when certain types of events occur (inspections, audits, etc.). In CMMS, checklists have the ability to generate follow-up work orders when needed and are connected to the original checklist.
8. Be Proactive!
Don't wait for a disaster to happen. Following these suggestions and managing all of these processes are simplified and easily managed through CMMS software. Having a system in place like a CMMS to help streamline processes, manages routine tasks and your overall maintenance operations, saves time, money, increases efficiency and productivity.
Computerized Maintenance Management System (CMMS) Software
We all know that preventative maintenance takes valuable time out of your day. In the long run, these few scheduled hours a day are far more worth it than having to stop working due to equipment downtime, which could mean a disruption in business operations for days.
Companies need to protect their employees, keep environments safe, keep equipment running at peak performance, ensure that everything is documented for inspections, make sure inventory is well stocked and the bottom line is that companies need to work smarter and be prepared. Having the right CMMS software in place is the key to keeping your maintenance operations working through any disaster. eWorkOrders is an industry leader in CMMS software technology, we provide organizations with high-quality tools to help streamline processes, improve productivity, keep you connected with your team and your business operating more efficiently. Your family and employees are the most valuable assets that you have. Your business is the second most valuable asset. Implementing a CMMS system helps businesses take control of their maintenance operations and unleash the power of the system to enable you to manage your business operations from anywhere through any disaster. Speak with one of our Account Managers today: 888-333-4617.