What is Enterprise Asset Management?
Difference Between EAM and CMMS
Enterprise Asset Management (EAM) systems offer a different set of CMMS features.  EAM system solutions are used by asset-intensive organizations that need to manage large portfolios of physical assets across multiple locations.  However, the popularity of these systems is increasing across small and mid-size organizations that need to manage system performance while adding the ability to plan and control budgets.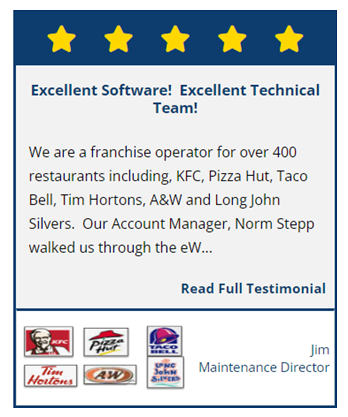 Computerized Maintenance Management System (CMMS) is a software solution whose purpose is to manage the maintenance work necessary to extend an asset's usefulness and its profitability.  CMMS objectives include streamlining and automating maintenance tasks and activities; eliminating unplanned downtime; increasing productivity; extending asset lifecycle; helping maintenance and technical workers be more effective and accountable; supporting Operations Management with decisions about preventative versus reactive maintenance; and supporting internal and external occupational and environmental safety and regulatory compliance with work order audit trails.
Enterprise Asset Management (EAM) originated from CMMS, but the primary goal of EAM is to optimize an asset's life cycle in order to decrease the Total Cost of Ownership (TCO) and at the same time maximizing overall asset productivity and Return on Asset (ROA).
Reasons Why EAM is Important
No matter what size company you may have, or what industry you support, everyone has assets that need to be maintained.  EAM helps organizations track, assess, manage and optimize asset quality and reliability.  If you can relate to a number of these issues below then it is time to look at EAM.
You have enterprise assets and equipment that needs to be tracked. 

You have assets across multiple departments and need to streamline processes and improve communications.

You have hundreds of physical assets, along with complex systems and operations across multiple sites.

You need to control security settings to ensure that only authorized personnel have access.

You need better asset and inventory management to reduce the costs of redundant purchases.

You need to standardize your asset strategy to be consistent across your organization.

You need to make sure you are meeting all regulatory reporting compliances for your organization's industry.

Enterprise asset management can shrink capital costs, lower asset-related operating costs, extend the life span of an asset and improve ROA (return on assets).
Benefits and Value of Enterprise Asset Management
Improve Health and Safety Practices: EAMs powerful health and safety management tools is a centralized repository for health and safety information. 
Centralize Asset Information:  Provides all of the information about your organization's physical assets in one centralized system.  Real-time information will be accurate and available to any department.
Best Practices:  Establish workflows and checklists to setup consistency and best practices for your organization.</
Better Benchmarking and Performance Management:  EAM gives visibility into maintenance performance across the organization to enable benchmarking, best practice sharing, and performance management.
Reduce Maintenance Backlog:   EAM software can help you keep track of pending work orders to ensure that they are completed on schedule.
Detect Issues Before They Occur:  EAM provides preventive maintenance tools to help keep assets and equipment operating at peak performance. 
Move From Reactive to Proactive Maintenance Operations:  EAM software allows you to keep on top of maintenance and asset management, and work toward a better Preventive Maintenance (PM) strategy. The system can prompt you when assets need maintenance and repairs. With the automatic generation of work orders, purchase orders, and much more based on the schedules you've created, jobs can be completed on time.
Inventory/Maintenance, Repair, and Operations (MRO) Materials Management:  EAM gives you control and full oversight into inventory procurement and management by letting you see where the demand for materials is at its highest and lowest levels.
Extend Asset Lifecycle:  Equipment lifecycles are extended through more informed maintenance strategies in business processes to improve return on investment.
Reliability:  Properly maintained equipment improves asset performance.
Work On-the-Go with Mobile:  Using a Smartphone or a mobile device, manage and assess work orders and asset information in real-time, capture electronic signatures, and use bar codes.
Reporting and Analysis:  Run reports and create dashboards to analyze asset performance and spot issues before they escalate into bigger problems.  Get a better understanding of your maintenance operations by generating key performance indicators for your entire maintenance organization to make better business decisions.
Preparation for Audits and Inspections Seamless:  Maintain real-time information and be prepared for audits and inspections.
eWorkOrders Interactive Asset Mapping:   Our EAM Interactive Mapping feature gives users a better and quicker visual of where assets are located along with the important information associated with every asset.  (Not offered by all vendors.)
Improve ROI
EAM reduces costly emergency repairs, increases asset lifecycle and uptime through preventative maintenance.  By being prepared for audits and inspections, organizations can save money on fines and negative publicity.
Efficient EAM solutions combined with the appropriate business processes help organizations to refine their work processes, enhance working conditions, and spot areas for improvement.  Having this information available in real-time gives managers the ability to make insightful changes in the right areas and use the right skilled resources to run efficiently.
Introducing eWorkOrders EAM Solution
If you want to protect your valuable assets and keep them running at peak performance, then you need an Enterprise Asset Management solution.  
eWorkOrders CMMS/EAM Suite of applications puts you and your team in control and provides you with the tools for obtaining operational visibility of your assets throughout their lifecycle with faster ROI, increased productivity, and operational uptime.
Want to learn more about Enterprise Asset Management?   Contact us and speak with one of our Account Executives, who were actual users of eWorkOrders in previous jobs.   One of our Account Executives will walk you through a live demo and answer any of your questions to help you make your business decision.  Having actual industry experience, they have the experience and expertise to provide additional helpful tips to further enhance your experience with eWorkOrders.
Awards
We have received Top Awards and Recognition in Enterprise Asset Management and Maintenance Management.
Note:  Not all CMMS and EAM packages are alike.  It is important to work with your account manager to discuss your needs and objectives to come up with a solution that best fits your requirements.