Food & Beverage Industry




Complying With FDA Regulations




Using CMMS Software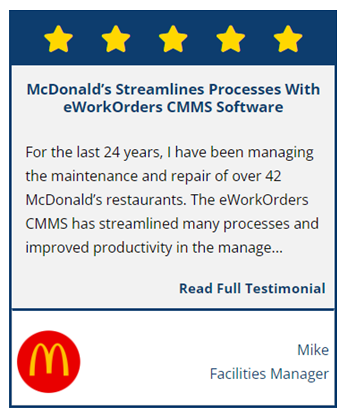 The Food and Beverage Industry is highly regulated because its products (food, beverages, and dietary supplements) are intended for human consumption. Businesses operating in this industry are under very strict guidelines and regulations that they must follow or be fined, lose their license or be shut down. Not conforming to guidelines and regulations can lead to contaminated products with the possibility of outbreaks, illnesses, more stringent regulations, and lawsuits.
Having the right tools in place to manage preventive maintenance operations is important. A feature-rich Computerized Maintenance Management System (CMMS) solution provides the tools to help manage maintenance programs, maximize the life of assets, reduce equipment downtime, manage documentation, control processes, assist with audits and provide audit trails. It also helps organizations adhere to strict health and safety compliance regulations, all while managing and controlling costs.
Regulation Requirements
In the Food and Beverage Industry, maintenance managers have the challenge of keeping equipment running, keeping the working environment safe, and producing hygienic products, all within tight budgets.
Food and Beverage manufacturers must deal with a wide range of regulations regarding food safety. Along with the policies and procedures that vary from country to country. In the United States, manufacturers are subject to USDA Food Safety and Inspection Service (FSIS) regulations and those of the FDA, and more. International food and beverage processors are regulated by ISO 22000 Food Safety Management System, and the list goes on.
Having a robust CMMS solution in place helps keep all of your records in one centralized location and saves a lot of time when preparing for audits and inspections. CMMS software provides a means to store detailed documentation such as safety manuals, standard operating procedures, work order history and important records related to assets and equipment. With all of the information stored in one database, users can pull real-time information quickly and easily for comprehensive reports to satisfy audits and inspections. With mobile capabilities, users have the ability to access information from anywhere at any time.
Optimizing Your Maintenance Department with CMMS Software
In this industry, both routine inspections and unannounced, possibly complaints-based, inspections are done to ensure that facilities meet and do not deviate from FDA requirements and standards. Managing maintenance operations and ensuring that guidelines and regulations are met can be challenging. Organizations are looking for solutions to help streamline processes and manage facilities more efficiently. Equipping the maintenance department with a Computerized Maintenance Management System (CMMS) solution provides the tools to help prove compliance while ensuring that operations continue to run unabated and at optimal efficiency. It helps streamline processes, manage documentation, and drives accountability via electronic signatures. How can CMMS software significantly benefit your organization? With CMMS software your documents are stored electronically and provide:
• Complete audit trail of any changes to work orders and records in the system.
• Documentation of processes and procedures with the ability to attach documents to work orders, including diagrams, manuals, part orders, safety processes and more.

• Control over the management and maintenance of assets. All data associated with an asset are electronically stored and maintained in one centralized location and are accessible from anywhere, anytime by anyone (special permissions can be set up, too).

• Preventive maintenance scheduling and documentation. CMMS software helps users effectively plan, schedule and record maintenance activities on all assets and equipment. Proper equipment maintenance ensures reliability, extends lifespans and assures equipment is operating at its full potential. Being able to pull reports and documentation in real-time shows auditors and inspectors that the equipment has been maintained properly and meets safety standards.

• Effective management of spare parts and inventory levels, control over spot buys and a strategy to use materials more efficiently within your organization. With CMMS software, users analyze inventory and parts levels to determine activity to ensure that things are not sitting on the shelf for long periods of time gathering dust and possible contaminants as well as tying up capital. Using a CMMS inventory module helps control costs, yet ensures you have the critical parts you need for an emergency.

• Accountability via special sign-off permissions throughout processes verifying that work was completed satisfactorily and shows that processes have been documented and approved at all levels.

• Ability to submit work orders or access information from anywhere at any time through a computer or mobile device.

• Tools to generate detailed reports of maintenance activities from the data which have been collected and transform that information into meaningful reports for organizations. These reports can be run quickly to provide auditors and inspectors with the necessary information regarding assets, processes, and procedures to demonstrate regulatory compliance.

• Dashboard features enable companies to view real-time data on a number of key performance indicators (KPIs) graphically at any time. This allows management to monitor their organization, identify trends and improve efficiency.

• Functionality to help drive down the cost of maintenance, increase asset life, improve productivity, reduce downtime, and lower the total cost of ownership of assets.
CMMS software gives organizations the right tools to streamline and improve processes to help you meet audit and regulation compliance goals. CMMS software helps optimize maintenance operations, continually drive improvements, provide real-time information and documentation of processes, and make the passing of inspections and improving work environment safety a whole lot easier.
Want to know more about how CMMS can help you in the Food and Beverage Industry?
CONTACT US FOR A FREE DEMO
YOUR SUCCESS IS OUR GOAL!