As the economy starts to strengthen and businesses begin the process of opening, how do you ensure the safety of your employees?

With the backlog of maintenance issues, how do you effectively manage your maintenance operations more efficiently and more economically?
During the COVID-19 pandemic, facility managers have always been there to keep facilities and assets in good operating condition.  Now they have a more critical challenge and demand to improve and prepare for the new normal way of life.  Along with their regular responsibilities of making sure that buildings, environment, and equipment are safe for their employees and customers, there are more regulations and requirements that they now have to meet. 
How do you manage the environment to ensure the increased distance between workspaces, the inventory and placement of hand sanitizer stations, and the list goes on?  How do you ensure that all of the processes and procedures are being followed and documented to meet company, state, and government regulations?
The answer to these questions:
CMMS Software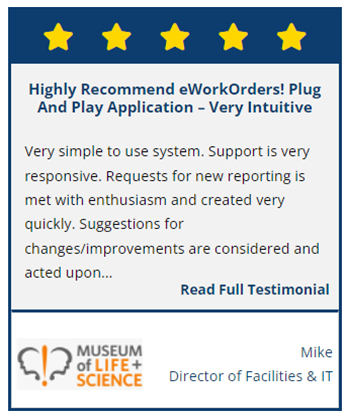 Computerized Maintenance Management Systems (CMMS) is software, also known as Enterprise Asset Management (EAM) software, gives facilities and maintenance managers the tools to manage an organization's database for maintenance operations, work orders, assets, equipment, preventive maintenance, inventory, workflows, safety compliance, teams, expenses, and other processes.  Implementing a CMMS can help lower the cost of maintenance, increase asset life, improve productivity, reduce downtime, and lower the total cost of ownership of assets.
1.  CMMS Software Improves Workflows
Adding another thing to your list of tasks may seem challenging. But implementing a CMMS can streamline workflows, improve the way you manage your facilities and maintenance operations, providing many features that benefit facility managers in managing their daily tasks.
2.  Streamline Service Requests
With CMMS software, you can eliminate and streamline the hundreds of phone calls, emails, and people knocking on your door for service requests.  Trying to manage service requests with spreadsheets and little slips of paper can be a disaster.  The CMMS service request portal provides easy access to unregistered users so that they can enter service requests, view the status and be notified when the request has been completed.  With real-time notification the service request is automatically assigned a tracking number and routed to the appropriate maintenance manager/employee for immediate action.
3.  Work Order Management
Managing and prioritizing work orders can be a big task.  With CMMS software users can create work orders to initiate tasks, clarify what has to be done, specify completion dates, and give special instructions as needed.  CMMS work order management software also helps organizations manage and maintain data on assets as well as on resources, expenses, and labor. Organizations have the flexibility to manage and schedule current and upcoming work, analyze data to make improvements, manage expenses, control labor costs, and remain compliant. 
4.  Efficient Preventive Maintenance Scheduling
Having all of your information stored in one location that is accessible from anywhere increases the productivity and efficiency of your maintenance organization.  With CMMS software, users can create and schedule any type of maintenance activity, including equipment repairs, inside or outside facility repairs, and more.  Once tasks have been identified and scheduled, work orders are automatically generated for that specific time period, including any additional information, parts, and instructions needed to perform the maintenance.
5.   Equipment and Asset Management
Not knowing the repair history of an asset or equipment can have a direct impact on day-to-day operations.  With a CMMS each asset has its own unique record that details parts used, labor hours spent, reliability, and downtime. Using this data, reports can easily be generated on equipment and asset condition, so that companies can take a proactive approach to maintaining or retire the equipment or asset.
6.   Manage Expenses and Track Costs
With so many maintenance work orders being generated and completed, the task of keeping track of parts, labor and other miscellaneous expenses can easily be managed through a CMMS.  With the ability to run a variety of reports, makes it easy to view, and manage expenses at any time.   
7.   Safety, Audits & Compliance
During this new normal way of doing business, safety and regulatory compliance are the most important maintenance issues today.  Making sure that all processes and procedures are identified and documented and ensuring that technicians and employees are aware of these changes and follow the guidelines.  Keeping track of all of the safety related tasks related to the facility and equipment is imperative for regulatory and insurance purposes as well as the safety and security of all customers or guests who use the facility.  Having this information stored and organized in a CMMS ensures that these critical tasks are done and documented for reporting purposes. 
8.   Measurements of Success:  Reports and KPI Dashboards
Having all of your information stored in one system gives you the ability to create meaningful reports to identify trends and weaknesses.  With the variety of reports, you are able to better understand what is working and gather insight on what can be improved to increase efficiency, productivity and reduce costs.
Customized dashboards provide you with real-time information and a more comprehensive overview on how well your operations are doing.  This gives you the ability to react to further enhance productivity and continue to improve operations. 
Conclusion
CMMS software has become an essential tool in meeting today's demands for keeping facilities and equipment clean and safe. The above are just some of the benefits that facilities managers can use to help resolve issues, increase efficiency and profitability and manage processes to keep facilities clean and safe.  No matter what industry you are working in or the size of your company, the main objective is keeping everyone safe, assets running and improves the bottom line.
If you are interested in learning more about how CMMS software can help you streamline and improve processes, and would like to see a demo, please contact us at any time.  908-888-333.4617   https://eworkorders.com/